Abba Eban Pushes Israel's Application for U.N. Membership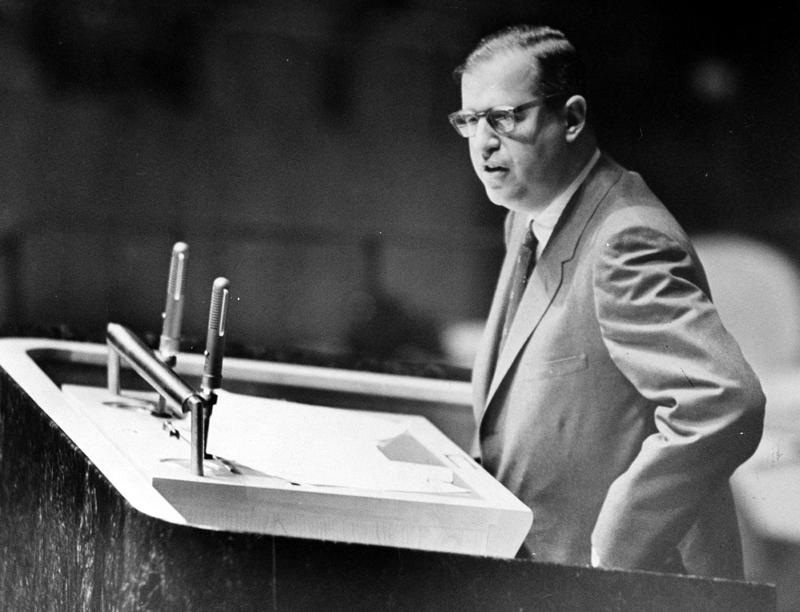 In 1949, Israel's Abba Eban defends his country against a variety of accusations and urges the United Nations to act favorably on Israel's application for admission to that international body.
This marathon speech, lasting over two-and-a-half hours, takes place before the Ad Hoc Political Committee at the United Nations' temporary home in Lake Success, N.Y.  One may notice that many of the problems tormenting the Middle East were as contentious and intractable at Israel's inception as they are today. This impassioned speech is also an early example of the rhetorical skills and diplomatic prowess that would come to characterize Abba Eban who, for many years, was to be the face of his country abroad.
Eban addresses several questions which, he implies, are being used to hold up Israel's application for admission to the United Nations. He first objects to this stalling tactic, pointing out that other countries recently applying for membership, like Pakistan and Yemen, were not asked to defend similar actions involving refugees and resettlement, which are of an "international nature." The only questions regarding suitability for membership should refer to Article 4 of the U.N. Charter. That said, he proceeds to recapitulate Jerusalem's recent history, blaming "powerful Arab interests" for attempting to undermine the U.N. resolution regarding that city. He describes the state of siege the Israelis had found themselves in, surrounded, under attack, with little water or food. He contrasts that time with the situation today, where there is "effective administration" of the city. It is because of this bloody past, he explains, that before any agreement on the policing of the Jerusalem's holy places can be agreed upon, there must be true peace between Arabs and Jews. Israel is willing to allow some form of international supervision, but only over the holy places, not the city itself.
At this point there is long debate over whether or not the committee should adjourn for the day, or perhaps just for lunch, or allow Eban to complete his speech. Many delegates are heard from and finally a vote is taken, after which Eban continues.
The second question concerns the status of refugees. Eban contends that until "the restoration of normal conditions," nothing can be agreed upon. While he does not exclude the possibility of repatriation, he continually offers resettlement and compensation as alternatives. First, he points out, frontiers need to be formalized. Membership in the United Nations would make Israel feel more secure and speed up these negotiations.
The third question concerns Count Folke Bernadotte and Col. André Serot, U.N. representatives sent to aid in peace negotiations who were assassinated by members of a radical Zionist group led by, among others, the future Prime Minister Yitzhak Shamir. While Eban expresses Israel's "deep sense of failure" in being unable to capture the perpetrators, he assures the committee that they were not government agents. He promises to continue to investigate. (No one was ever charged with the crimes.)
Eban concludes his remarks on a "polemical note." He points out that while the Arab states question Israel's fitness for U.N. membership, they themselves have publicly stated that they do not have to obey a resolution of the General Assembly if it goes against their own wishes. He compares his country's situation to that of a man attacked by seven men in a dark street who is then dragged into court and finds his assailants sitting on the bench in judgment over him. Once again he urges the committee to look favorably on Israel's application for membership. At this point the chairman thanks the speaker "for his endurance" and suggests that the committee "apply for admission to the restaurant."
Eban was born in South Africa in 1915. He was raised in London and after a brilliant academic career (he learned seven languages including Hebrew, Arabic, and Persian), fought for the British during World War II. A committed Zionist, he quickly rose to prominence on the international stage. The Gale Encyclopedia of Biography reports:
Eban's outstanding skills as speech maker and diplomat led to his appointment as the U.N. representative of the new government of Israel in 1948 and as its first permanent representative from 1949 to 1959. Simultaneously he was Israel's ambassador to the United States. In this dual role Eban acquired prominence as Israel's leading spokesman abroad and as one of the most persuasive orators at the United Nations. To many Jews and other Americans, Eban came to symbolize Israel and its struggle to survive during the critical first 10 years. He helped Israel's first prime minister, David Ben-Gurion, to explain Israel's difficult position through several international crises, including the War of Independence in 1948 and the Sinai (Suez) War with Egypt in 1956.
In the years to come, Eban continued to skillfully defend Israel's interests abroad but was less successful at converting this hard-won capital into political currency at home, where his cultured manner, and emphasis on negotiation and diplomacy over military confrontation, ran counter to beliefs held by many elements of Israeli society. As The New York Times pointed out:
It was the paradox of Mr. Eban's career that his eloquence made him more popular with Jews abroad than with Israelis. He rose almost to the top of the Labor Party, serving as a cabinet member from 1959 to 1974 -- first as minister without portfolio, then as minister of education and culture, deputy prime minister and foreign minister. But he never became prime minister. What was commanding in the halls of diplomacy did not resonate the same way at home. 
In retirement, Eban was less sanguine about the Israeli-Arab relationship than he had been at the time of this speech. In a 1997 interview, he said:
I regard that the hostility of the Arabs to Israel, as a deterministic inevitability in a way, because there was no way in which the Jews, after their trials and ordeals, could renounce the idea of Jewish statehood, and there was no way in which the Arabs could possibly accept the Israeli demand for statehood. In other words, this was not a tragedy of choice, it was a tragedy of compulsion. It was really a Greek tragedy in that sense, that what the Jews had to insist upon was something which the Arabs could not possibly accept.
Eban died in 2002, at the age of 87.
Audio courtesy of the NYC Municipal Archives WNYC Collection.