Richard Dyer-Bennet's Living Tradition of American Minstrelsy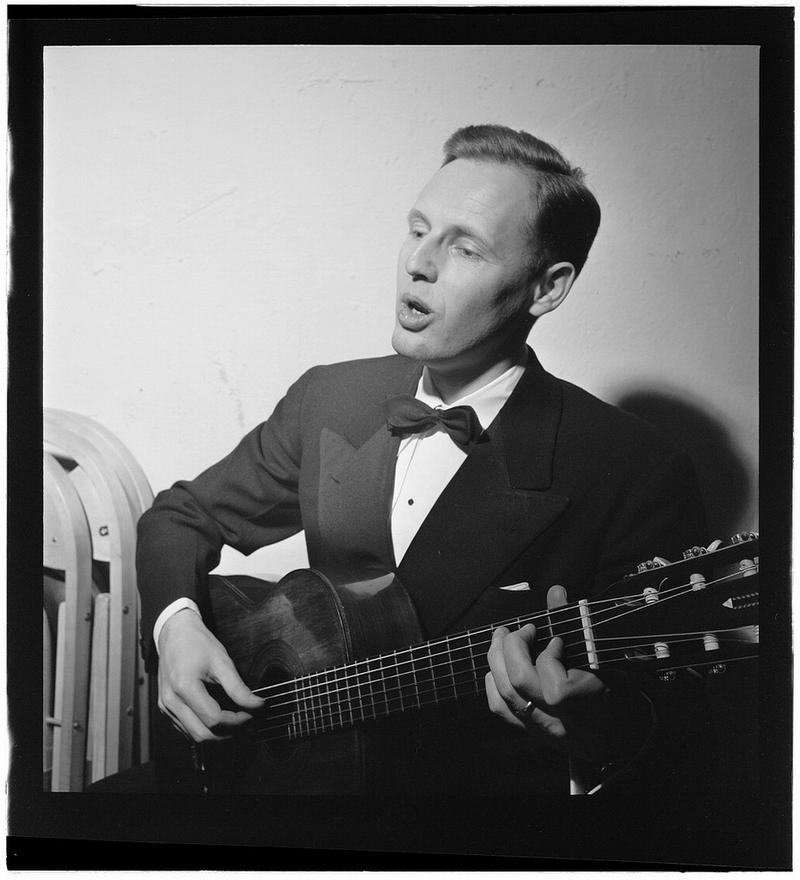 WNYC's American Music Festival features Richard Dyer-Bennet in his all-too-brief heyday, before betrayal and political accusations would derail his career, in this 1945 studio appearance.
Long before the folk music "revival" of the 1960s, Dyer-Bennet and others had revived the art of minstrelsy, rescuing the music of ordinary people and expanding on it to carry forward a tradition. With his intimate and timeless music, he stands in stark contrast to the Big Band and pop entertainment being peddled by the mass media of the time. 
 Dyer-Bennet speaks briefly at the beginning of this recording, saying that he will sing songs that are either wholly American or that form "the background for the American musical experience." The famous countertenor then launches into a simultaneously mournful and humorous "Go Tell Aunt Rhody." There follows a mix of sea shanties, folk ballads, as well as highly polished Elizabethan songs, all accompanied by his classical-guitar playing. In the middle of the performance, the announcer speaks of Dyer-Bennet's apprenticeship to the great Swedish minstrel, Sven Scholander, who advised that "the only way to learn the art of minstrelsy was to sing to the people, to feel their response, to make them believe what you were singing." Dyer-Bennet then resumes, singing among other well-known ballads, "Barbara Allen" and "Black Is the Color of My True Love's Hair." As he continues to strum away in the background, the announcer expresses the hope that "he is to be with us for many more festival broadcasts." In fact, he would soon be banned from the airwaves.
Dyer-Bennet was born in 1913. His unusual vocal talents were recognized by the teacher Gertrude Beckman, who heard him sing at a Christmas party. Dyer-Bennet studied with Beckman and then, prompted by his teacher's appreciation of Scholander, who was retired, journeyed to Sweden,  where he convinced the at-first-reluctant older man to teach him many of the songs from his vast repertoire. Dyer-Bennet was later to say this was the greatest musical experience he ever had. Upon returning to America, the Richard Dyer-Bennet Resource Page recounts:
…Dyer-Bennet moved to New York and quickly became part of the great folk music revival underway there. He found work singing first at Le Ruban Bleu, a nightclub run by Herbert Jacoby, and then at the famed Village Vanguard in Manhattan, where he honed his art and became a thorough professional. Dyer-Bennet's appearances on stage at the Vanguard happily surprised its clientele. More accustomed to hearing the latest jazz acts, the audience gradually came to embrace the folk material of Burl Ives. Yet they hardly knew how to react when Dyer-Bennet appeared on stage in full evening dress and began to sing ballads that were centuries old. Two regular Vanguard fans of Dyer-Bennet were Mike Quill and Ted Zittel. Quill was involved in the Transport Worker's Union, and Zittel was his publicity man. Zittel arranged for Dyer-Bennet to sing for the union at Madison Square Garden, and then helped to arrange his first recitals at New York's Town Hall in 1944. Later that same year Dyer-Bennet sang at Carnegie Hall.
The connection with Quill is important, an example of the links that existed between organized labor and folk music as part of an alternative working-class culture. Dyer-Bennet was quite successful in the late 1940s and early '50s. He entertained troops during the war and maintained a busy concert and recording schedule. In 1955, however, his fellow folk singer Ives "named names" before the House Un-American Activities Committee. Dyer-Bennet had, of course, performed at events that had ties to organizations allied with the Communist Party but there was no evidence of any political affiliation on his part. He was asked to "sing," as Ives had, but refused, and so was blacklisted. This effectively ended his performing career. His business partner, Harvey Cort, quoted in the book Richard Dyer-Bennet: The Last Minstrel, notes:
Pete Seeger used the fact that he was blacklisted almost as good publicity. Dick couldn't do that. He wasn't singing left-wing or pro-labor stuff in the first place. When Dick got bombed with the Red Channels stuff it interrupted his career. And when you interrupt a performer's career it's very hard to get back the momentum. Your audience gets dispersed. 
Dyer-Bennet's solution was to start his own recording label. Making records in his own living room, he produced 14 albums which have since been re-released by Smithsonian-Folkways. They trace the broad arc of American folk music, delving into its English, Scottish, and Irish roots, as well. Eventually, as the political and musical climate once again became receptive to less commercialized music, Dyer-Bennet's achievement began to receive renewed appreciation. Jason Ankeny, writing in allmusic.com, reports that he:
…remained a notable presence on the folk music landscape throughout the 1960s; beginning in 1970, he even taught an experimental class at SUNY at Stony Brook based on his theories of vocal training for actors. After suffering a cerebral hemorrhage in 1972, which severely limited the use of his left hand, making it virtually impossible to play guitar, Dyer-Bennet's folk career was essentially finished; still, music remained his obsession, and in 1977 he completed his own translation of Schubert's "Die Schöne Mullerin," and also continued work on a long-planned musical adaptation of Homer's Odyssey, for which he was the recipient of a grant from the National Endowment for the Humanities in 1979. 
Dyer-Bennet died in 1991, at the age of 78.
Audio courtesy of the NYC Municipal Archives WNYC Collection.
Note: Some poor audio quality due to condition of transcription disc.