Tommy Dorsey and Leopold Stokowski Bring Brass and Rhythm to Young Audiences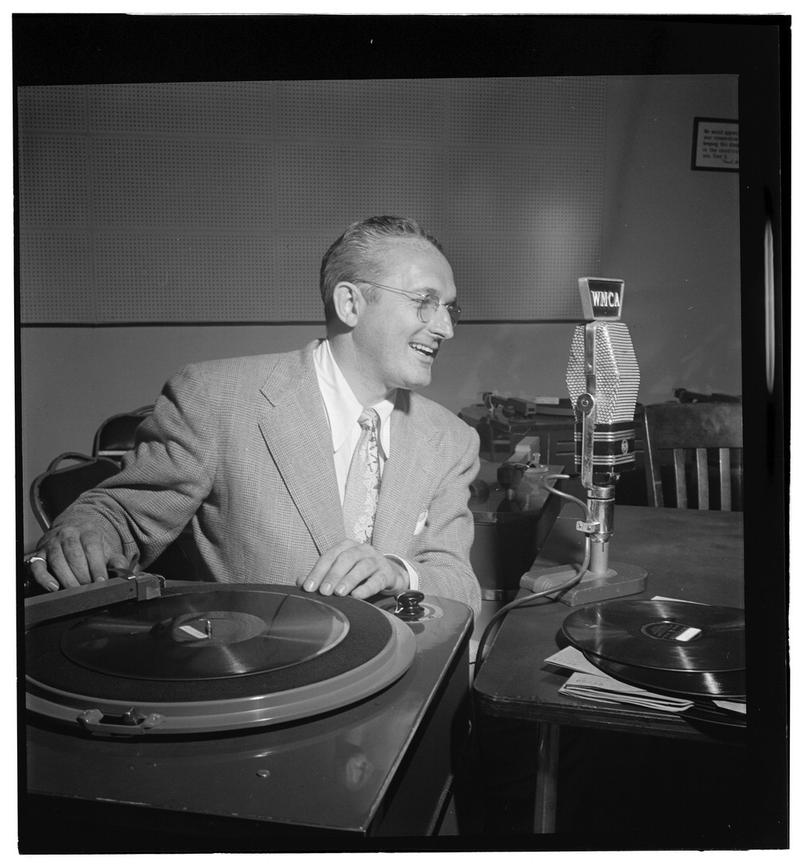 Tommy Dorsey's 1945 teaming up with Leopold Stokowski drives the young audience into a frenzy even before the first note is played. Stokowski comes across as a bit schoolmasterish, admonishing the audience to be quiet or "the concert ends now."
Backed by the New York City Symphony, Dorsey performs the world premiere of Nathaniel Shilkret's Concerto for Trombone and Orchestra. Between the second and third movements pandemonium once again breaks out, forcing Stokowski to pause. At the end of the concert, the announcer describes the young crowd as "stirred up by that bit of rhythm," attributing their reaction to "the jungle-born native instincts that still remain with us after thousands and thousand and thousands of years of civilization."
1945 was a difficult year for Dorsey. Swing and the era of the big bands were clearly ending. He would disband his own group (temporarily, as it turned out) in 1946. Here we see Dorsey exploring other avenues of performance. The Trombone Concerto was, as Peter Cudmore, writing on musicalcriticism.com, points out:
A fascinating work in many ways -- not only as music, but as an event in the emergence of media music as a distinct genre. The commission…was at least in part about positioning Dorsey in a particular way -- one might suspect with the intention of subliminally distancing his variety of demure white jazz from the raucous and earthy variety to be found in New York's Harlem district…Stylistically, the music is pure Hollywood, thick with schmaltz and kitsch, but executed with such chutzpah as to render its charms irresistible. The opening, with its swirl of strings, could greet any number of movie opening credits, but quickly what took hold was a similitude to Scott Bradley's brilliant scores for Hanna-Barbera animations. The connection is not from any comic intent on Shilkret's part, but rather in the art of presenting a story articulated solely through the music, with the solo trombone substituting for the visual element that the male lead would provide onscreen. Nor is there any particular allusion to jazz, save for the finale, which I think I would characterize as "jazzy" rather than jazz per se, and for that matter less obtrusively jazzy than, say, Milhaud's "Création du Monde." Instead, this finale is breezily urgent, enlivened by the beat of a drumkit.
As interesting as the music itself is the crowd's almost orgiastic enthusiasm, maestro Stokowski's comic disapproval, and the announcer treating the spectacle as if he were an onlooker at the zoo.
Dorsey (1905-1956) was one of the most successful Swing era bandleaders. His trombone playing was considered a model of tone and elegance, although he did not improvise, preferring to work out his solos in advance. Among the many famous musicians who passed through his band was the young Frank Sinatra, who claimed he learned how to breathe from Dorsey's playing. Dorsey was also an astute (some say ferocious) businessman, involving himself in song publishing, the owning of performance venues, and trade publications. But it is as a leader that he is most remembered. John Cooper, quoted on the website swingmusic.net, recalls:
He could be a rugged guy offstage or to work for, but on stage, he was THERE for the paying customers...and for the kids. …when the bottom dropped out of the band biz, he was one of the first leaders to cut his price to venues so that not only would he keep his guys working, but so that "the kids will have something to come dance to" again. Just one HELL of a band! Way past its due recognition from the current crop of Swing dancers and listeners.
In 1956, Dorsey choked to death after eating a heavy meal and taking sleeping pills. He was 51 years old.
Stokowski (1882-1977) was one of the country's preeminent conductors, first with the Philadelphia Orchestra, then the Hollywood Bowl Symphony Orchestra, as well as many others. Unlike his more reserved brethren, Stokowski reveled in publicity, seeing where others could not the advantages classical music could obtain by cooperating with mainstream media. The website allmusic.com calls him:
… the first conductor to become a true superstar. He was regarded as something of a matinee idol, an image aided by his appearances in such films as the Deanna Durbin spectacle "One Hundred Men and a Girl" (1937) and, most famously, as the flesh-and-blood leader of the Philadelphia Orchestra in Walt Disney's animated classic "Fantasia" (1940). In one memorable instance, he appears to be talking to the cartoon figure of Mickey Mouse, the "star" of a sequence featuring Dukas' "The Sorcerer's Apprentice." In a clever parody, when the slumbering apprentice dreams of himself directing the forces of nature with the masterful sweep of his hands, Disney artists copied Stokowski's own conducting gestures.
This showmanship (the thick Middle European accent heard here, for example, is a total fake; he was born in London) led to his musical achievements being greeted with a certain dismissiveness. But he was a great champion of new works and in recent years many of his recordings have been reissued to much acclaim.
Shilkret (1889-1982) worked for many years for the Victor Talking Machine Company (later Victor RCA) as, the Milken Archive of Jewish Music reports:
… "director of light music," he conducted numerous recordings with his Victor Salon Orchestra and other ensembles. Many of those recordings — either in a popular or what was then called light classical vein — became best-selling hit records. Shilkret conducted for thousands of network radio broadcasts during those years, and recorded for many labels, such as Brunswick, Columbia, Edison, and Okeh. Some of his recordings also featured him as an instrumental soloist, playing clarinet, piano, organ, celeste, chimes, and trumpet — and even whistling.
He later moved Hollywood, where he had a successful career writing scores and acting as a music director. The Trombone Concerto, forgotten for many years, has become a concert hall favorite and been performed over 60 times.
Audio courtesy of the NYC Municipal Archives WNYC Collection.