Last Chance Foods: Burdock Stalking
Burdock is one useful weed. Its prickly burrs famously inspired the invention of velcro. Its roots have been used medicinally for centuries to treat everything from a sore throat to eczema. And right now, burdock's tender, young flower stalks also make for good eating.
The first step toward appreciating burdock's versatility is to accurately identify the plant — an easy task thanks to the plant's massive scale. It can grow to 4-feet tall, and its leaves regularly span a foot or more.
"[It has] these huge, fuzzy leaves that are ruffled on the edges, they sort of look like a girl's skirt ... and that's how you identify it," explained forager Leda Meredith.
While Meredith does not eat burdock leaves — "I'm not big on furry food," she said — she notes that they make for a handy impromptu umbrella on account of their size.
When it comes to eating burdock, Meredith prefers the plant's flower stalks.
"Burdock is a biennial so the first year it doesn't flower," she said. "And then the second year it starts sending up this thick — like it can be an inch diameter — thick flower stalk."
Meredith cuts off the leaves and peels the stalk to get rid of its fuzzy exterior. She compares the burdock's peeled stalk to the stalk of  cardoon, which is a vegetable often used in Italian cooking. She adds that burdock's texture is similar to that of an artichoke heart and, once cooked, it has a "creamy texture with a little hint of a pleasant bitter edge."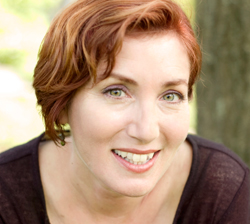 Burdock stalk can generally be substituted for artichoke hearts and cardoon in recipes. Meredith also recommends steaming, stir-frying, braising and making the stalks into a confit. 
(Photo: Leda Meredith)
The flower stalks also have the advantage of being easier to harvest than the other popular edible part of burdock, the root. Known as gobo in Japanese, burdock root is so popular that it is commercially grown in some parts of Asia and can be found at area farmers markets in the fall. 
"They are notoriously hard to harvest but really good once you get them out," said Meredith. "They're a tap root like a carrot. They go about two feet straight down into the soil, so bring a shovel."
Below, try Meredith's burdock flower stalk recipe. 
An Informal Burdock Flower Stalk Recipe
by Leda Meredith
Harvest second-year burdock when it has just started to send up flower stalks but hasn't flowered yet. No more than a foot tall is best.
Burdock flower stalk
Olive oil
Garlic
Salt 
Bring a pot of water to a boil. Get rid of the burdock leaves and peel the flower stalk. Chop the burdock stalk into 3/4-inch pieces.
Add the burdock to the water and reduce the heat. Simmer for 5 minutes. Drain well in a colander.
Heat some olive oil in a pan over medium heat and add a clove of peeled, crushed garlic. Stir for 30 seconds. Add the blanched, drained burdock and cook, stirring, for 5 minutes. Add salt to taste. Serve warm or at room temperature.