NY Judge Lets Occupy Lawsuit Proceed Against NYPD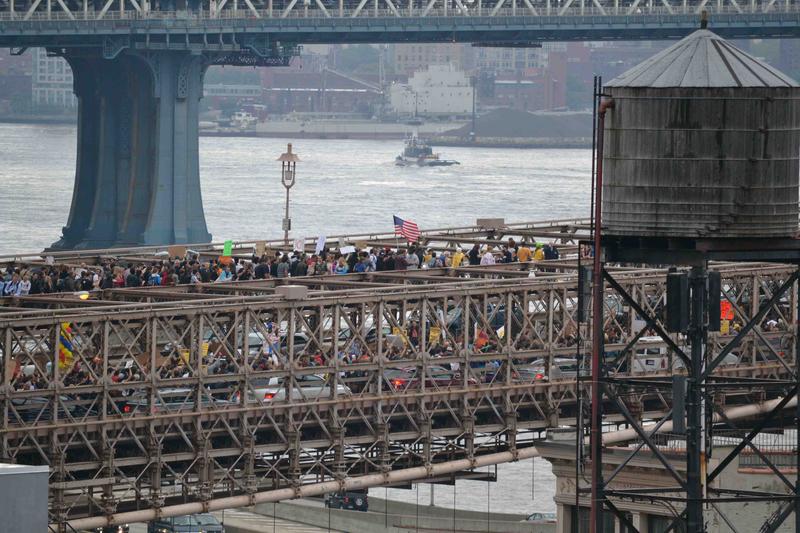 A New York judge is letting a lawsuit proceed against city police officers in the arrest of 700 "Occupy Wall Street" protesters last year as they marched across the the Brooklyn Bridge.
Judge Jed Rakoff in Manhattan said in a written ruling Thursday that the marchers had adequately backed up their claims that they were not properly warned by officers that they would be arrested on the bridge. During the October 1 march, protesters overflowed onto the roadway and were arrested.
The protesters claimed the police officers entrapped them, as WNYC reported in January:
Attorney Mara Verheyden-Hilliard, who represented the protestors, told Judge Jed Rakoff that NYPD officers lured demonstrators off the sidewalk, where they were legally permitted to march, and onto the roadway of the bridge. She argued that the eventual warnings by police officers that demonstrators had to clear the roadway -- made over megaphones -- were inaudible to the vast majority of those arrested.
The police made the arrests while trying to reopen the roadways on the Brooklyn Bridge. At the time, the police said protesters were warned not to march in the streets:
It was estimated that more than a thousand protesters made their way to the Brooklyn Bridge and several hundred walked in the eastbound car lanes stopping traffic.

"They were warned not to walk on the roadway — the people that walked on the pedestrian walkway, there was no issue — the ones on vehicular roadway, they chose to anyway, and they were arrested," a police spokesperson said.
Rakoff, however, tossed out as defendants the city, Mayor Michael Bloomberg and police Commissioner Raymond Kelly. He says there was no evidence offered that the city or its top officials had a policy of making false arrests designed to discourage protesting.