Over the last 50 years, the writer Paul Theroux has visited most of the countries on Earth, traveling in a deep, slow, observant way most of us never do. And his novels are often about people more or less like him: people who rip themselves out of "normal" Western lives, go somewhere alien, and maybe find out who they are.
In his new novel, The Lower River, a 62-year-old retailer from a Boston suburb sets out for Malawi, where he'd worked as a Peace Corps volunteer as a young man. Once there, he is embraced by the locals — so much so that he's made chief and forbidden to leave.
"To me, it's a kind of recurring dream or nightmare," Theroux tells Kurt Andersen. The story was inspired by his own experiences as a volunteer in Africa, which he calls "among the best [years] in my life. The Peace Corps set me on a path into the world." But he remembers spending one Christmas in a village when, after a night of drinking, his hosts insisted he stay for another night. And then another. "They wouldn't let me leave the village," he tells Kurt Andersen.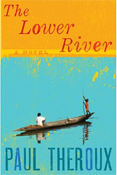 (Houghton Mifflin)
But Theroux is still drawn to villages and other settlements off the beaten path: "A place left to itself becomes more itself and people devise remedies for whatever problems they have — homegrown remedies. And sometimes those work better than the ones imposed from the outside."
And he continues to travel. "I used to think I did it for the compulsion to move, just to keep moving," he explains. "But I think the only worthwhile way of doing it is the old laborious way of traveling over land, on the road. If you're going to write about it, you can't jet from capital to capital and get people giving you a kiss on both cheeks. You really need to be insulted at the border and get in a ramshackle bus or train and travel on. Because that's how people really live."
Even so, he admits, with 30-some novels behind him, "I'm getting too old for buses and disgusting meals."
Music Playlist
Time Travel

Artist: Never Shout Never

Album: Time Travel

Label: Reprise

Knock Yourself Out

Artist: Jon Brion

Album: I Heart Huckabees (Score)

Label: Milan Records