In Final Budget Hearing, Child Care, After-School Cuts Are Hot Topics
Cuts to the subsidized child care and after-school programs in the mayor's budget proposal dominated the discussion Wednesday during the final hearing before the City Council begins wrangling with the administration for restoration of funds.
Council members said that cutting programs would lead to thousands of lost jobs for daycare workers.   

"To lay people off now will cost more money in the long run," said Councilman Robert Jackson of Upper Manhattan.  
The advocacy group Campaign for Children estimates that the $68.7 million executive budget proposal cuts more than 15,000 childcare seats and more than 32,000 slots for after-school programs.
The city's subsidized childcare system is going through a major overhaul and several longstanding providers failed to win new contracts from the city.

Several Council members accused the Bloomberg administration of putting small community-based organizations out of business.
"The contract providers that are being selected have no real time experience they're only good at putting words on paper," said Councilman Leroy Comrie of Queens.
City Budget Director Mark Page said the new contracts were expected to raise the quality of subsidized child care and after school programs.
The city's Administration for Children's Services, which oversees child care, said the agency used a variety of criteria in awarding contracts including a programs curriculum, an ability to serve children with special needs and nutritional and health services.
Page was also drilled about ways to raise revenue.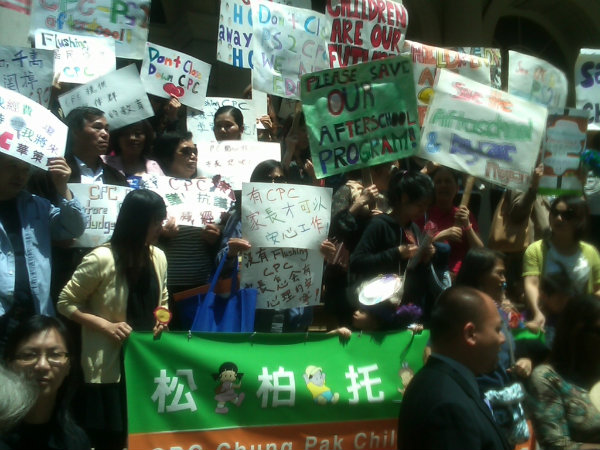 Council member Letitia James of Brooklyn said hundreds of millions of dollars could be raised by requiring unscrupulous contractors to pay back the city for shoddy or fraudulent work. 
"There's at least 10 contracts that I have here that have been alleged to be involved in some sort of fraudulent activity," she said.
Page said he wasn't prepared to say whether the contracts were troubled.
"To put a number on it and a time when we might actually have a resource that we could spend, I can't do," he said. 
Once the budget hearings end on Wednesday, the Council will spent most of June in negotiations with the Bloomberg administration. They have until June 30 to work out a budget deal.
(Photo: Protesters calling for support to child care and after-school programs.Cindy Rodriguez/WNYC)