Space Shuttle Enterprise Arrives in Manhattan
The space shuttle Enterprise, surrounded by a flotilla of boats, made its way to its new Manhattan home.
The space shuttle traveled up the Hudson River from Jersey City, N.J., on Wednesday guided by tug boat-guided barge. It passed the Statue of Liberty and the World Trade Center site as it made its way to the Intrepid Sea, Air & Space Museum on Manhattan's West Side.
Spectators lined the waterfront area to watch. Beverly Williams, 40, arrived with her son Daniel.
"We were watching the news and he said 'Mommy, I want to see it delivered to the Intrepid.' So we made our way down here," she explained as they stood watching the Enterprise.
The Enterprise was hoisted by crane onto the flight deck of the Intrepid.
Like any move, there was some damage. A wingtip of the Enterprise was dinged after a collision with a barge.
The Enterprise's original move-in date was Tuesday. Organizers said Monday bad weather had delayed preparation work.
Earlier this Spring, the Enterprise made a much-anticipated trip from Washington, D.C., to New York City piggybacking on top of a modified jumbo jet — in a journey that including a flyover of the Statue of Liberty and the Intrepid Sea, Air and Space Museum.
The shuttle was greeted by "Star Trek" star Leonard Nimoy, among others, WNYC reported.
The shuttle got its name after Star Trek fans petitioned then President Gerald Ford to rename the ship from the Constitution to the Enterprise.

"Star Trek fans can be very persuasive," Nimoy said, who last saw the Enterprise 35 years ago. "We sent letters to President Gerald Ford at the time and the president logically, decided the ship should be named after our space ship Enterprise."
Guia Marie Del Prado and the Associated Press contributed reporting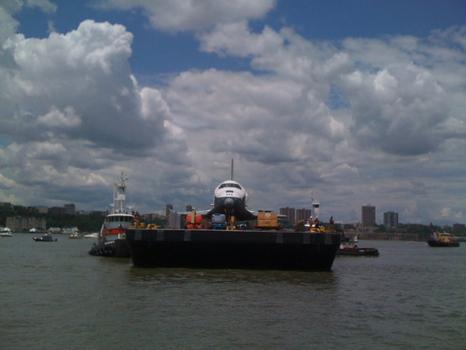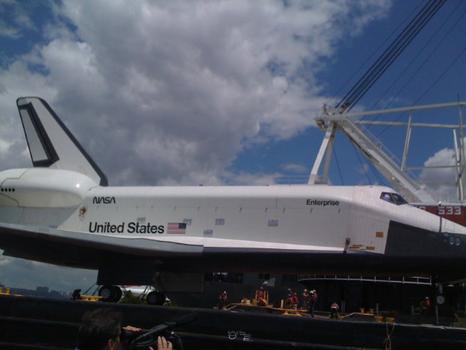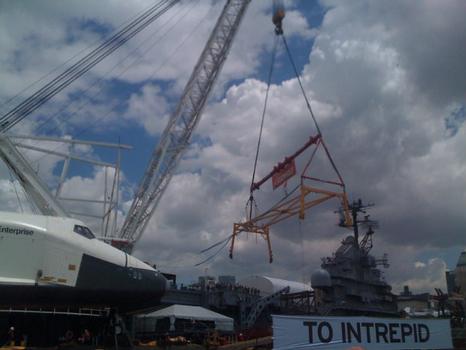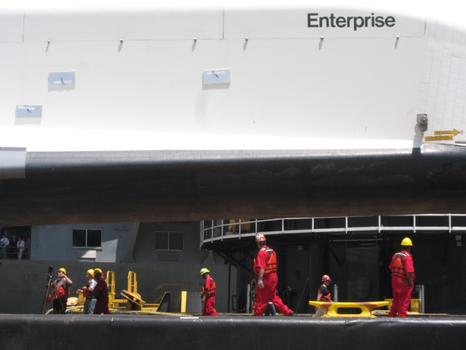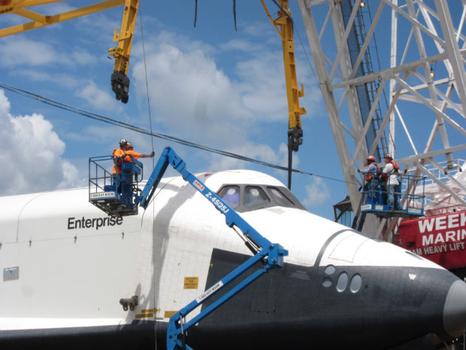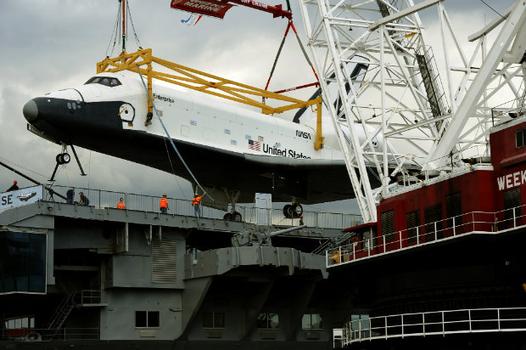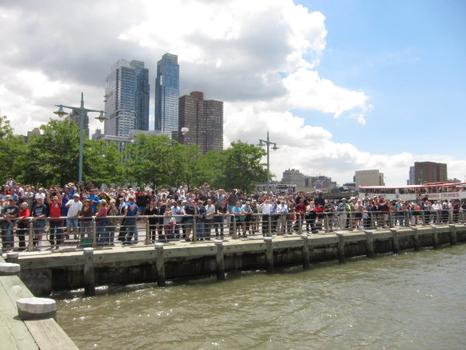 of