Morning Headlines | Must-Reads from the WNYC News Hub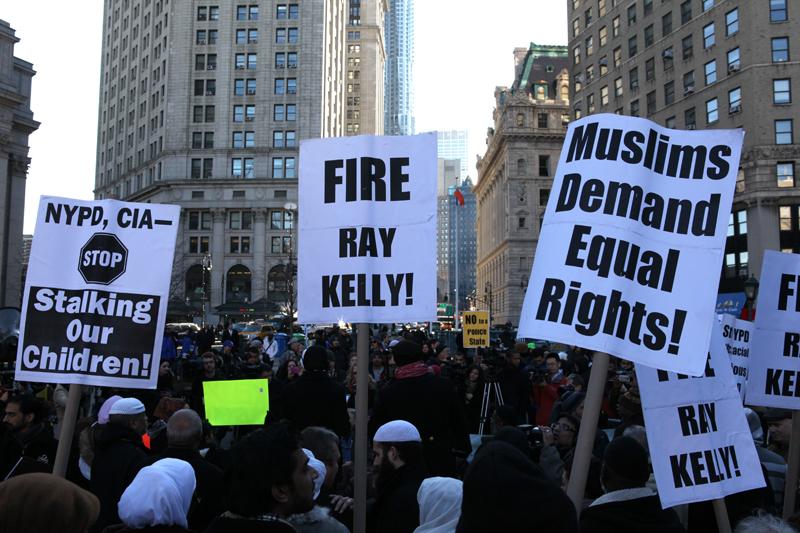 POLICE 
Group of N.J. Muslims to Sue NYPD Over Surveillance Operation (Star-Ledger) 
James Queally reports: "Calling the New York Police Department's spy operations unconstitutional and discriminatory, a group of New Jersey Muslims will be the first to file a legal challenge against the NYPD over its years-long surveillance operation targeting Muslim-owned businesses and houses of worship. The lawsuit will be filed in federal court in Newark this morning, according to officials from Muslim Advocates, a nationally renowned advocacy organization, who are filing the suit on behalf of a group of New Jersey residents."
POLITICS 
Community Board Chairman Brad Hoylman Says He'll Run for Tom Duane's Seat (DNAinfo) 
Three DNAinfo reporters write: "Community Board 2 chairman Brad Hoylman told DNAinfo New York that he plans to run for state Senate after Duane praised him as a potential successor. 'I hope to follow in Tom's progressive, activist footsteps and am humbled by his comments,' Hoylman said."
 
POLITICS 
Law to Reveal Donors Stalled (Times Union) 
Jimmy Vielkind reports: "New disclosure requirements about who's fueling some of the Capitol's lobbying groups may not be in effect until next year, good government advocates said Tuesday.
The ethics restructuring bill approved by Gov. Andrew Cuomo in 2011 requires a lobbying coalition — like A Strong Economy for All, backed by labor and progressive groups, or the pro-Cuomo Committee to Save New York, dominated by business and real estate leaders — to name anyone who donates more than $5,000."
 
EDUCATION 
Sexual Misconduct Cases in City Schools Are on the Rise (NYDN) 
Three Daily News reporters write: "An upsurge in sexual misconduct allegations is rocking city schools — with more than 150 complaints against staffers in April and May alone, official data show. The last two months continue the trend of more complaints than in 2011 — a 37% increase over last year's numbers."
 
DEVELOPMENT 
Renewed hope for barren Far Rockaway Shopping Center (NYDN) 
Lisa L. Colangelo reports: "For the first time in decades, a new store is opening at the barren Far Rockaway Shopping Center. Food Dynasty is replacing the smaller Associated supermarket that had anchored the ailing strip mall. And local officials are hoping the large, bright store will pave the way for new tenants and big improvements."
 
EDUCATION 
Cost of Prekindergarten Special Education Is Soaring (NYT) 
David Halbfinger reports: "New York City is paying private contractors more than $1 billion this year to operate a little-known special education program for 3- and 4-year-olds, nearly double the amount it paid six years ago. The program serves 25,000 children with physical, learning, developmental and other disabilities. While the number of children in the program has risen slowly in recent years, annual costs have soared to about $40,000 per child, according to an analysis of city education spending by The New York Times." 
CRIME 
Bills Would Fight 'Shoplifting on Steroids' (Times Union)
Casey Seiler reports: "Security specialists call them "boosting crews": highly organized teams of thieves who sweep through supermarkets and pharmacies scooping up products such as razor blades, infant formula, meat, seafood and Tide detergent. Unlike the more common form of five-finger discount, this type of theft, dubbed organized retail crime, is more about resale profit than personal use. It's "shoplifting on steroids times 100," according to Gary Weisbecker, director of security for Walgreens."

CRIME
Complaints Flying Before Councilman's Retrial (NYT)
Benjamin Weiser reports: "The retrial of City Councilman Larry B. Seabrook on federal corruption charges is not scheduled to begin for two more weeks, but defense lawyers and prosecutors are already brawling as if the case were well under way."

TOURISM
Orlando's One-Upmanship Continues in Tourism Claims (NYT)
Patrick McGeehan reports: "Orlando, the city closest to Disney World, released its annual tourism figures on Tuesday and, once again, it is disputing Mr. Bloomberg's claim that New York City is the country's No. 1 tourist destination. Visit Orlando, the tourism agency for the city and the surrounding Orange County, Fla., area, said Orlando drew 55.1 million visitors in 2011, making it the first place in the country to pass the 55 million mark."
CRIME
Stop-and-Frisks Have Done Little to Reduce Shootings, NYPD Data Show (DNAinfo)
Murray Weiss reports: "While the NYPD was stopping and frisking a record 685,724 people last year, 1,821 people were victims of gunfire, according to NYPD and city statistics. That's virtually the same number as in 2002, Bloomberg's first year in office, when 1,892 people were shot, but just 97,296 people were frisked. The year before, there were 1,845 shootings with a similar number of frisks."
CRIME
Pot Arrests Drop 25% Across City (WSJ)
Sean Gardiner reports: "Arrests on New York's lowest-level marijuana charge—possessing less than 25 grams in public view—went down sharply across the city after a September order by Commissioner Raymond Kelly to issue only a summons for the offense. The New York Police Department was on pace to set a record for low-level marijuana arrests in 2011 until Mr. Kelly issued the 'Operations Order' on Sept. 19, according to police statistics. The order was made in response to 'allegations we were erroneously arresting people,' Mr. Kelly said Monday."
POLICE
Judge Says He Was Struck By a Police Officer in Queens (NYT)
William K. Rashburn writes the judge who reported the assault is considered by his colleagues to be "one of the most soft-spoken, thoughtful, decent human beings around": "The officer screamed and cursed at the onlookers, some of whom were complaining about what they said was his violent treatment of the suspect, and then he focused on Justice Raffaele, who was wearing a T-shirt and jeans. The judge said the officer rushed forward and, using the upper edge of his hand, delivered a sharp blow to the judge's throat that was like what he learned when he was trained in hand-to-hand combat in the Army."
BRRR
Skiff Capsizes in Hudson, Seven Boaters Pulled from Chilly Waters  (NYDN)
Linda Kinstler and Sarah Armaghan report: "A skiff capsized and left seven boaters floating in the chilly Hudson River Tuesday afternoon before they were pulled to safety, officials said. The boat took off from the Village Community Boathouse on Pier 40... It made its way down the river - past the restricted basin that boats are supposed to stay in, Buchanan said. The force of the tide smacked the wooden boat into Pier 25 - about a half-mile south - and two people jumped out as the boat started filling with water, witnesses said."