Pushing Back Against Critics, NYU Powers Ahead With Expansion Plan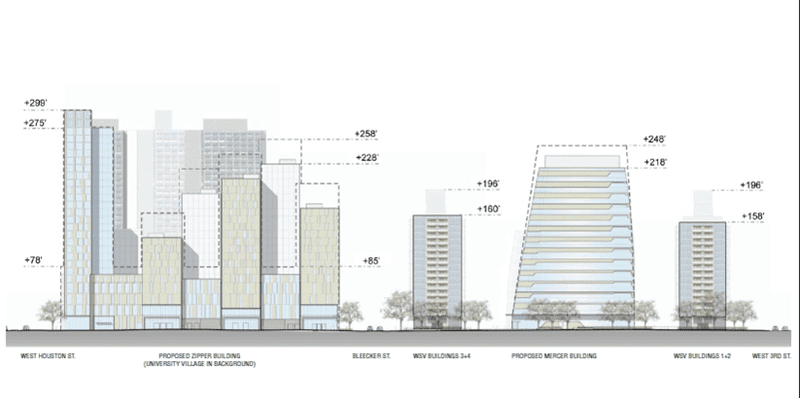 New York University's proposed Greenwich Village expansion plan that would add more than 2 million square feet to its footprint was approved by the City Planning Commission with a few changes — meaning the plan will face only one more hurdle in the City Council.
The board voted to reduce the planned footprint from 2.4 million square feet to 2.1 million. Buildings on Mercer and Bleeker streets will be lower and have deeper set backs from the street. The university will not be permitted to build a hotel, and some underground space has been reduced too.
NYU said in a statement that the city planning commission's vote of approval, with modifications, "strikes a thoughtful balance."  The University said it will now focus on the City Council review of its proposal.
While school officials are pleased with the decision, some neighborhood groups are disappointed.
Andrew Berman, with the Greenwich Village Society for Historic Preservation, was not surprised by the outcome of the vote. He and other neighborhood groups plan to focus on lobbying the City Council to turn down the plan.
Earlier this year, Manhattan Borough President Scott Stringer recommended NYU scale back construction. The changes would have reduced the project's footprint by about 20 percent.
While the city planning commission ratified important aspects of Stringer's recommendations for NYU's plan, it did remove some concessions Stringer had secured from the University for the neighborhood. The commission did not ratify a setback for one of NYU's proposed buildings, known as the "zipper building."  Stringer wanted this setback to protect light and air for neighboring residential buildings.
"This makes no sense, especially in light of fact that NYU agreed to these changes. I expect the City Council to correct these mistakes," Stringer said in a statement.
New York City Council Member Margaret S. Chin, who represents Greenwich Village, is especially concerned about the bulk and density of the four buildings NYU is proposing to build in the area south of Washington Square Park. Another issue for the community is the "constructions impacts, which are expected to last for 20 years," the Chin's office said.
Community vs. University
Town and gown disputes between Greenwich Village and the sprawling university date back to the 1800s. But now increasingly NYU faculty and staff are joining with residents to oppose the school's plan.

"The plan we've submitted is what we need. Now, it's our best estimate, it's a 25-year projection," NYU President John Sexton said. "We may be off 10 percent on way or the other. … Now, what's before the city planning commission is a decision of whether or not we will be authorized to do it in this least intrusive way possible, this least expensive way possible."
The university's initial growth proposal included two crescent shaped high rises connected by an entire block of underground space and a hotel on the corner of Mercer Street and LaGuardia Place. All of the work is proposed to be completed by 2031.
Sexton said if the plan is amended by city officials, the university will just have to find some place else in the Village to build the space it needs.
He said building on land NYU doesn't own, could mean more disruption for residents, and added cost to the university.
Sexton said he has "amazing' support for the project internally. He also said expansion is needed to secure NYU's future.
"The people who make decisions for the university, the Board of Trustees, all are unanimous and enthusiastic about the plan," he said.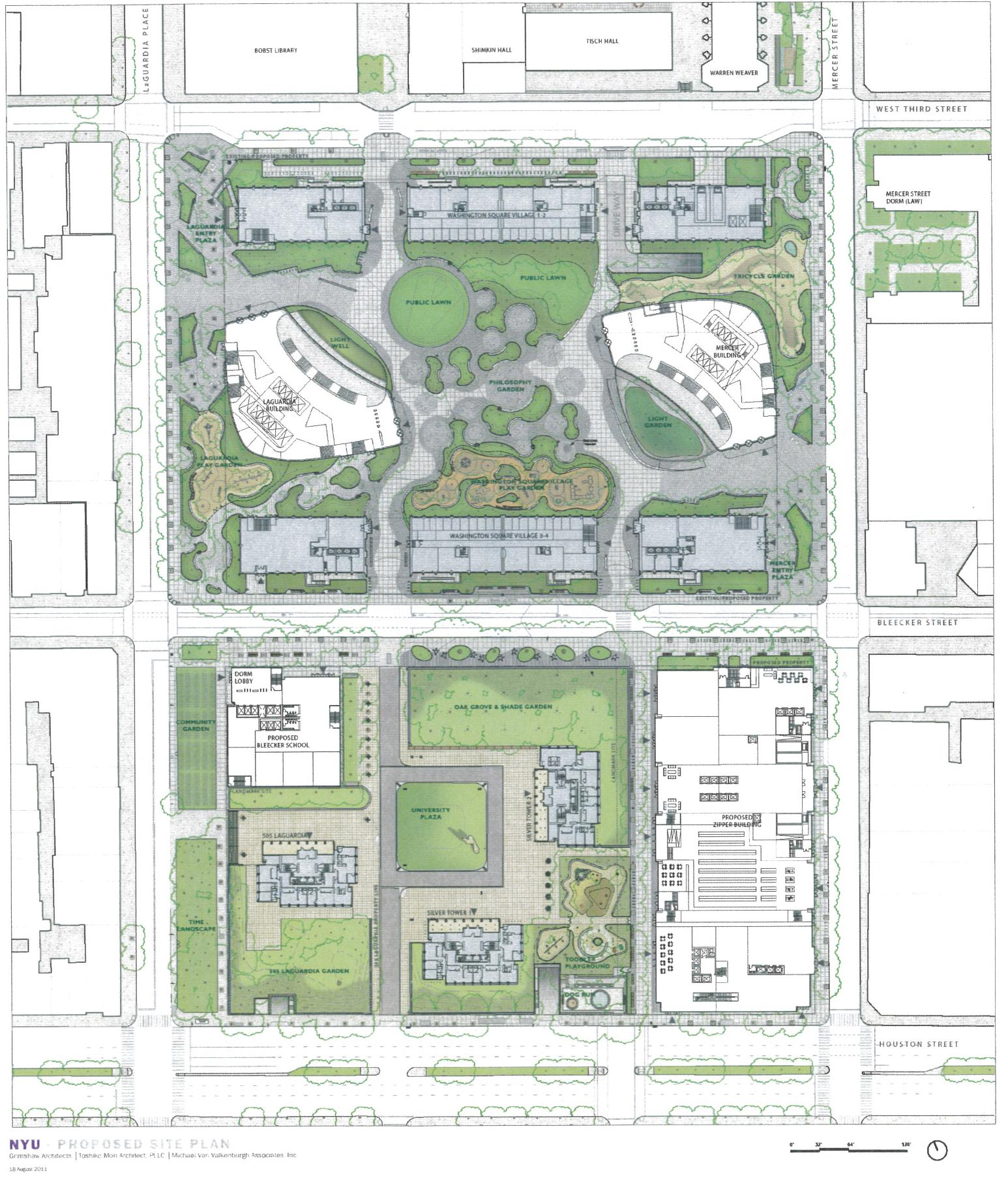 (Rendering courtesy of of NYU 2031)
Faculty Opposed to Plan
But professor Mark Crispin Miller, concerned about the environmental impact of the project, said at least 34 NYU departments have voted for resolutions to oppose NYU 2031.
"This plan is a huge financial gamble," said Miller.
A faculty survey about the expansion found that a majority of those who took the survey oppose the plan.  But only about a third of those sent the survey filled it out. And some faculty members welcome the expansion plan.
NYU Professor Michael Purugganan studies how rice grows in heat and drought. He has secured a federal grant for his project, but he doesn't have enough space, and says most scientists at NYU need more lab space.
 "We have 16 people and we have space for 12, so I'm trying to play musical lab chairs to make sure everybody gets their space," he said.
More than half of NYU's faculty lives in the middle of what would become a construction zone.
The part of project getting the most push back is centered in NYU's core Village campus, where the university hopes to space for dorms, offices, classrooms and a hotel
The blocks extend blocks extend from West Third Street south to West Houston Street, and then from Mercer Street west to LaGuardia Place.
Residents have held numerous rallies opposed to the plan. At an April rally in Washington Square Park's Garibaldi Plaza, Assemblywoman Deborah J. Glick (D-66) told the crowd she would help them fight "against the unbelievable arrogance of NYU."
"People come from all over the world to this unique and historic community, and we intend to preserve it," said Glick.
She was joined by officials from the Greenwich Village Society for Historic Preservation, the Greenwich Village Block Association, and a faculty group formed to oppose NYU's plans, called NYU Faculty Against the Sexton Plan," referring to NYU President John Sexton.
Cost of Doing Business
NYU hasn't named a total cost figure, though outsiders estimate it will be in the billions.  Then after construction, the new facilities will have to be maintained.
Higher education experts, like Professor Ronald Ehrenberg, director of Cornell University's Higher Education Research Institute, said those costs would be passed on to NYU students.
"NYU's endowment is relatively small compared to competitors on a per student basis. Invariably the cost of building will raise operating costs and that leads to higher tuition, and larger debt levels for students," said Ehrenberg.
NYU students already graduate with high debt loads.
The average debt for graduates of a private non-profit, four-year institution in New York during 2010 was $29,586, according to The Project on Student Debt. The average debt of an NYU grad in that same year was $41,300.
The City Planning Commission approved NYU's expansion plan with modifications during its hearing Wednesday at 10 a.m. The City Council will consider the proposal next month. It has 50 days to act on the commission's approval of the plan.
Correction: The original version of this article stated that NYU President John Sexton rejected the Borough President's recommendations. This is incorrect. WNYC regrets the error.

Listen below for an extended interview with NYU President John Sexton: