Niche Market | Doggie Duds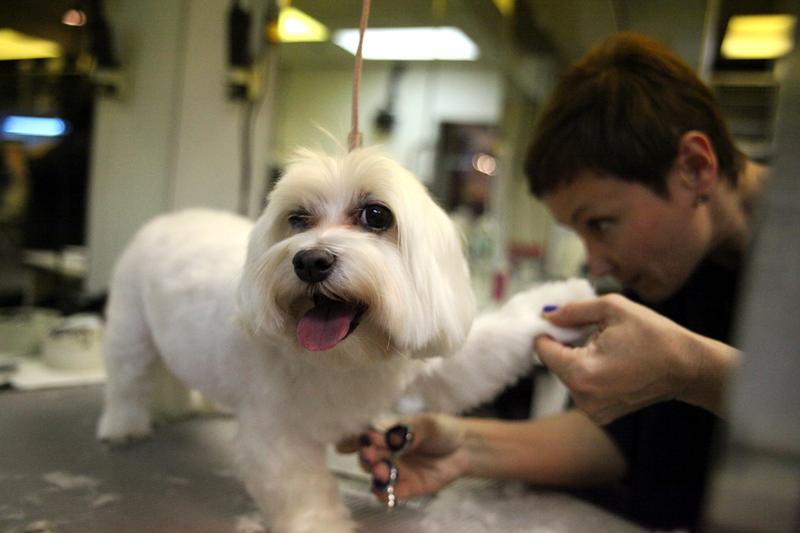 New York is a city of specialists from foodies to academics, laborers to shopkeepers. Every Wednesday, Niche Market will take a peek inside a different specialty store and showcase the city's purists who have made an art out of selling one commodity. Slideshow below.
Canine Styles
1195 Lexington Avenue
New York, NY 10028
On a recent morning, Craig Koketsu and his wife, the soon-to-be proud parents of a goldendoodle puppy, were making last-minute doggie gear purchases at an Upper East Side grooming and dog accessory shop.
"They have a lot of experience here so it's comforting knowing that you're making some good decisions when you come," Craig said as a pile of squeaky soft toys, dog bed and a carrying bag amassed on the checkout counter.
The store's aesthetic is somewhere in between indulgence and utilitarian, said owner Mark Drendel, 53, who started manufacturing his own line of dog accessories for the shop about 12 years ago.
Particularly in New York City, Drendel said, there is a market for cashmere sweaters, down "puffer" coats, braided leashes and booties for dogs. But the gear is also about comfort and cleanliness.
"I think that these dogs they need to be kept warm in the winter time," he said.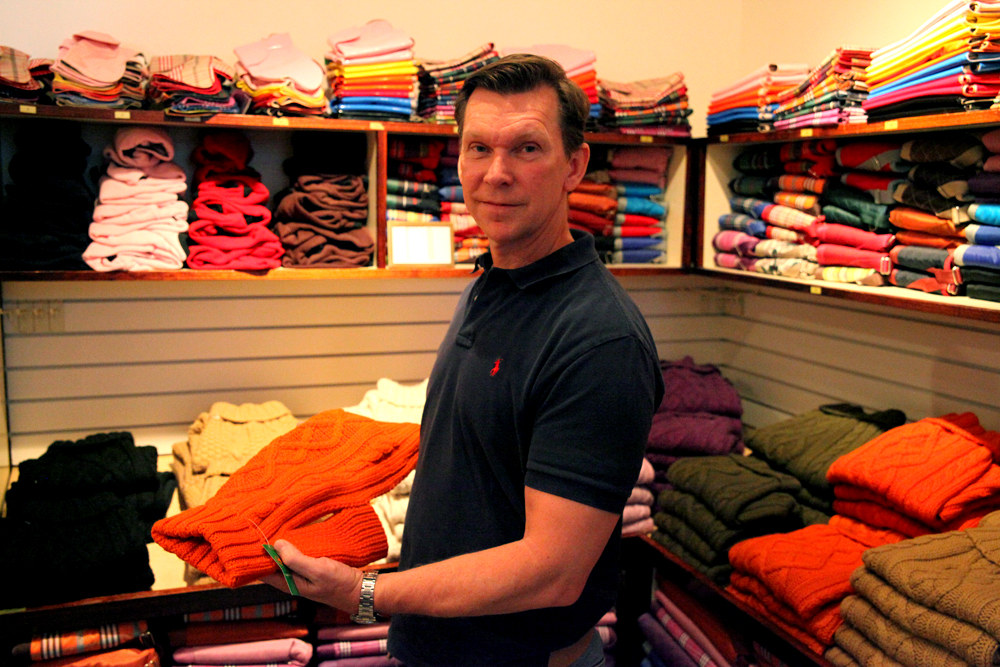 Another customer, Florence Asher, walked in with her wheaten, Dixie, for the pup's monthly hair cut. She said her pooch has taken well to the store's sleek rain slickers. Asher assures Dixie has a bevy of sharp outfits.
"She's a New York girl so we have to have black," Asher said, confessing that she bought what she liked. "Dogs are color blind, so Dixie doesn't mind."
To witness the morning rush at Canine Styles is to see a flurry of bodies suffering from separation anxiety.
"It's kind of like a toddler going to day care," said Lauren Moore, who does intake, and like any good salesperson, greets her furry clients by name. "You don't want to let them go and you want to say your goodbyes, but it's best if the mom or dad leaves first and then they go back to the grooming station
Certain breeds need more grooming, which runs from $85 to $185. Drendel's four Canine Styles stores in Manhattan groom as many as 100 dogs a day.
Some owners bring their dogs in twice a week, others every few months for a process that involves bathing, fluffing and hand scissor cuts.
It's an art, according to Ella Levitina, the head groomer, while snipping hair off a tiny Maltese with furious speed.
"You have to have a good eye and steady hands, so you can see the style, whatever you want to create and then you can make it."
Drendel, who grew up with family dogs in Tennessee, says pets have become a way for parents to express themselves.
"It used to be kids, now it's kids and pets," he said. "And also, people care about the way their apartment looks. So if they're buying a dog bed, they don't necessarily want an unattractive bed sitting in the middle of the room." 
More than anything, in his 23 years in the dog business, Drendel has seen a shift to dogs being considered members of the family. That was evident in the reaction of Debbie Melman to seeing her new puppy, Mimi Jouet, after her first groom.
The Morkie — half Yorkie, half Maltese — emerged from the store wearing a pink bow ontop of her head.
"I think she looks gorgeous," Melman gushed.
Dog walker Craig Murphy who brings his charges in to the shop every few weeks, said they loved the groomers. As for the styling: "I don't think they know much about the haircuts, they're just happy to get out of here, go back to the park and do the dog things."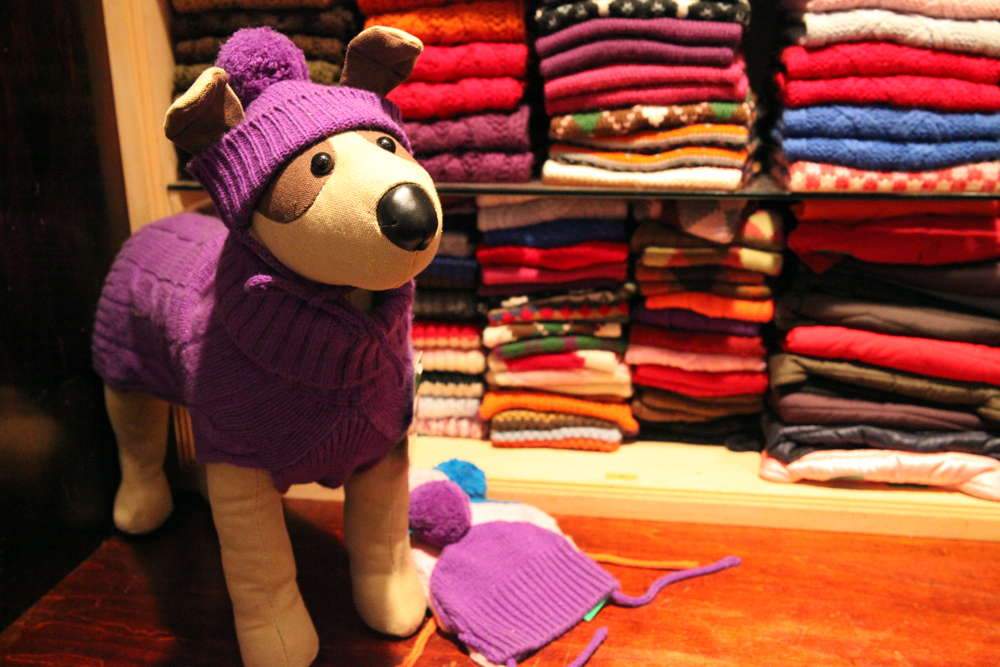 Interview with Mark Drendel, owner of Canine Styles.
How do you respond to critics who say dog accessories are a silly extravagance and it's not fair to the dogs to dress them up like dolls?
It's interesting. I don't hear that so much any more. I hear more people coming in and say, "Someone came up to me in the park and said, 'Oh my gosh! Why don't you have a coat on your dog? It's so cold outside!'" So I think now in NYC there are more critics that say "Why aren't you dressing your dog?" as opposed to the person who used to say, "Why are you doing that to your dog?"
Do people come in talking about their dogs personality, and do they try to buy products that correspond with it?
Yes, absolutely. And definitely with their own personality. I'm not sure if the owners become more like their dogs or if their dogs become more like their owners, but I probably think and believe that the dogs become more like their owners. You definitely see how if a customer is more intense and has more separation issues from letting their dog go that the dog tends to be more sensitive and bigger separation anxieties from its owner. It really depends on how that customer treats their dog and the kind of interaction they have with each other without saying too much.
What's involved in the grooming process?
I have a bather. I have fluffers, who get the dogs ready, dried and brushed out. And then the groomers. There are three different steps to the grooming process. My groomers only do the hair cutting, and they're the real artists in the back. And the fluffers, which also takes a huge amount of time to learn to do it correctly, because you really have to know how to brush out a dog, how to dry the dog, we do everything by hand.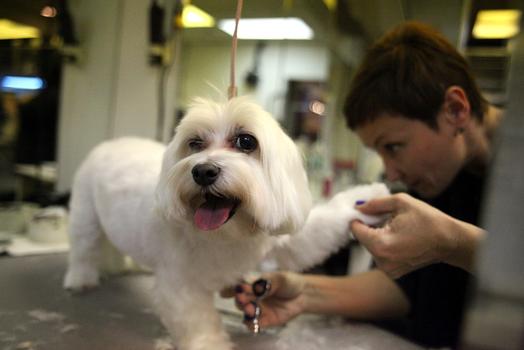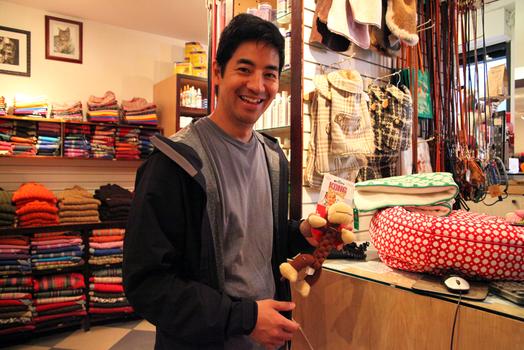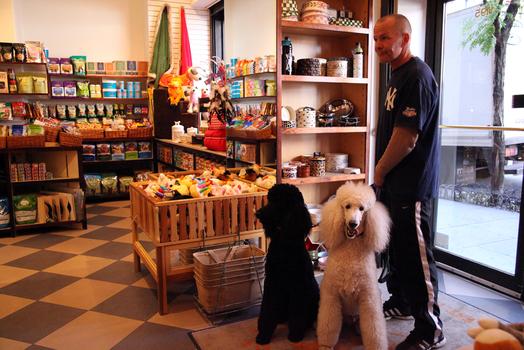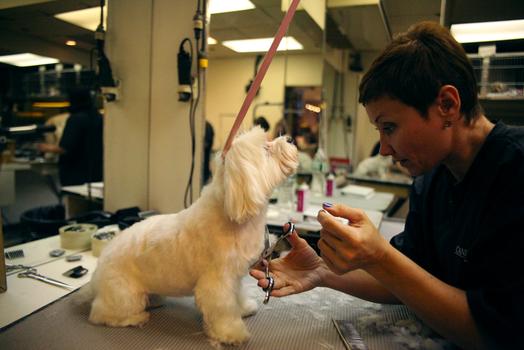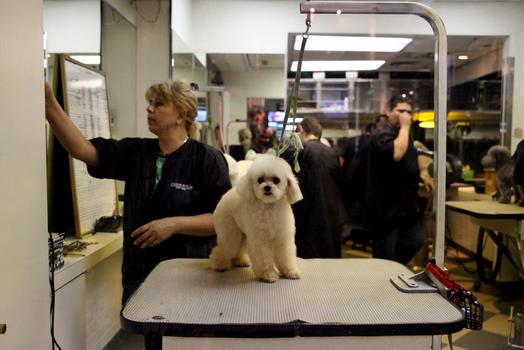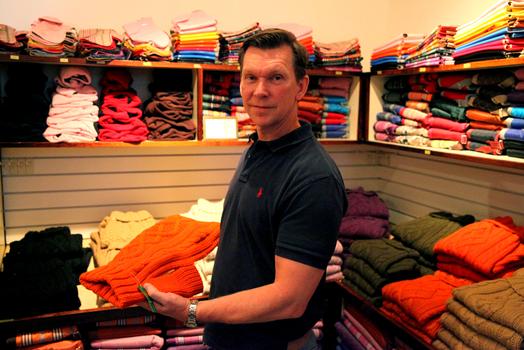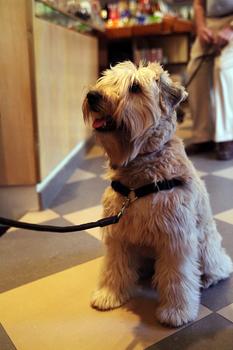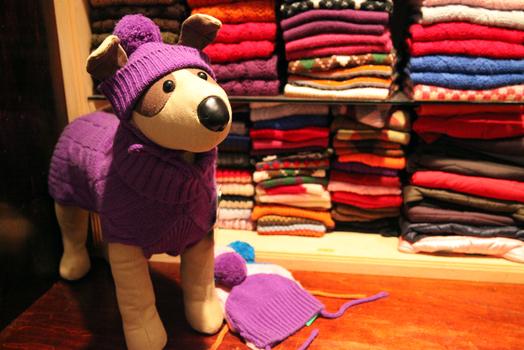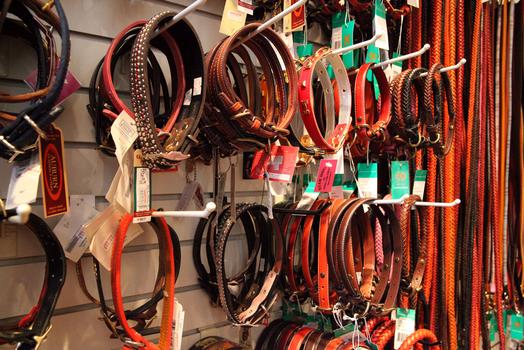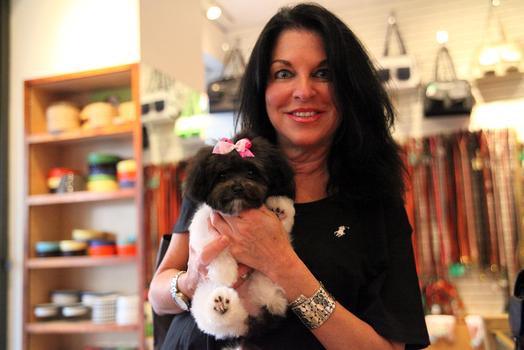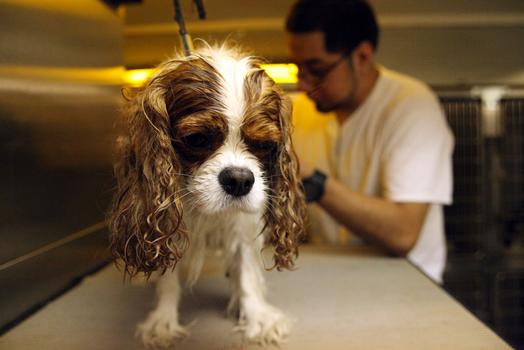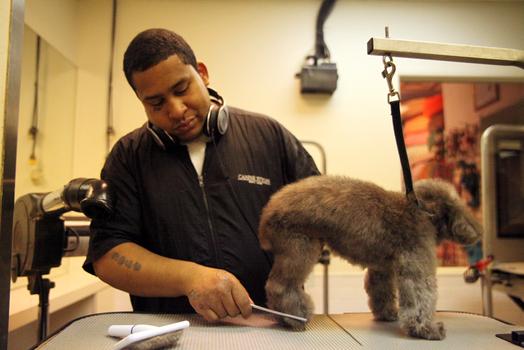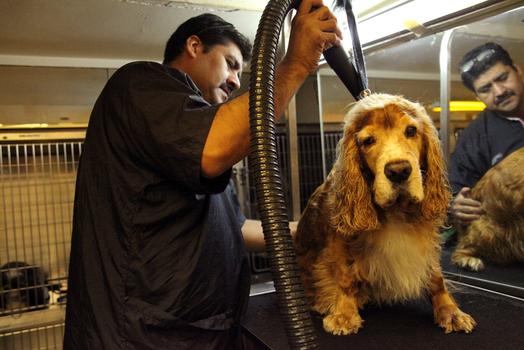 of