From Balloon Dogs to Paper Puppets, Jeff Koons Teaches Art to City Kids
An artist known for his monumental metal sculptures resembling balloon animals stopped by an East Harlem second grade classroom on Monday.
Jeff Koons visited P.S. 112 Jose Celson Barbosa to teach the 16 second graders how to make moveable animal puppets using paper and fasteners. His visit kicked off Visual Arts Appreciation Week, during which high-profile artists will visit New York City school classrooms to talk about making art.
The students started off Monday's class by talking about Koons's iconic 2,000-pound "Balloon Dog" sculptures.
Pointing to a picture of a blue version of "Balloon Dog" being held up by the students' art teacher, Cathy Ramey, Koons explained the piece to the class.
"That's in stainless steel and it's polished so it has a mirror surface, very reflective ... it's like a spoon," he said.
Koons exlained he made his sculptures shiny and reflective "so that you could walk by and you could see yourself and realize that by your movement you are affecting the different reflections in the piece and the perception of it."
One of the students, David Marcano, had a simpler description of the piece: "The blue one ... looks like it's going to pop."
Koons told David and the other students that before he scaled his pieces and cast them in steel, the sculptures were in fact balloons.
After talking about how Koons made his work, students started making their own moving Godzillas, lizards and butterflies using paper, fasteners and hole punchers.
Janny Moran was having trouble deciding what kind of bird to make.
"Maybe a peacock?" she said. "Or I don't know what bird ... I like birds a lot. Like I see different kinds of birds. Sometimes I catch them with my hands."
Koons said he was a 5-year-old Kindergartener in York, Pennsylvania when he started making art.
"It was a very important aspect of my upbringing," he said. "Learning about myself, my own possibilities ... Letting you know you can affect the way you feel through color, line, shape."
Other adult artists participating in the inaugural Visual Arts Appreciation Week include Claudia Demonte, who will visit P.S. 139 Alexine A. Fenty in Flatbush on Tuesday. On Wednesday, Fred Wilson will visit P.S. 46 Arthur Tappan in Harlem and Ursula von Rydingsvard will visit PS 75 Emily Dickinson on the Upper West Side. The program is organized by Studio in a School, a nonprofit organization in its 35th year that provides arts instruction to students at 110 Title I schools in the five boroughs.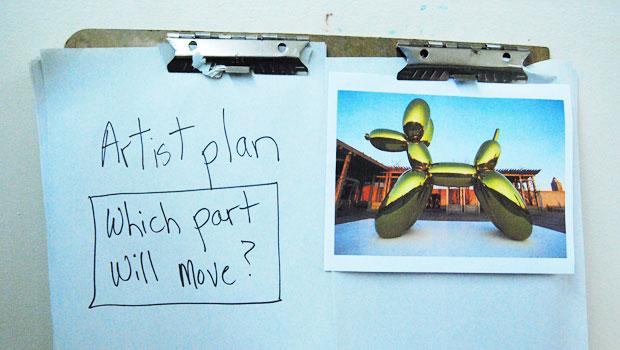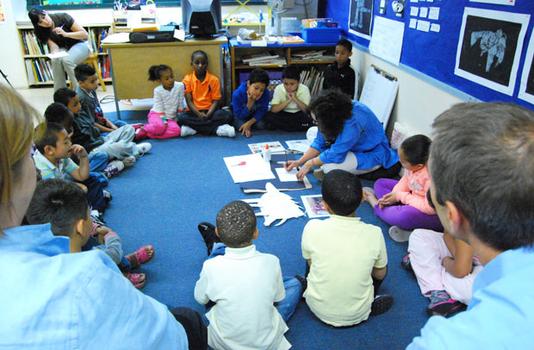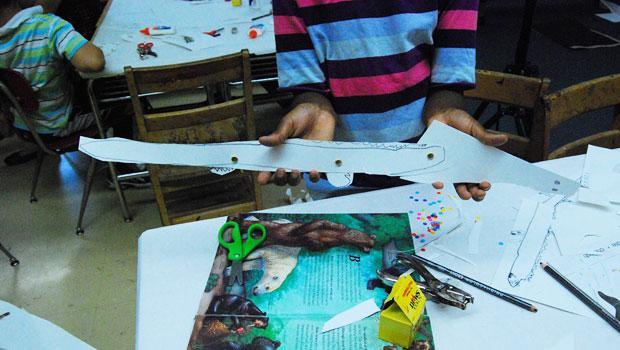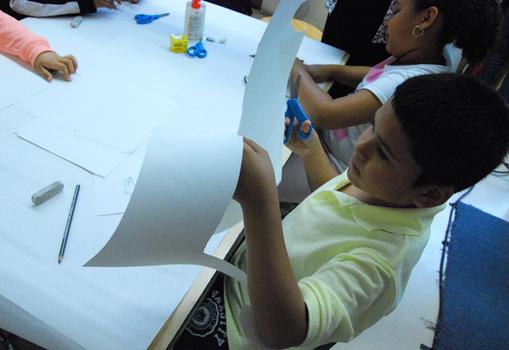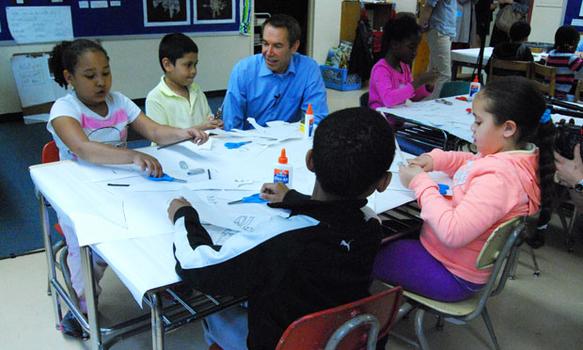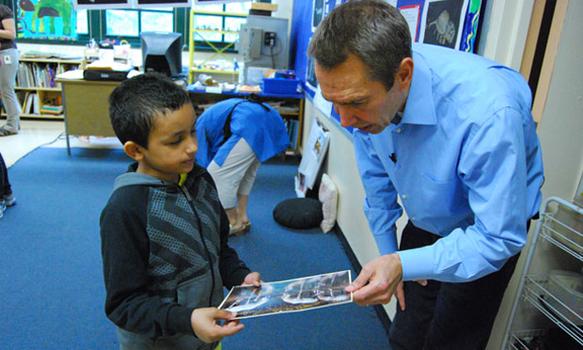 of