Duane to NYC: 'I Want To Come Home'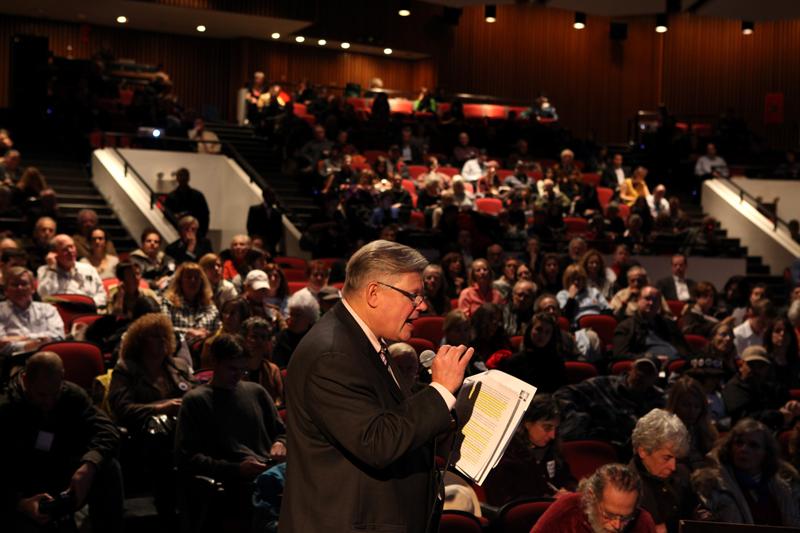 New York state Senator Thomas Duane, the Senate's first openly gay man, says he's coming home.
The 57-year-old Manhattan Democrat announced his decision not to seek an eighth term at a press conference in Chelsea on Monday at the offices of The Momentum Project, part of a nonprofit organization which provides meals to people living with HIV/AIDS.
"Albany is lovely," Duane said, "but New York City is my home and I want to come back and start the next chapter."
Duane's partner, Louis Weber, was there for the announcement.
Duane was first elected to the state Senate in 1998. His district includes the Upper West Side, Hell's Kitchen, Chelsea, Greenwich Village, and parts of the east side.  Alternating between prepared remarks and reporters questions, Duane focused on his accomplishments ― including big ticket items like the Marriage Equality Act, the Sexual Orientation Non-Discrimination Act (SONDA), the Dignity for All Students Act, comprehensive hate crime legislation and the Family Health Care Decisions Act.
He also highlighted a bill called the Sex Trafficking Victims Second Chance Act, which helps sex trafficking victims clear their records.
The Senator was diagnosed with HIV in 1988, and has been an outspoken advocate for issues affecting those living with HIV and AIDS.  But when asked about his health on Monday, his first comments had to do with his waistline.
"I hope you can see I'm losing some of my Albany weight," Duane said, who added that otherwise, "my health is great."
His departure from the Senate is a loss for progressive politics, according to Dick Dadey, executive director of the government watchdog group Citizens Union. During the 1990s, Dadey was the first executive director of the Empire State Pride Agenda, a lobby group that advocates for LGBT issues. He said Duane's career mirrors progress on lesbian, gay, bisexual and transgender issues in the city and state.
"No significant achievement occurred politically for the LGBT community without Tom Duane being a part of it," Dadey said, "so his exit from the political stage will leave a big hole, but a very large contribution in terms of what he made happen."
Duane also served on the City Council which established domestic partnership registration during his time.
"When he started office, our hope was that his leadership would lead to a level of city recognition for lesbian and gay couples via domestic partnership," Dadey said. "Never did we imagine 20 years later as he leaves elective office that he would have been a key part of bringing about full marriage equality for same-sex couples."
But there were certainly setbacks on that path to legalizing same-sex marriage. When the bill was introduced to the floor in December 2009, Duane gave an emotional floor-speech before the bill eventually failed. His mother had died the week before.
Paul Schindler, editor of the Gay City News, recalls that as a very dark, very poignant day. 
"You never have a lot of friends around you when you lose a vote and I was glad he was able to be in the senate to see that reversed," said Schindler, who said he hopes that Duane's successor will advocate for issues facing people living with HIV/AIDS and transgender equality.
Duane said he will make an endorsement for his replacement eventually, and had kind words to say about his friend Brad Hoylman, the chair of Community Board 2, who is expected to run.
But on Monday, Duane wanted a day for himself.
"Can we make this about me please?" Duane smirked. "Could this just be my day?"