Space Shuttle Enterprise Slow Boats It to New NYC Digs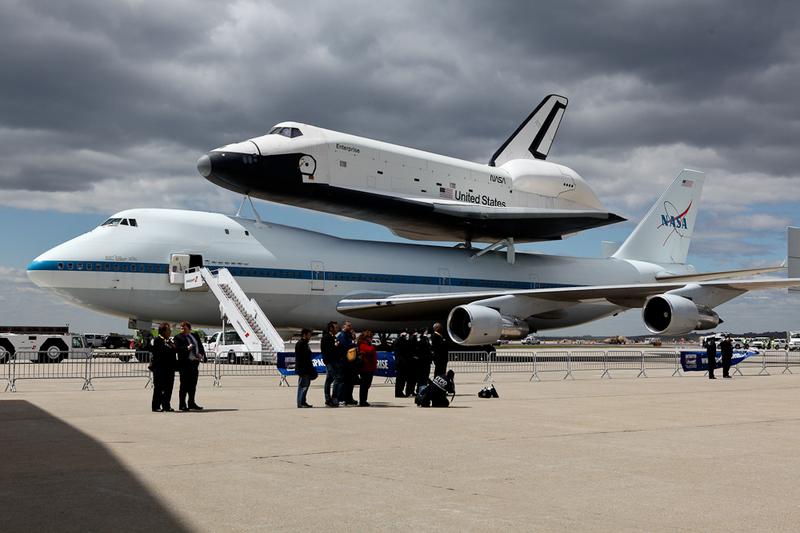 6/6/12 Update: The Space Shuttle Enterprise will travel up the Hudson River from Jersey City on Wednesday. It will pass the Statue of Liberty and the World Trade Center before being hoisted by crane onto the flight deck of the Intrepid Sea, Air and Space Museum. The Enterprise's original move-in date was Tuesday but organizers announced Monday that bad weather had delayed preparation work.
The Space Shuttle Enterprise begins its last journey to a new home on Sunday morning, taking to the city's waterways to get there. The shuttle is making the trip from Kennedy Airport to the Intrepid Sea, Air and Space Museum aboard a specially-modified barge.
The trip will include a day-long layover at Port Elizabeth in New Jersey while some final preparations are made.
The route takes the tugboat-guided barge from J.F.K along the shores of Queens and Brooklyn. It's scheduled to pass the Gil Hodges Memorial Bridge by mid-afternoon, go by Coney Island, glide under the Verrazano Bridge and head to Newark Bay, where it will remain docked until Tuesday.
Then the shuttle's journey will leave Port Elizabeth to travel through New York Harbor past the Statue of Liberty and the World Trade Center and up the Hudson River to the Intrepid. That leg of the journey is scheduled to occur around the same time of day as last month's flyover of the shuttle that dazzled New Yorkers.
Unless postponed because of weather or tide conditions, the tug, barge and shuttle are set to depart Newark Bay at around 9:50 a.m. on Tuesday and reach the Intrepid Museum, which is docked at Pier 86 in Manhattan at West 46th Street, by 11:30 a.m.
Enterprise will then be lifted by crane onto the museum's flight deck in an operation expected to take three hours.
The museum plans to open the Enterprise exhibit to the public on July 19.