Federal Appeals Court Overturns DOMA's Definition of Marriage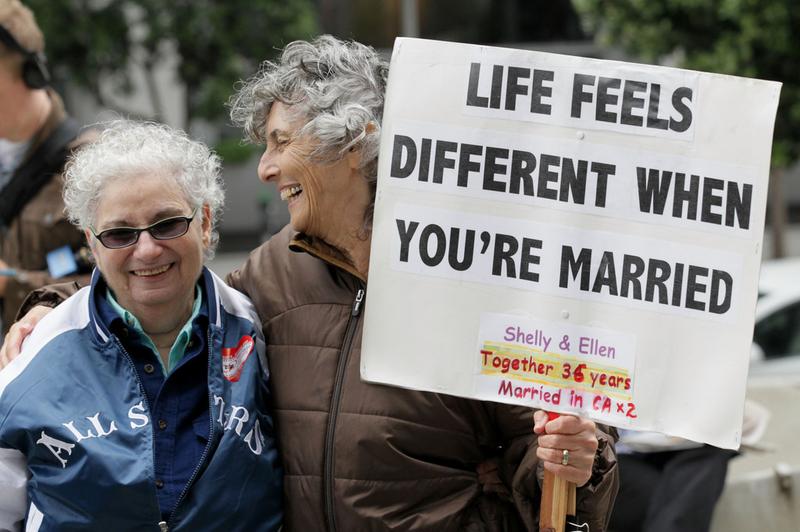 In a unanimous ruling, a U.S. Court of Appeals ruled Thursday that a key component of the Defense of Marriage Act is unconstitutional. This is the first time that DOMA was found to be unconstitutional by a Federal Appeals Court.
The First Circuit Court of Appeals, in a 3-0 decision, affirmed the U.S. District Court ruling in Gill v. Office of Personnel Management, saying that over the past 50 years, court precedents have called for the government to be scrutinized more closely when it comes to minority rights.
The case, brought in Massachusetts by Gay & Lesbian Advocates & Defenders, said that it is discriminatory for same-sex couples legally married in that state not to have the same federal rights as legally married opposite-sex couples. Marriage is legal in two states in the First Circuit: Massachusetts and New Hampshire.
DOMA, signed by President Bill Clinton in 1996, has two parts: First, that no state is required to recognize legal gay marriages performed in other states.  And second, that the word "marriage" is defined to mean the legal union of one man and one woman for the United States government.
Before DOMA, the definition of marriage was generally left up to the states. The First Circuit said in its decision that "no precedent exists for DOMA's sweeping general 'federal' definition of marriage for all federal statutes and programs."
Yet DOMA's impact has been far reaching – estimates say that DOMA affects around 100,000 legally wed gay couples. For example, gay Americans whose legal spouses are citizens of another country have seen their husbands and wives deported because the U.S. was unable to recognize their marriage for immigration purposes. Gay and lesbian members of the military, who are now able to openly serve, may not claim benefits for their spouses. A widowed gay spouse may not collect Social Security survivor benefits. And gay couples may not file joint federal tax returns, though they may file jointly on state tax returns in states where they are legally wed.
The First Circuit overturned DOMA's definition of marriage, but said that the question of whether states which ban gay marriage must recognize legal same-sex marriages performed in other states is up to the U.S. Supreme Court.
Although President Barack Obama has declared that the Justice Department will no longer defend DOMA because it is unconstitutional under the Equal Protection Clause, it is expected that the Bipartisan Legal Advisory Group of the U.S. House of Representatives will appeal the decision to the Supreme Court.