Zombie Tweets: The Next Social Media Threat to Politicos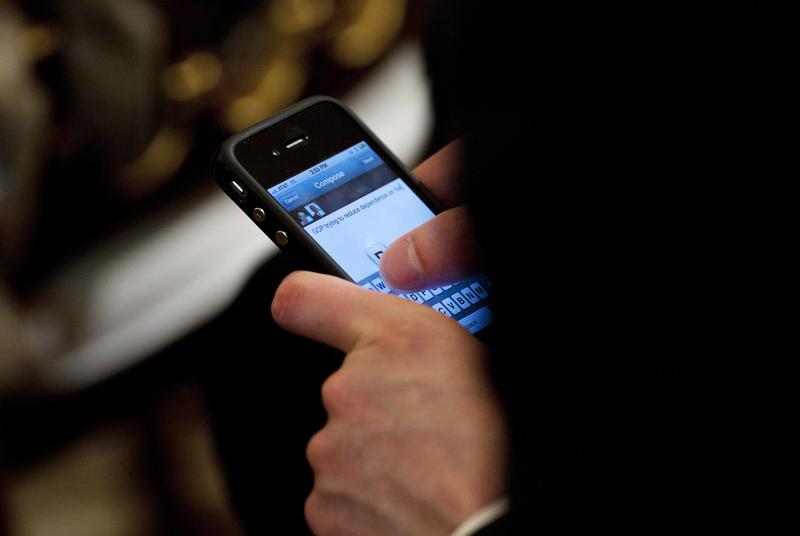 On May 18th Congressman Jeff Miller, a Republican from Florida, was wondering where Barack Obama was born.
"Was Obama born in the United States?" read a missive from Miller's Twitter account. The question was accompanied by a link to the Congressman's Facebook page, where a poll asked whether new evidence about Obama's birthplace changed your mind about his eligibility to be president.
Fifty-five minutes after posting this, the Tweet was deleted from Miller's account.
We know this thanks to Politwoops, a new project from the Sunlight Foundation, a non-profit that advocates for government transparency. For the past six months, Politwoops has been re-posting all the deleted tweets from U.S. politicians, mostly from the House and Senate.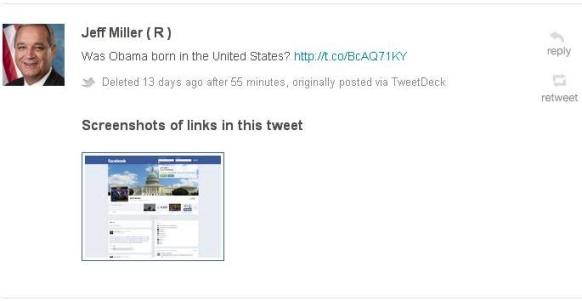 At first blush, Politwoops appears conceived and designed specifically to capture Weiner moments – that is, moments that recall last year's Anthony Weiner scandal. The former Democratic Congressman saw his career implode after tweeting a lewd picture from his account and subsequently deleting it, but not before some Twitter users noticed the picture in their timeline and disseminated a screengrab.
Generally, one assumes that tweets get deleted because they show something incriminating or embarrassing that the user later decided they didn't want anyone to see. But its owners say that Politwoops isn't all about the "gotcha" moments.
"Certainly there's always the possibility of capturing something that shouldn't be said," said Tom Lee, the Director of Sunlight Labs, which is the technical arm of the Sunlight Foundation. "But the practical upshot to this project as we've looked at it is just to get a picture of these individuals, sometimes their staff, that you wouldn't otherwise have."
To politicians' credit, so far the tweets on Politwoops appear mostly banal.
On Wednesday Congressman Keith Ellison, a Democrat from Minnesota, tweeted the word "Test" – presumably Ellison or a staffer was testing a new Twitter app, or a new mobile device. Twenty-four minutes later, it was deleted.
Often tweets seem to get deleted because the Twitter account is linked to the politician's Facebook, and the communications staff had to clean up duplicate postings. Other times, a tweet is deleted simply because whoever wrote it forgot a hashtag, or wanted to change "briefing" to "mtg," or something like that. A nearly identical tweet comes out moments later.
Today, Republican politicians are using Politwoops to take jabs at President Obama.

"If you actually go through the database, I think you'll find more than anything else it's kind of a humanizing exercise to see politicians tweeting about date night with their wives, or passions for what's on TV that night," said Lee.
Since it's official debut yesterday, Politwoops' only "gotcha" looks like Rep. Jeff Miller. Slate picked up the deleted Obama birther poll tweet, and the Congressman's chief of staff eventually had to tell David Weigel that it was written by a staff member, not Miller.
Hours after the story appeared, something else had been deleted: Miller's Twitter account. Politwoops has already changed the way at least one politician uses social media.
"That betrays a belief, at least on the part of the Congressman's staff, that's at odds with his public pronouncements and I think its revealing to have that be part of the public record," Lee said.
Problem for pols is, the public record just keeps getting larger. Five years ago, Twitter was hardly part of it; now even deleted tweets have a place on the web, meaning there's one more corner in which dirt can collect. Social media can be humanizing – but humans make mistakes.
"People have gotten a lot more careful," said Jim Green, Vice President of Business Development at VoterTide, a company that offers social media tracking analytics to politicians and campaigns.
"Traditional media like press releases, constituent letters we send out to folks, fundraising letters, those go through a vetting process," Green said. "Over the last few years, I've started to see social media go that same way, because it is part of your overall communication. Everyone's hiring digital directors, social media directors, to monitor this stuff and not just put it by the wayside."

Green forecasts that the days of politicians managing their own Twitter accounts are numbered – which might be a shame. Senator Chuck Grassley's tweets are delightfully unedited. Brooklyn Borough President Marty Markowitz is not above posting a video of himself rapping "Liquid Swords." Newark Mayor Cory Booker has been known to use Twitter to find constituents who need their snow-covered streets shoveled.
While that's entertaining or humanizing, the potential costs of an error may just be too high. Ironically, Politwoops may have the opposite effect from the one Tom Lee envisions, as it could drive politicians to farm out social media responsibilities to expert staffers.
"As social media becomes more important, one would expect it to drift further and further in that direction," of oversight and extensive vetting, Lee admits. "On the other hand, I think all of these technologies are pushing us toward dis-intermediated, personalized communication, and that trend, the temptation to have this kind of intimate connection with the world at all times, is so overwhelming that I honestly don't know which will win out."
Jim Green noted that most members of Congress are decades older than Twitter, and the learning curve tends to get steeper with age. "Every time a new social media platform comes out, they just don't know what to do with it," he said. "So having someone a little younger do it, a little more up to date, is just smart."

Alex Torpey, the Village President of South Orange, New Jersey, doesn't delegate his social media responsibilities to a younger person: he's only 24 years old himself.
Sworn into office in May 2011, at the age of 23, Torpey manages both his Facebook and Twitter accounts personally. He used his Facebook page to respond to hundreds of comments from constituents last fall during heavy storms in South Orange.
"I would never want someone else to do it," Torpey said of handling his own accounts. "It's genuine, it's a little bit unfiltered. Putting those layers of staff and approval and things, while I understand it, does take away from the genuine nature, which is what I think people really find value in."
Torpey allowed that if he were answering to more than 16,000 constituents, that would make it more difficult to do all the social media himself. When asked if he was ever worried about making mistakes over the course of hundreds or thousands of status updates and tweets, he said, "Absolutely." But as our lives become more and more thoroughly documented on the internet, Torpey hopes that eventually the public learn to accept the obvious: politicians are not infallible.
"There's this idea that people are perfect; that they've never made a mistake; they never will make a mistake; they've never said anything out-of-character; and that's a totally impossible standard to have for people," Torpey said.
"I think it forces a certain amount of superficiality because everybody makes mistakes. The difference is, are you able to learn from those mistakes, take responsibility for them, and do better next time. To me, that's the mark of someone who's truly worthy of holding office, not someone who's pretending they never made mistakes."