Rubio Burnishes Foreign Policy Cred Before NYC Crowd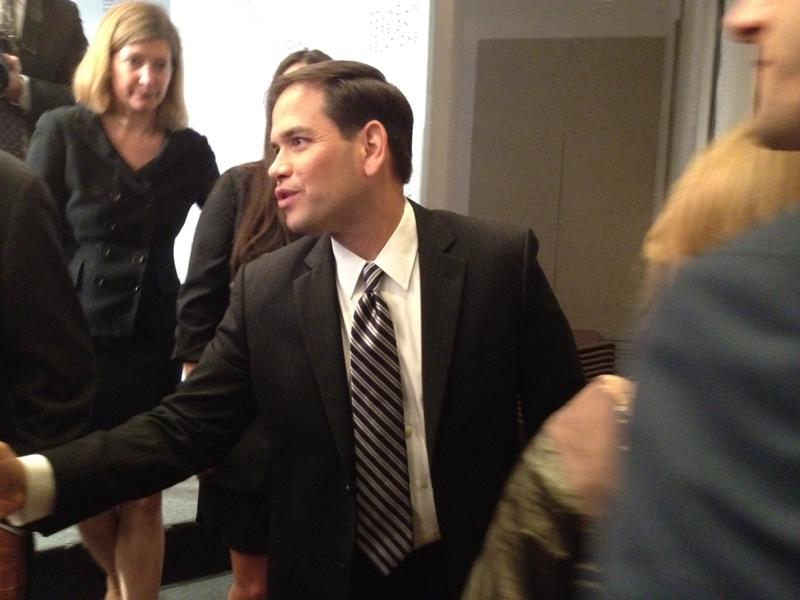 Florida Senator Marco Rubio brought his vice presidential audition tour to New York, where he outlined his international philosophy to the foreign policy elite. And his call for an engaged, pragmatic U.S. foreign policy received a warm welcome from the crowd at the Council on Foreign Relations.
The freshman senator, who sits on the Senate Foreign Relations Committee and the Intelligence Committee, took most direct aim at the parts of the Republican Party that eschew foreign interventions or global coalitions.
"I'm not prepared to cede the conservative label to those who would disengage us from what's going on around the planet," Rubio said. On the other hand, he said the United States must be prepared to take unilateral action when there isn't consensus among members of the Security Council.
In other words, a policy very similar to the Obama administration's.
While weighing in Syria, Iran and Israel, Afghanistan, the Arab Spring and China, Rubio had few quibbles with White House policy. When asked directly about whether President Obama's foreign policy could help his reelection chances, Rubio demurred.
"I don't know how people are thinking about those issues and I haven't done the political calculus," he said, then quickly pivoted back to his central argument that foreign policy shouldn't get caught in political fray.
"My issues aren't just with the president. These issues aren't always exactly Republican or Democrat, conservative or liberal," he said. "To the extent I can, I try to keep foreign policy nonpartisan."
Rubio also argued against targeting foreign aid in Washington's budget battles. "It's a rounding error in the big picture," he said of its impact on the debt. "On the other hand, the payback on foreign aid is extraordinary."
Rubio's positions on foreign policy are certainly helping him build bipartisan credibility. From the stage at the Council on Foreign Relations today, Time Managing Editor Richard Stengel noted that Rubio was elected in part by Tea Party activists, but has become "the face of enlightened GOP foreign policy."
At the Brookings Institution last month, Sen. Joseph Lieberman (I-CT) called the senator "a leading advocate for freedom fighters and political dissidents throughout the world."
This was just the latest outing in a recent string of events that are serving to showcase Rubio's foreign policy experience.
Earlier this week, Rubio visited Guantanamo Bay telling the Miami Herald the visit was part of routine business as a member of the intelligence committee because there are "a lot of places I need to visit and get up to speed with." It was the first time he'd visited Cuba, where his parents left for the United States in the 1950s.
It was in that Brookings Institution appearance last month when he made the case for robust American foreign policy engagement. "The world is a better place because of America's engagement in it, " Rubio said then. "And it will continue to get better only if we continue to engage."
Both in that speech and today, Rubio made the case for continued Ameircan presence in Afghanistan, but did not comment directly on a timeline for withdrawal.
That's a shift from his take just after he took office in 2011, when he traveled to Afghanistan and Pakistan and criticized what he called an "artificial timeline" for withdrawal.
That was before Rubio so thoroughly embraced positions and rhetoric that appeal for consensus and pragmatic political solutions. Rubio is staking foreign policy as a place where he stands out from the pack of Republicans ready to dig their heels in and fight.