Incumbents in NJ Battle for District That Is a Study in Contrasts
Democrat incumbent congressmen Bill Pascrell and Steve Rothman — pitted against one another as a result of redistricting — are battling for the newly created ninth district, a Democratic stronghold that is a study in contrasts.
Pascrell is stumping with former President Bill Clinton this week, and top Obama strategist David Axelrod has been in the district — which includes parts of Bergen, Passaic and Hudson counties — on behalf of Rothman.
Both Pascrell and Rothman came to Congress in 1996. Their records are near identical. But since those most likely to vote are from the core of the Democratic party's most liberal base, the old pals are hammering each other over which one of them is the most progressive.
Whoever wins the June 5 primary, they will have to contend with a new district where both poverty and great affluence exist – and where many, still struggling in the wake of Hurricane Irene, have become disillusioned.
The Working Poor in a Once-Thriving City
On a recent day in Paterson, N.J., hundreds line up at Eva's Village soup kitchen for a free lunch. About 53 percent of households in the city live in poverty living at, or below $36,820 a year for a family of three, according to Legal Services of New Jersey.
The population of Paterson is about 146,000, a decline by a few thousand, according to the latest Census. But over the same period, the city's Hispanic population jumped from 74,000 to more than 84,000, an almost 6.5 percent increase. There is also one of the largest Arab-American populations in the U.S. outside the city.
For the few who are aware about the election, most were skeptical about incumbents -- even President Barack Obama who won unprecedented vote totals here four years ago.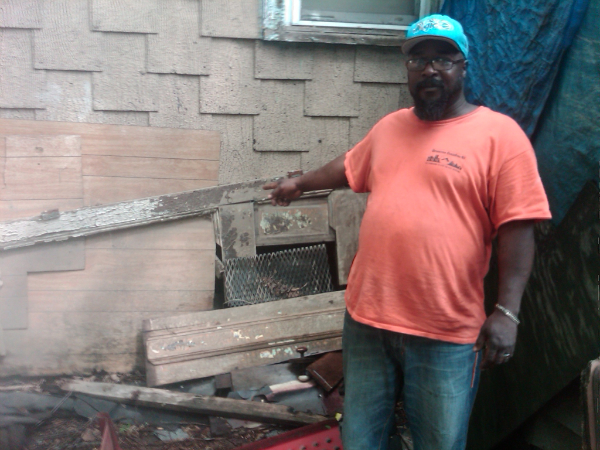 (Photo: Romey Romer of Paterson, N.J., said FEMA gave him $2,600 for repairs for storm damage. He said the sum did not cover the damages. Bob Hennelly/WNYC)
Marie Reger, executive director at Eva's Village which hosts the soup kitchen, said the daily count at the dining room has spiked from 240 to more than 400 since 2008.
"We do have many people that are down on their luck temporarily, and we have the working poor who come to us just to have that meal each day just so they don't have to worry about feeding themselves dinner at night," she said.
Paul Oliver, longtime resident who lost his job four years ago, was among those in line. His family used to own an overcoat factory that employed hundreds of people back when Paterson was known as the Silk City.
"As you can see these families are coming here for a free meal, and they all have clean clothes," he said. "They are embarrassed but they get to take something home. My situation's a little bit different. I am actually a homeowner, and we struggle."
Meanwhile, in a section of Paterson hardest hit by post-Hurricane Irene flooding, resident and building contractor Maurice Horner was loading his truck with lighting fixtures. 
He says the good will that existed when Obama visited the site last September after Irene has worn off as conditions continue to deteriorate.
"It is getting worse, getting worse," he said, gesturing to a row of boarded up homes. "Look, you got nine houses here boarded up because they done foreclosed. On one, two, three, four, five, six --about seven houses right here. It was a nice neighborhood until this water came."
A Tony Town
But along Palisades Avenue in Bergen County's tony Englewood with a population of 27,000 there are new store facades, posh restaurants and art galleries. There has been an influx of affluent residents from New York City who are settling here, where rents can range from $2,000 to $3,000 a month for a one-bedroom.
Just 10 percent lives at or below the poverty line, according to the Census' American Community Survey.
Gallery owner Laura Borghi said she's benefiting from the affluent residents' increasing buying power here in Bergen County.
"The economy is not coming back but the art market is skyrocketing," Borghi said.
But on the same downtown street, bodega owners play popular Latino. Church signs are in English, Spanish and Korean.
Over 10 years, the Hispanic and Asian populations have increased by 7 and 3 percent, respectively. The African-American population has declined by 5 percent.  
The new ninth district voters who had great hope in 2008 sound weary and disappointed in 2012.
And political analysts say that with no presidential contest at the top of the primary ballot it's likely the Rothman-Pascrell election will draw just an anemic 20 percent turnout.
Listen to both candidates on The Brian Lehrer Show: Redistricting is pitting Democratic incumbents Steve Rothman and Bill Pascrell against each other in a race for the single seat to represent the new 9th congressional district.