Officials Still Assessing Great GoogaMooga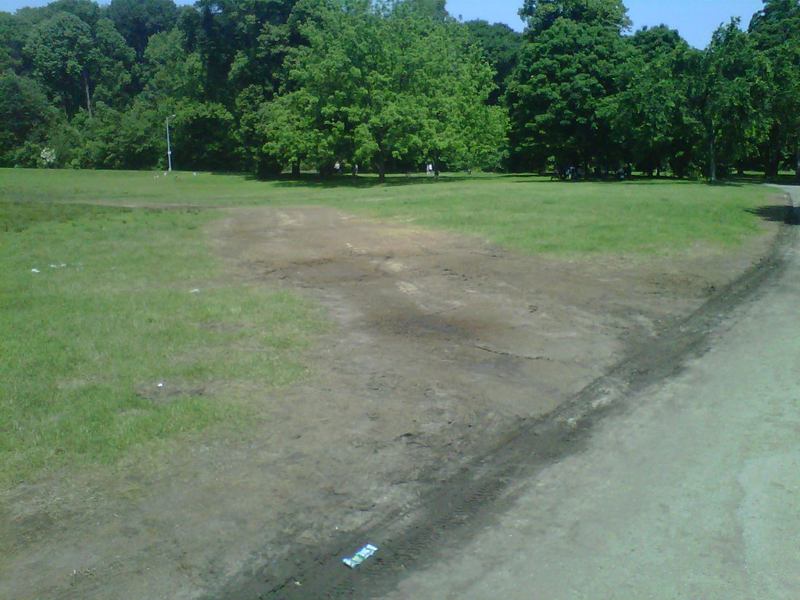 Reviews are still coming in for The Great GoogaMooga, the elaborate foodie-centric festival held in Brooklyn's Prospect Park on May 19 and 20.
The event, two years in the making, brought together the City, the Prospect Park Alliance and Superfly Presents, GoogaMooga's producers, along with tens of thousands of hungry attendees. Great GoogaMooga quickly distributed all 80,000 of its free tickets and drew additional attendees with $250 Extra Mooga tickets. 
But complaints began to trickle out online at the start of the event last Saturday, when lines were long and food was short. Organizers are offering refunds for the premium tickets because of problems with the event. 
And over the past week, attention has turned to how the festival has affected the park itself. A scattering of brown grass patches are the only tell-tale signs left in the Nethermead, the section of Prospect Park where vendors set up their trucks. Speaking to WNYC, Emily Lloyd, president of the Prospect Park Alliance, said damage to the park grounds was minimal.
"There's some rutting, particularly where trucks were turning along the edges of the path, or didn't stay exactly on the path," Lloyd said. "But that's typical of, for example, when the Metropolitan Opera comes to the park, or any big event."
Lloyd said all large events are required to take out a bond, which serves as a sort of insurance policy that takes into account any repair work that may be required after the event.
At the same time, Lloyd said she is still gathering feedback from staff working on other events in the park that day. The Brooklyn Half-Marathon, the City's 5th Annual Shred Fest where people could shred private documents, and a wedding were among the other events in the park during those days – not including the standard weekend park users.
Allison Jack, 42, of Prospect Lefferts Gardens attended the event early Saturday with her husband and their three children with free tickets. She was back in the park on Monday and in her assessment, the grounds looked great.
"I wouldn't see any evidence of it," Jack said glancing at the nearby fields. "I guess these brown patches weren't there, but they don't see that dramatic to me considering how big the festival was."
Rayvon Hammond, 42, of Crown Heights, was less forgiving. As he prepped his grill for a picnic Monday, Hammond complained about the festival clean up.
"It should be more workers, more cleaning," said Hammond. "It's like they leave things behind so you come with your family and you see things you don't want to see."
But park officials said all trash and recyclables from the festival were gone by the Monday morning after the event.
Last Friday, Lloyd posted a notice to the Prospect Park Alliance website acknowledging everyone who shared their views – and concerns – about the event.
Officials from the Prospect Park Alliance said it's too soon to know whether there's a future for the GoogaMooga. But a statement sent from Superfly Presents struck a more optimistic tone. It said they are working closely with the City and the Prospect Park Alliance about plans for GoogaMooga next year, "as we hope to make this an annual event."