Recipes for the Perfect Picnic
The Memorial Day weekend is symbolic for many reasons: women can break out their white shoes, beaches open and summer Fridays start at many companies.
For many foodies — and non-foodies — this is the time that grills get fired up and picnic baskets get packed.
If you're looking to break with burgers and potato salad, Russ & Daughters' thinks their Marinated French Smoked Herring Salad will work well for any holiday picnic or barbecue.
RUSS & DAUGHTERS MARINATED FRENCH SMOKED HERRING SALAD
2 fillets of French smoked herring
5 Tablespoons of extra virgin olive oil
1 medium carrot, peeled and very thinly sliced (use a mandolin)
1 small vidalia onion, peeled and very thinly sliced (use a mandolin)
1 sprig of fresh thyme
1 fresh bay leaf
4 black peppercorns
1 clove
4 red bliss potatoes
1 pound of leafy greens
1. Cut the herring fillets into 1 inch pieces (approx 6-7 pieces per fillet). Gently toss the oil, vegetables, herbs, and spices in a bowl. Tightly cover the bowl, and allow to marinate overnight in the refrigerator. 
2. Boil the potatoes until fully cooked. Allow to cool and then peel and slice into ¼ inch to ½ inch thin slices.
3. Serve the potatoes and marinated herring mixture over a bed of leafy greens. Drizzle some of the marinade on top just before serving.
Serves 5.
Coconut & Quinoa food blogger, Amy Chaplin, has vegan and vegetarian recipes to satiate even the most carnivorous picnic crowd. She says her chickpea mash makes a great spread for sandwiches or an alternative to humus.
CHICKPEA MASH
1 ¾ cups chickpeas, soaked overnight with plenty of water
2 inch piece of kombu seaweed
sea salt
2 Tablespoons extra virgin olive oil
sea salt to taste
black pepper
chopped parsley or chives to garnish
1. Drain chickpeas, rinse and drain again. Place in a pressure cooker and cover with 2 inches of filtered water. Add kombu and bring up to full pressure over high heat, reduce heat to low and cook for 30 minutes.
2. Remove from heat; allow pressure to come down naturally.
3. Drain chickpeas, reserving cooking liquid.
4. Return chickpeas to pot, add olive oil, a good pinch of salt and pepper and mash until creamy with a potato masher.
5. Add a couple of tablespoons of reserved cooking liquid and mix well. The mixture should be really creamy, if you want it a little softer add more cooking liquid. Season to taste and serve with a drizzle of flax or olive oil and sprinkle with parsley and chives.
But Chaplin says if you're looking for something hearty this next recipe is one you might try bringing to your next picnic. She likes to layer her quinoa and roasted summer vegetables in a deep glass dish container. Be forewarned, you should prepare this the night before.
QUINOA WITH ROASTED SUMMER VEGETABLES AND HARISSA MARINADE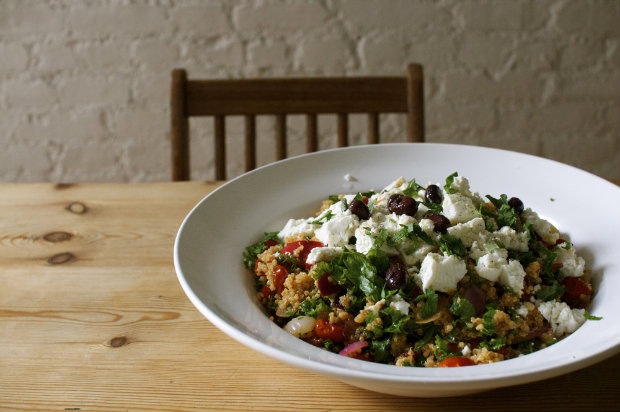 1 cup quinoa
Sea salt
2 zucchini, cut into 1 inch chunks
1 red pepper, seeded and cut into 1 ½ inch pieces
1 orange pepper, seeded and cut into 1 ½ inch pieces
1 yellow pepper, seeded and cut into 1 ½ inch pieces
1 pint cherry tomatoes
Extra virgin olive oil
1 red onion, cut into wedges
4 leaves kale, finely sliced
3 tablespoons harissa
Juice of ½ a lemon
1 teaspoon apple cider vinegar
Goat milk feta
Olives and arugula to garnish
1. Pre-heat oven to 375 degrees Fahrenheit.
2. Place quinoa in a bowl, fill with cold water and wash well. Drain quinoa and repeat. Cover quinoa with filtered water and soak for 3 to 4 hours.
3. Drain and rinse quinoa and place in a small pot over high heat, add a pinch of salt and 1 ¾ cups boiling water. Once mixture is boiling cover, lower heat and simmer for 20 minutes.
4. Remove from heat and set aside to cool.
5. Place zucchini, peppers and cherry tomatoes on a parchment lined cookie sheet. Drizzle with olive oil, sprinkle with sea salt and toss to combine. Put in oven and roast 20 to 25 minutes, stirring half way. Remove from oven and allow to cool.
6. Heat a skillet over high heat, add a tablespoon of olive oil and red onion and sauté for 3 to 5 minutes. Lower heat to medium and cook about 10 minutes or until onions are caramelized.
7. Add a pinch of salt, stir and remove from heat. Set aside to cool.
8. Place kale in a bowl, drizzle with about 2 teaspoons of olive oil. Using your hands, toss well until kale has wilted.
9. Spoon harissa in a small bowl, add lemon juice, vinegar and 1 tablespoon of olive oil.  Stir well and set aside.
10. Place cooked quinoa in a large bowl and spread out to cool completely. Add roasted vegetables and kale, gently toss to combine. Drizzle harissa over and mix again.
11. Transfer to a serving bowl; crumble feta over the top and sprinkle with olives.
Garnish each plate with a few leaves of arugula.