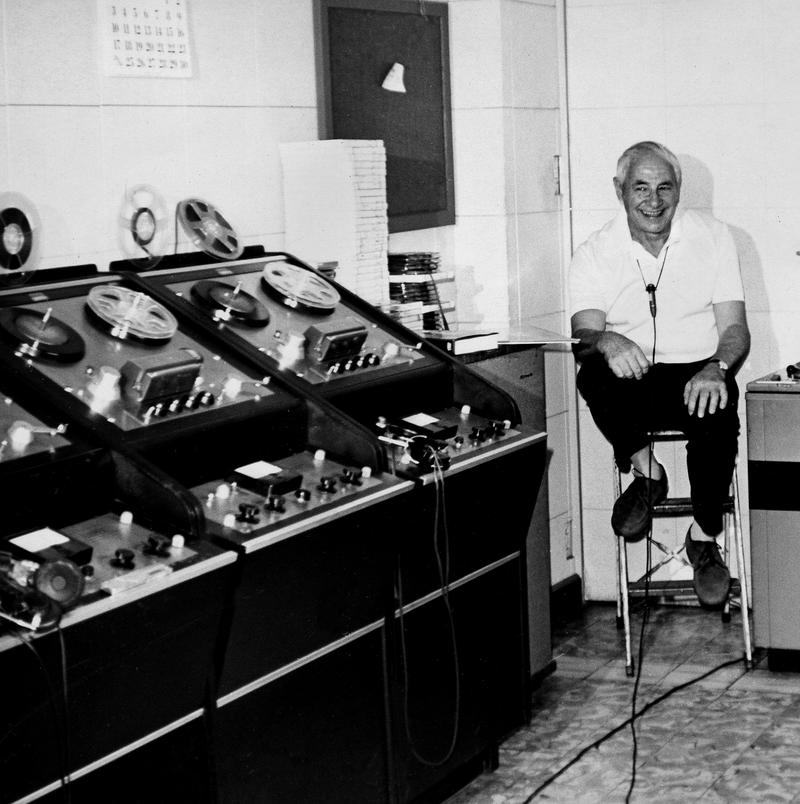 From 1940 to 1942 Ralph Berton hosted WNYC's daily foray into jazz called Metropolitan Revue, dedicated to "the finest in recorded hot jazz." The program was radio's first serious jazz music show on the air.

Although critical of Berton, reviewer Elliott Grennard wrote at the time, "The program is a genuine effort to effect a more intimate relationship between its listeners and the enfant terrible of American culture...The program presents out-of-print classics by legendary heroes as well as lesser known imprints by obscure folk artists. It presents, in the flesh, jazzmen who reminisce about glorious recording dates of the past and reaffirm their admiration for those who went before them." [1]
Berton came to WNYC in 1939 through an old friend, Mitchell Grayson, who was WNYC's Drama Director. Grayson had asked him to adapt some novels for the drama series Great American Novels. This he did and then came a lunch meeting with Program Director Seymour N. Siegel where Berton was asked to handle the jazz for the first American Music Festival in February, 1940. Regular jazz programming soon followed. [2]
Variety's radio reviewer took note: First, there is Berton's "extraordinary collection of hot records all the way back to the esoteric days" and second, the fact that the program "is obviously and frankly for the birds whom a hot lick drives into a frenzy." Unusual too is the description of Berton's presentation suggesting a free-form radio style that didn't quite come into vogue until decades later on FM.[3]
There is no attempt at formality or general interest. Without any pretense of having prepared a script such niceties as putting his between-records spiel into concise language, Burton [sic] rambles through his introduction of records, background dope, comment and replies to letters...At times his candor is hilarious. Opening last Wednesday's show he commented on the fact that he was again playing his usual theme tune, explaining that he'd had to use another signature on the previous few shows because he had sat on the theme record. 'I promise to be more careful in the future,' he added. [4]
In May 1942, Newsweek noted that "Berton converted listeners by the thousands. His fan mail pyramided to 8,000 letters, outstripping all other regular shows..."[5] Later that year, he turned Metropolitan Revue over to jazz pianist and activist Art Hodes. Berton had also initiated a special weekly WNYC series first called The American Jazz Institute and then, The Jazz Institute of the Air. The first program aired May 3, 1940 and began:
THEME: "Sweet Lorraine"...(Hot Record Society Original #2000-R2774) — 22 — seconds. (Fade Half)

ANN'R: (UNDER THEME) Tonight we bring you the first in a new series of musical programs under the auspices of the American Jazz Institute, conducted by Ralph Berton, F.J.C. — er — "Friend of the Jump-Cats."  Every Friday evening at this time, this genial musicologist of swing will undertake to guide your steps, or shall we say your ears? through 30 minutes of the very best in jazz. The  music that illustrates these lectures will come to you mostly through phonograph recordings supplied through the courtesy of the Hot Record Society of New York. On special occasions we will hear various guest performers, great jazz artists in person, who will join in bringing you the American Jazz Institute.  And now: Professor Berton!

BERTON: Good evening, ladies, gentlemen and fellow cats. Before we begin, I'd like to say a few words about jazz itself. You know, jazz has never been considered quite respectable. But there are signs that we Americans are waking up at least to the fact that jazz is a genuine art-form, the most sophisticated folk-music in the world. And now, with the inauguration of this program, even the stately microphones of WNYC will be quivering with the rhythms of our weekly jump session...[6]
Ralph Berton was also the main force behind the live jazz programming for WNYC's early American Music Festivals, bringing the Benny Goodman sextet into our studios, and the Lester Young band to Manhattan Center for a remote broadcast along with many other jazz greats. He also produced a radio drama on the life of legendary jazz cornetist, pianist and composer Bix Beiderbecke. This work would later grow into the book Remembering Bix, a Memoir of the Jazz Age, published in 1974.
After leaving the Metropolitan Revue with Art Hodes at WNYC, Berton took the Jazz Institute of the Air briefly to WINS. By January 1943, the show had landed at WBNX in The Bronx as the Jazz University of the Air, but it was short-lived. In July, the show was cut due to programming changes at the station that called for more home front and war news. Interestingly enough, Berton too was enmeshed in the war effort as Billboard noted that he was on the air at night and working as a machinist at a war plant by day. [7]
Ralph Berton was the brother of noted jazz drummer, percussionist and Hollywood music director Vic Berton. He was also a professional boxer; (eight fights as a featherweight); an artist; a writer for radio and Hollywood, as well as on jazz for numerous publications. He was the editor of the jazz magazine Sounds and Fury in the 1960s and taught at the Metropolitan School of Music, Bloomfield College and Middlesex County College. Ralph Berton died in 1993 at the age of 82.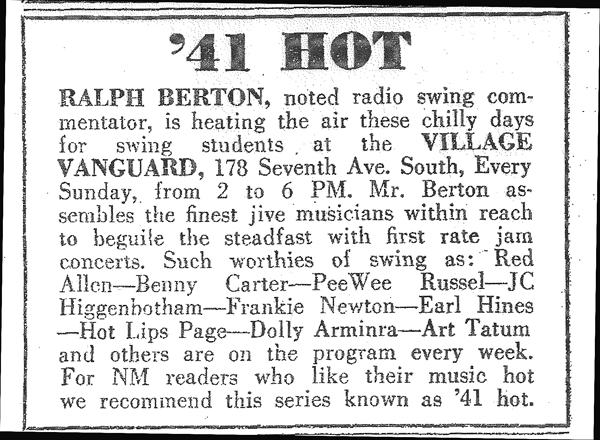 Magazine display ad for one of Ralph Berton's regular jam sessions in 1941.
[1] Grennard, Elliott, "Jamming the Jam," The New Masses, September 9, 1941, pg. 27.
[2] Interview with Ralph Berton by WNYC Host Andre Bernard on Around New York, February 18, 1985. (Thanks to Kate Berton) You can listen to this interview at the top of the page!
[3] "Metropolitan Review," Variety, October 2, 1940, pg. 30.
[4] Ibid.
[5] Newsweek, May 11, 1942.
[6] Special thanks to the Institute for Jazz Studies at Rutgers University in Newark for access to the Ralph Berton papers. See: FINDING AID by Robert 'Gabe' Gabrielsky for more details on Berton's life.
[7] Billboard, January 30, 1943
and
Special thanks to Dan Morgenstern and Tad Hershorn.
_____________________________________________________________________