For City's Teens, Stop-and-Frisk Is Black And White
One in five people stopped last year by the New York City police department was a teenager between the ages of 14 and 18, according to a WNYC analysis of recently released police data.
Eighty-six percent of those teenagers who were stopped were either black or Latino, most of them boys. 
Last year, there were more than 120,000 stops of black and Latino kids between 14 and 18. The total number of black and Latino boys that age in the entire city isn't much more than that – about 177,000 – which strongly suggests a teen male with dark skin in New York City will probably get stopped and frisked by the time he's graduated from high school.
The debate about stop and frisk's racial disparities comes down to opponents who say it racially profiles and supporters who say the people stopped fit the descriptions of most suspects. The conversation, until now, has been dominated by lawyers, politicians, police officials and community leaders. 
But ask junior high and high school students around the city, from affluent to low-income neighborhoods, and most appear to agree on one main premise: who gets stopped and frisked has everything to do with where you live and what color your skin is. 
"We're A Bunch of Skinny White Kids"
Last year, the NYPD stopped teenagers more than 140,000 times.
But at Stuyvesant High School in Lower Manhattan, which is 96 percent Asian and white, you would be hard pressed to find even one kid among the 3,300 students who has ever been stopped and frisked.
The students here, at one of the city's most elite public high schools, are known to excel at academics. They are the eager students, the ones who raise their hands in class. But ask them how many of them have ever been stopped and frisked by police, and what you get back is a sea of blank stares.
Victor Cai, is an Asian-American freshman who lives in Sunset Park, Brooklyn. He said it's clear why he's never been stopped and frisked: He doesn't look like the part.
"They're like hooded, in hoodies. They wear, like, very baggy clothing," said Victor, describing someone who might appear suspicious to police.  "And they're African-American or Hispanic."
Victor and his classmates point out a few other differences. 
"We don't look suspicious. We don't look like scary criminals or terrorists, or whatever.  We're very unthreatening people," said Benedict Bolton, a 15-year-old freshman at Stuyvesant who is white. "We're a bunch of, to be honest, skinny white kids."
Cross over to Brownsville, Brooklyn, where there aren't many skinny white kids, and the story of stop and frisk suddenly becomes "A Tale of Two Cities." 
A Tale of Two Cities: Lower Manhattan vs. Brownsville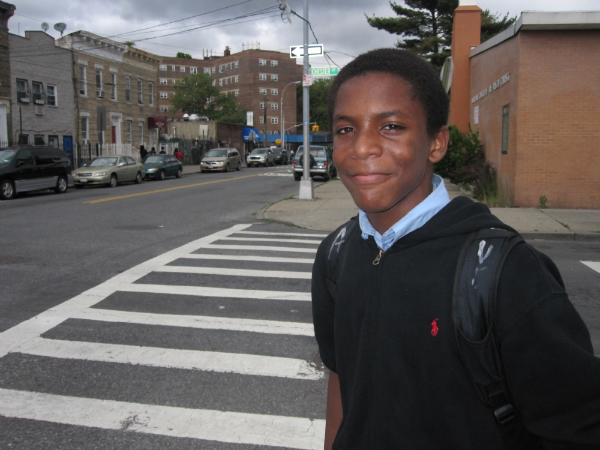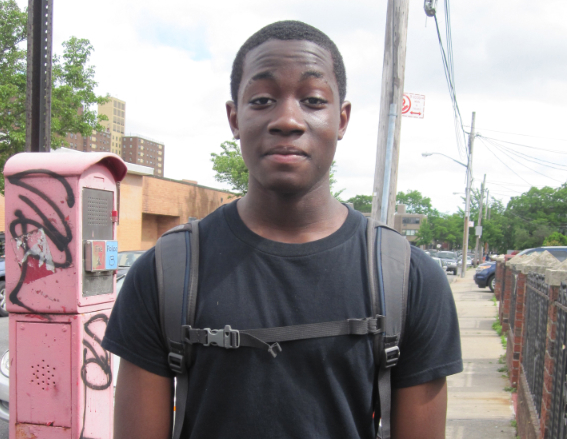 (Photo: Malik Small, 14, (left) said he has been stopped four times by police.  Tyari Jenkins, 14, (right) is an eighth grader at Teachers Preparatory High School in Browsville. Since getting stopped for the first time when he was 12, Tyari has wanted to become a criminal defense lawyer. Ailsa Chang/WNYC)
The demographics of Teachers Preparatory High School in Brownsville are 99 percent black and Latino.  It takes only five minutes to find a group of 14-year olds here who say they have been stopped by police two, three, even seven times.
WNYC mapped the exact coordinates of every recorded stop of a teenager in 2011. It turns out the densest hot spot for stop and frisks of teenagers last year was along a four-block section of Brownsville, next to Teachers Preparatory High School, near the Marcus Garvey public housing projects. 
Brownsville is in the 73rd precinct, which has one of the highest violent crime rates in the city.
In this area alone, kids between 14 and 18 made up more than 2,700 of the nearly 8,000 people stopped by police in 2011. Within a three-block radius around Stuyvesant High School in Manhattan, police stopped teens 7 times last year.*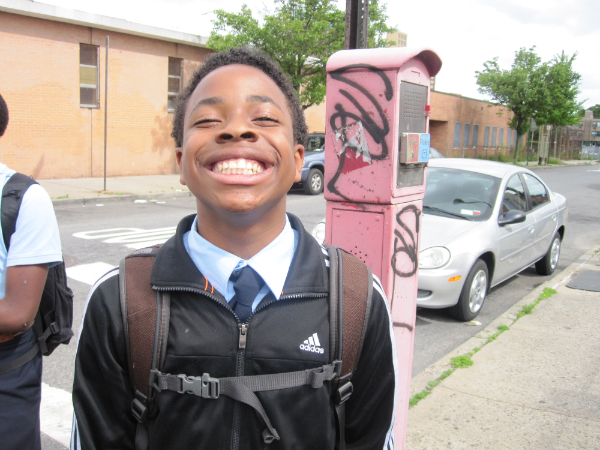 Tyari Jenkins, a 14-year-old African-American student at Teachers Preparatory High School, said he has been stopped and frisked three times. 
(Photo: Malik Fleming, 14, has been stopped and frisked three times in Brownsville. Ailsa Chang/WNYC)
The first time was as a 12-year-old, when he was barely five feet tall, he said. He had been walking out of his home to his friend's house across the street.
"When I looked up, I see the cop.  He was like, 'You,' and I was like, 'Me?'  He said, 'Yeah,'" Tyari recalled.  "He said, 'Empty your book bag,' and I was like, 'Okay,' and I was taking my time. Then he said, 'You need to hurry up.' And he started emptying my book bag and dropped my stuff on the ground."
The officers asked for an ID. Tyari said he left his at home, so the officers hauled him back home across the street and asked his mother to identify him. After a few minutes, they left.
Tyari said he's never been arrested for anything. Neither have any of the other Brownsville kids who shared their stories. They are now 14 years old, and all of them have been stopped by police between two and seven times.    
Emani Orr is an eighth grade student at P.S./I.S. 323, a school that is 99 percent black and Latino and nearby to Teachers Preparatory High School. 
Orr and her twin brother Zeandre were walking to the McDonald's on Pitkin Avenue in Brownsville around 5 p.m. a few months ago when they were approached by police, she said.
"They was like, 'It's too late for you all to be outside' but we was just walking," she said.
Although she didn't get patted down – the officers explained it was because she was a girl – Zeandre did.
"I guess it was just because we was two black kids in the neighborhood at night time walking around," said Zeandre.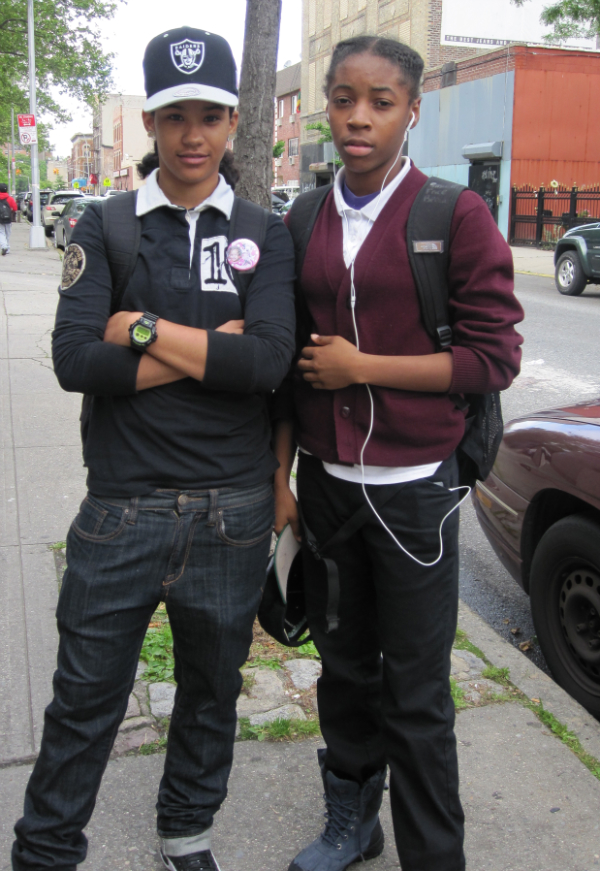 Ashley Fernandez (right), who's Dominican and also an eighth grader at P.S./I.S. 323, said she started getting stopped by police when she was 12-years old. 
By her 14th birthday, she said she had been stopped by police between seven and eight times. 
Ashley thinks it's because she dresses like a boy. Her long hair is usually pulled back in a tight ponytail which she threads through an Oakland Raiders baseball cap. She wears baggy T-shirts, sneakers and loose jeans.
"I don't sag though, really, because I'm still a girl," she said.
She said she usually gets stopped by police when leaving school for the day, and the stops seem to happen when she doesn't have her backpack on, so she's gotten used to wearing her school bag all the time.
One day when she was 12, she said police stopped her and a group of friends while they were walking to McDonald's.
"They asked us where we coming from, and they asked us to see ID. And we said 'We 12, we don't got ID,'" said Ashley.
She said the officers looked inside each of their book bags and asked if they were in a gang. Everyone shook their heads. The police moved on after five minutes.
But sometimes the police don't move on after a few minutes. 
Anthony Henry, also an eighth grader from P.S./I.S. 323, was walking to school before 8 a.m. last month when a big jeep pulled up alongside him. Five cops jumped out, he said. 
"And they were all like, 'Put your hands up' and stuff," said Anthony. "They checked me, checked my book bag. They threw all my books on the floor."
The police started questioning him about drugs and gang members. He said he didn't know anyone in a gang. They took him home, and his mom started yelling at the cops, telling them they had the wrong guy. At that point, Anthony said one officer just patted him on the head, and said, "My bad." 
By the time his mom drove him back to school, Anthony had already missed first and second period. 
"It made me feel, I dunno, retarded," said Anthony. "Like a gangbanger. Because only gangbangers get stopped for nothing, just for walking."
"White Kids in Manhattan Have No Idea"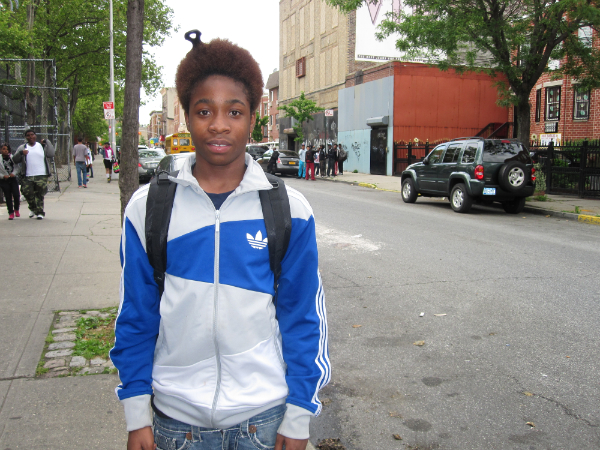 The Brownsville students who spoke to WNYC say they were never surprised when they actually got stopped.  Many of them already got that talk – that talk with a parent about what to do when a police officer rolls up on you. 
Tyari Jenkins says his mom gave him the same advice she followed when she was growing up in Brownsville:
"When the cops come and stop you, just cooperate and do what they say.  Because if you do something bad, or if you get too violent, they can take you to jail. They not the ones who's going to get in trouble," he said.
(Photo: Anthony Henry, 14, said he was stopped and frisked on his way to school at P.S./I.S. 323. When the police let him go, he said he already missed first and second period at school. Ailsa Chang/WNYC)
The police department has long defended stop and frisks as a way to bring down violent crime and get guns off the street. The NYPD did not return request for comment on this story.
Tyari said there are gang members in Brownsville – lots of them – his age.  But the police will stop everyone, he says, because to them, he said, everyone seems to look the same. 
"I think that's discrimination because white kids in Manhattan have no idea cops can frisk you for no reason," he said, "like they walk past the cops and actually say, 'Good Morning' to them."
But maybe some white kids in Manhattan do get it. 
Freshman Colby Goldberg of Stuyvesant High said he knows how different his life is from other 14-year-olds who live just nine miles away in places like Brownsville.
"If I was the same exact personality but born to a different family, with a different skin color, then that would totally change my, I guess, my life," said Colby. "It's a sad consequence of the way society is and the way society forces people to be."
----
* CORRECTION: Due to a data-handling mistake, the map and the starred paragraph drawn from it originally described total stop-and-frisks for 2011, not just the teen stops. The map and the text have been changed to correctly reflect both.