Confessed Killer of Etan Patz Charged with Second Degree Murder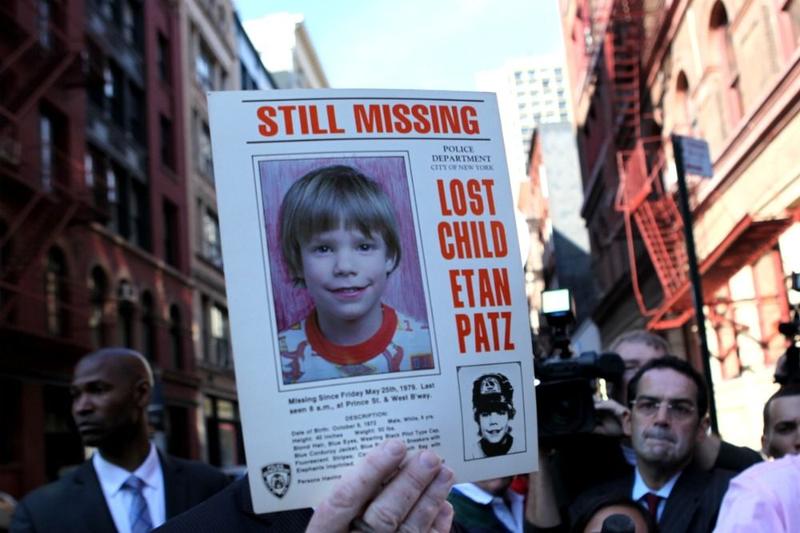 A man who police say confessed to the murder of schoolboy Etan Patz was arraigned and charged with one count of second degree murder late Friday.
Pedro Hernandez was remanded without bail. His attorney, Harvey Fishbein, asked for a competency exam to be held at a later date. According to Fishbein, Hernandez is on medication and is bipolar and schizophrenic.
Hernandez, 51, told police he lured Etan from the school bus stop to the bodega where he worked with the promise of a soda. He then choked Etan and disposed of the boy's body in a plastic bag he dumped in the trash, police said.
He was arraigned at Bellevue Hospital where he was brought Friday to get medication for an existing health problem. He had also made statements about wanting to kill himself, police said.
Wearing an orange jumpsuit, Hernandez did not speak during the proceedings.
Hernandez, who was 19 at the time of Etan's disappearance, worked at a neighborhood grocery at 448 West Broadway, and lived nearby. He was not questioned at the time, and later moved to New Jersey.
Crime scene investigators returned to the bodega where Hernandez worked for about a month on Friday.
There is no physical evidence or motive linking Hernandez to the crime, police said. He has no criminal record.
But the details Hernandez offered about the boy's disappearance gave them probable cause to proceed with the arrest, police said. Hernandez confessed to the crime on videotape.
"The detectives believe in the credibility of the statement of Mr. Hernandez," Kelly said. He added the detectives who questioned Hernandez described him as "remorseful," and that there was "a feeling of relief" from Hernandez.
Prosecutors are determining the next step for the Hernandez. Because there's little physical evidence, it's likely the case will hinge on whether the confession is admissible in court. Psychologists reportedly examined Hernandez Friday, as authorities prepare to arraign him.
Some legal experts find it unusual that neither the Manhattan District Attorney nor the FBI attended the NYPD news conference Thursday night announcing the arrest Hernandez.
"It apparently was a joint task force that was working on this case over the years.  Normally, all the key players would appear for a press conference like that," said Evan Barr, a partner specializing in criminal defense at Steptoe and Johnson in New York.
Barr, a former federal prosecutor in New York, said it may indicate that prosecutors or the FBI believe the NYPD "jumped the gun" in arresting Hernandez. A spokesman for the FBI said the bureau was "still working with the NYPD and the DA's office in investigating the Etan Patz case."
The police received a tip that led to Hernandez being identified as a person of interest in disappearance of the boy 33 years ago. Kelly said Hernandez told a family member and others that he had "done a bad thing and killed a child in New York." He had made statements like this as far back as 1981, although the child was never identified.
Chuck Dean, a neighbor of Hernandez in Maple Shade, N.J., and former cop, said he was stunned to find out that the man who kept to himself and was quiet was a suspect in a murder.
"He was very quiet," Dean said. "He didn't say much of anything. Never really had a conversation with him for three years. He never said a word. The only time he came out of the house was to sit in that chair and have a cigarette."
He added, "I figured there was something was wrong somewhere and perhaps he was evasive."
Jose Lopez, his brother-in-law, told the Daily MailOnline described a teenage Pedro as a "tough guy" who was 'hotblooded" and would "snap."
"When he was younger Pedro had a really short fuse and would get angry at nothing," he told the paper. "There was one time with his ex-wife when they had a row and he broke a window and I had to come round and fix it."
Hernandez's wife, Rosmary, and his daughter left with some belongings, saying nothing to a throng of reporters waiting outside their modest two-story home just outside of Camden, N.J., according to NBCPhiladelphia.
When Etan's father Stan was told of the arrest, he was "surprised and taken aback, overwhelmed," said Lt. Christopher Zimmerman, who first informed the family.
"We can only hope that these developments bring some measure of peace to the family," Kelly said.
The arrest of Hernandez was not directly related to last month's excavation of the basement of the former site of a wood shop that belonged to a carpenter who was friendly with the Patz family. The excavation led to renewed publicity of the case, and Kelly said, that is what led to the tip being called in.
Janet Babin, Bob Hennelly, Tom McDonald at WHYY and the Associated Press contributed reporting.