On Path to Healing, Military Sexual Assault Victims Meet, Advocate for Change
Nichole Bowen was a junior studying sociology at Arizona State when she enlisted in the Army, right before September 11, 2001. She was soon deployed to Iraq as a Private first class.
"For me Iraq was, to be like brutally honest, it was a constant rape threat," Bowen said.
The Department of Defense estimates there were 19,000 cases of military sexual assault last year. Compare that to the 3,192 vets who actually reported assaults in 2011.
Bowen didn't file a report when she was attacked.
"One night I was actually working on the night shift I was assaulted by another service member. After that the harassment felt so much more intense and dramatic, I just didn't feel safe."
Defense Secretary Leon Panetta recently pledged a 'zero tolerance' policy, as well as authorized a number of reforms to combat soldier perpetrated sex crimes. Even as regulations change, veterans like Bowen say that a culture of harassment in the military persists. The 33-yearold said there's a long standing culture of joking around and verbal abuse. She took it, brushing it off or making a joke out of it. But it soon became too degrading to brush off.
"Comments every day would be something like 'Are you interested in making some money for prostitution?' Or 'Hey, let's go [explitive] by the bunker.'"
It wasn't until after she was discharged and became a veteran's outreach coordinator that she began to deal with what happened to her. She's been diagnosed with PTSD and depression and is currently out on currently disability.
As part of her recovery, Bowen is working on a book called "The Lady Warrior Project". She's collecting 22 stories of veterans that she said will be a very raw depiction of military life from the eyes of female service members.
Bowen was one of the vets invited by the advocacy group Service Women's Action Network  to Washington, D.C. earlier this month for the first ever summit on military sexual violence.
About 200 people representing a huge range of ages, races and branches of military gathered in a hotel ballroom. Active duty service women sat next to Vietnam era vets. After a continental breakfast and opening remarks, the day really began when veterans addressed their fellow survivors directly.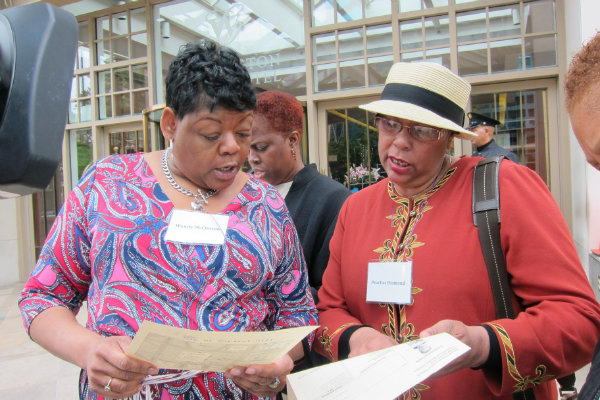 Wendy McClinton, 48, was one of the attendees at the conference. She detailed the obstacles to reporting assaults and her long road to healing.
The towering 6 foot tall woman in the swirly dress said it's been a long road from the assault that happened while she was still in basic training. "It was someone that I trusted, it was person of authority. It was a person that you didn't really expect to have this thing done to you," she said.
(Photo: McClinton, left, gets ready to go to Congress and meet with legislators. Kathleen Horan/WNYC)
Participants at the summit said whether they're on a battlefield or a base they can't provide security if they're not protected themselves. Many said it's not enough to create a climate where victims don't fear retribution for reporting, advocates want better prosecution and punishment for these crimes. McClinton doesn't think it goes far enough. It's the culture of workplace harassment that Bowen mentioned that needs to go.
"Military sexual trauma didn't just start as this big giant," McClinton explained. "It was actually a little comment that went unnoticed, a little comment when some commanding officer made and you didn't address it.  So [they think] once I got away with a comment, now I can get away with a touch — and then I can just snatch you into a room and do whatever I feel like I want to do."
Protections for civilian employees against harassment, including Title 7, the federal law banning workplace discrimination doesn't cover military service members.
Retired Brigadier General Thomas Cuthbert is a 30-year veteran of the Army and has served with the Defense Task Fore on Sexual Assault. "For a young woman in a basic training unit who is harassed, who is assaulted — civilian life you just walk away — military life you will either obey or you get in trouble," said Cuthbert. "Of course on those facts you wouldn't get in trouble but these kids don't know that."
The General represented the old military guard to many in the room, but he also affirmed how hard it is to say no to another soldier, especially when they're of a higher rank.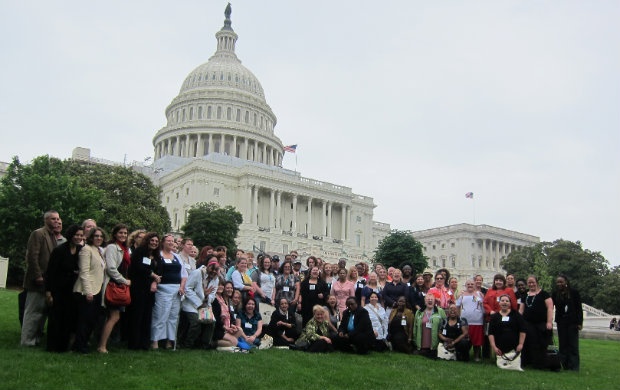 After lunch, about 130 participants assembled for a walk to Capitol Hill to meet with their legislators from 28 states to share their personal stories and to push them to support the Sexual Training and Oversight Prevention Act, which aims to improve prevention of military sexual assaults, as well as the response to such crimes.
A group of women from NY State headed to the Rayburn Building to meet with Democrat Congressman Brian Higgins. He represents the state's 27th district that includes Buffalo. Four women spent 30 minutes discussing the culture of harassment that pervades the armed forces.
Kim Soper from Orange County told the congressman she discouraged her three daughters from joining the military. 
"Each one, separately, asked me 'geez, should I go into the army?' and I said, 'oh hell no, don't do that,'" she recalled. "I would like to be able to say yes. There are many positive things about my experience in the Army. I got very intensive training and I originally had a real sense of being taken care of…but what happened, that feeling of safety and the organization protecting you is gone."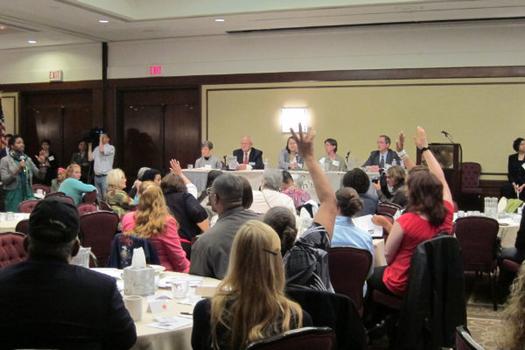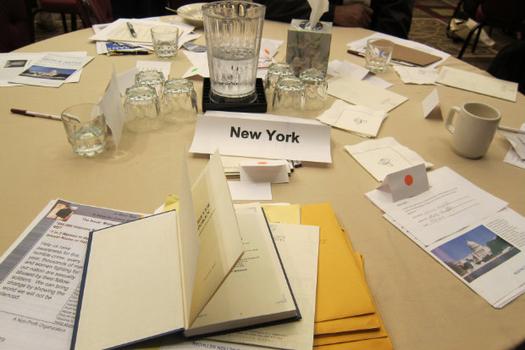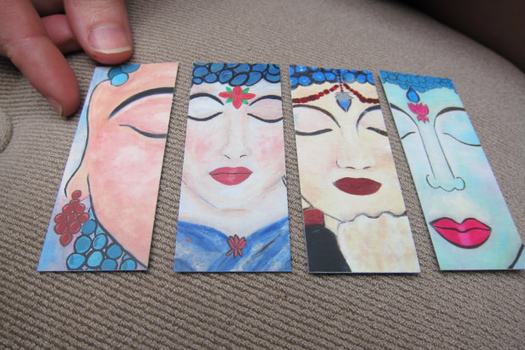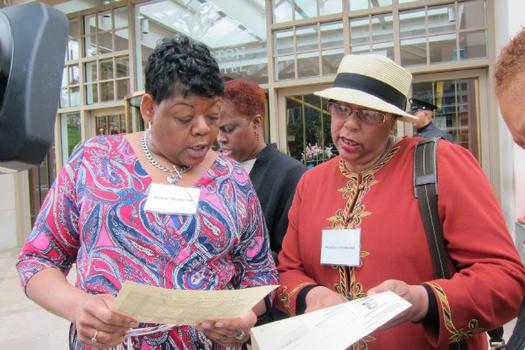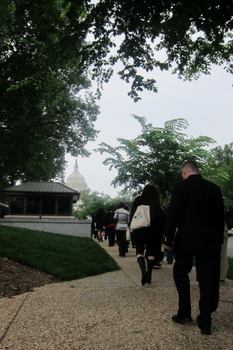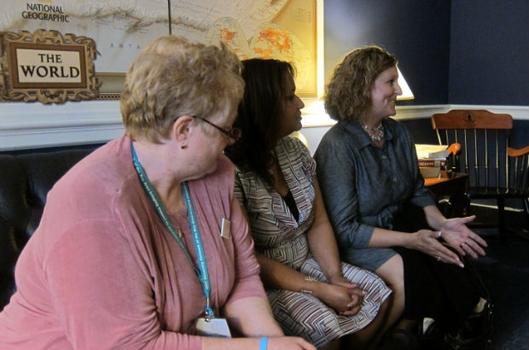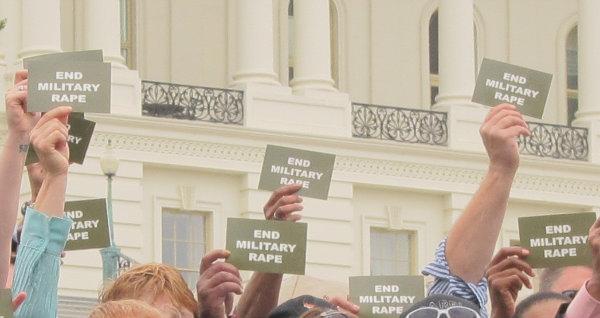 of