Last Chance Foods: Springing Leeks
Strawberries and rhubarb may be superstars of spring produce, but leeks also have a place in that lineup, according to Keha McIlwaine, a farmer at the Queens County Farm Museum. She said spring leeks have been a particularly popular item at the Union Square farmers market lately.
McIlwaine explained that the leeks being harvested now were planted last fall and left to overwinter. The spring leeks look a little different from their counterparts that come up later in the year. 
"Our leeks in the fall are really tall and grand... but I think because they are such short days in the wintertime, [spring leeks] come out a little stunted, a little shorter, a little more tender," McIlwaine said. 
The taste is a little different, as well. "They seem to me a little bit juicier and maybe not as fierce in flavor," she added.
While McIlwaine and her customers are enjoying the harvest now, the real work that went into growing the leeks started last fall. The allium can be a little labor intensive to plant. "We have a long... metal spike about six inches long, it's called a dibble," McIlwaine explained. "We punch holes into the ground, so we get a really deep root and that gives us a nice long white, which is the preferred part." Then each baby leek, which was started from seed in a nursery, is carefully rooted into the hole. 
There's one step that can be skipped after getting the leek into the ground, though. "We don't even fill in the holes, which end up being about the diameter of a quarter, and they fill out as they grow," McIlwaine said.
With some mulch, a mild winter, and an abundance of patience, farmers, she notes, were rewarded with a healthy spring leek harvest this season.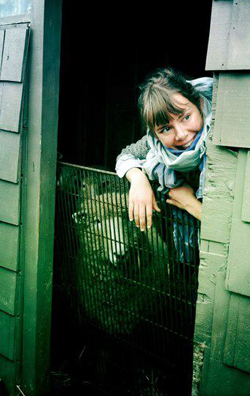 Out of the field and at the farmers market, there are a few things to look for when picking out leeks, said Cornelius Gallagher, the chef and owner of the new Upper East Side restaurant Dragonfly.
"You want to make sure that the bottom part of it is really tight, that it's heavy, it's not light," he explained. "You want to look at the top of the leek to make sure that it's bright green and crisp. And you should be able to snap a piece off and there should be water inside." 
When it comes to those greens, McIwaine notes that her customers profess to use that part of the stalk, as well. Gallagher confirmed that they are edible, but recommended them for specific purposes.
"Well, you can use the green part for stocks," he said. "It's something that's going to be cooked a little bit longer, you can use the green part. But it's usually just for infusion of flavor, to give a mild onion background flavor, especially for fish broths, things like that."
(Photo: McIlwaine on the job. Courtesy of Keha McIlwaine.)
One of the most important steps in preparing leeks, Gallagher emphasized, is to make sure they are cleaned well. He chops up the leek and then soaks the pieces in several changes of water to make sure all the sand and dirt in the leek sink to the bottom of the bowl. 
McIlwaine concurred and recommended dunking the greens in the sink a few times, as well. Ultimately, though, she takes a farmer's view on the matter and declared that "a little grit is good for you!"
Below, try Gallagher's curry recipe with leeks.
Pan-Roasted Fresh Shrimp
with glazed leeks, young coconut and yellow curry
by Chef Cornelius Gallagher, Dragonfly 
1 Tbsp vegetable oil
2 tbsp yellow curry paste
¼ cup coconut milk
1 Tbsp fish sauce
2 tbsp water
2 ½ tsp palm sugar
1 cup fresh shrimp, peeled (laughing bird large)
½ cup julienned and glazed leeks
1/3 cup raw pea shoots (long thin)
1 red birds eye chili, sliced on bias
1. In a wok, add the oil and stir fry the curry.
2. Add the coconut milk, fish sauce, water and palm sugar. Add the shrimp and cook this until a light sauce comes about.
3. By the time the sauce is reduced, the shrimp should be cooked
4. Add leeks and cook until shrimp are 100 percent cooked and the leeks are warmed throughout.
5. Adjust the seasoning and spoon this mixture into the serving plate.
6. Garnish the top of the dish with the pea shoots and the sliced chili.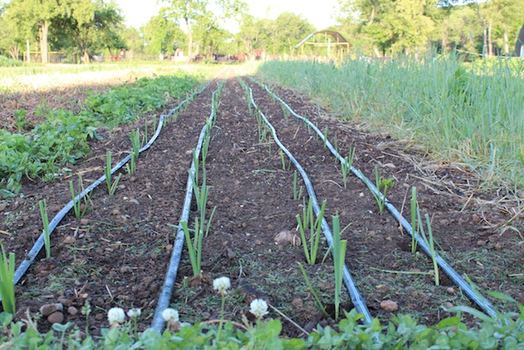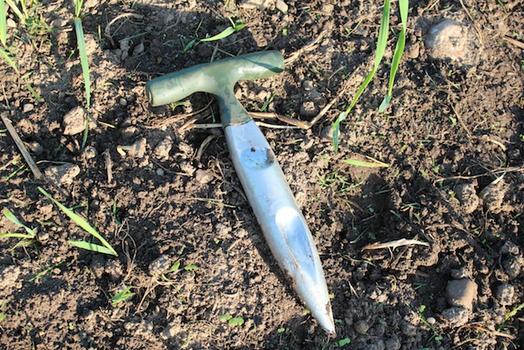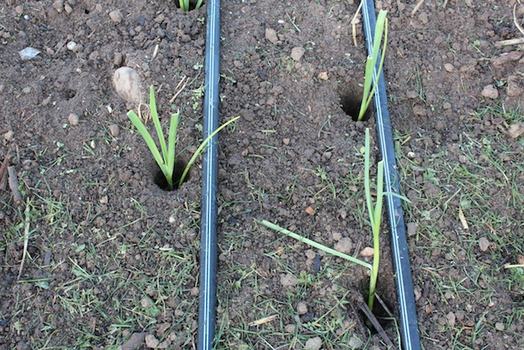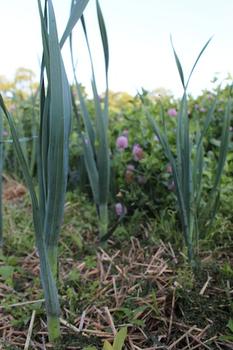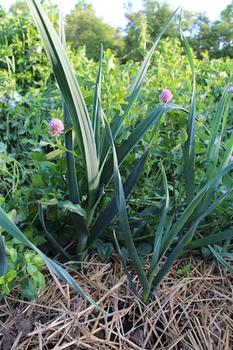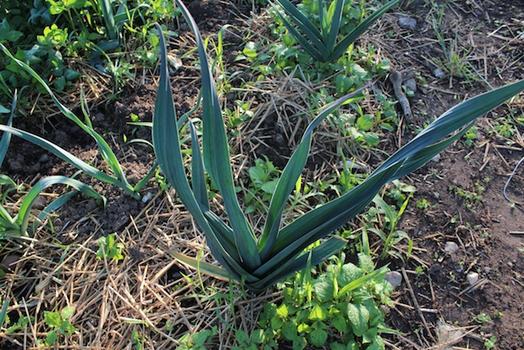 of