What Kind of Friendship Is This? Devils, Rangers Fans Sit (Together) Through Hockey Playoffs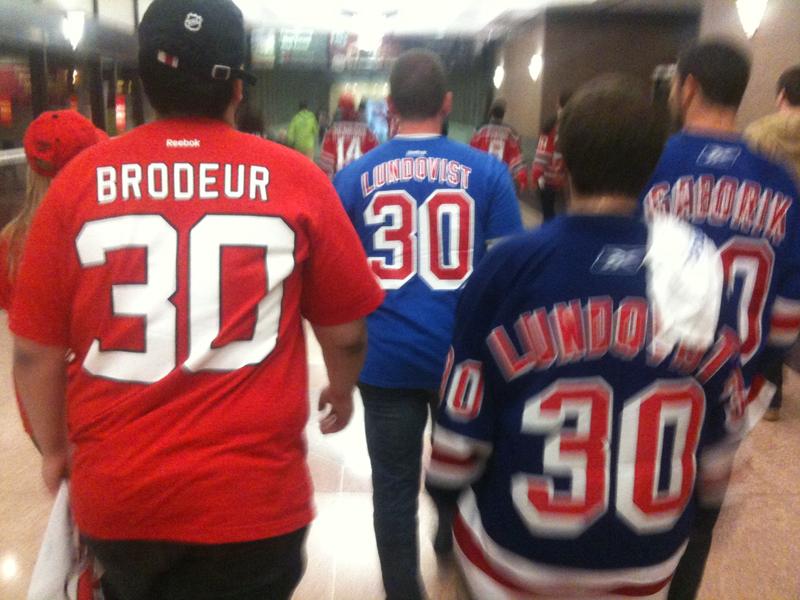 There's a lonely, whistled melody that originates somewhere around section 133 in the Prudential Center in Newark. The crowd knows it well and when it ends, the house full of Devils fans chants in unison, "Rangers suck!"
This happens at every Devils home game, whether or not the Rangers are even in the Tri-State area.
There is little love between these two teams and their armies of fans, separated by the moat of the Hudson River.  And now, they're locked in a grinding battle to reach the Stanley Cup Finals. 
Wednesday night, the Devils took a 3-2 lead in the seven-game series.  Game 6 is Friday night in Newark. Ticket resellers are now asking $30,000 for a seat and the Devils organization reportedly asked their ticketholders to avoid selling extras to Rangers fans.
So far, the match-up has been bitter. The Rangers' Brandon Prust earned a rare suspension for elbowing a Devils player. Tension between the teams' coaches devolved into a shouting match in the middle of game. Even the usual bonds of former teammates have been broken. On Monday night, the Rangers' Mike Rupp, who was the unlikely hero of the Devils 2003 Stanley Cup victory, hit New Jersey goaltender Martin Brodeur, his former teammate, with a surprise punch that got him 14 minutes of penalty time.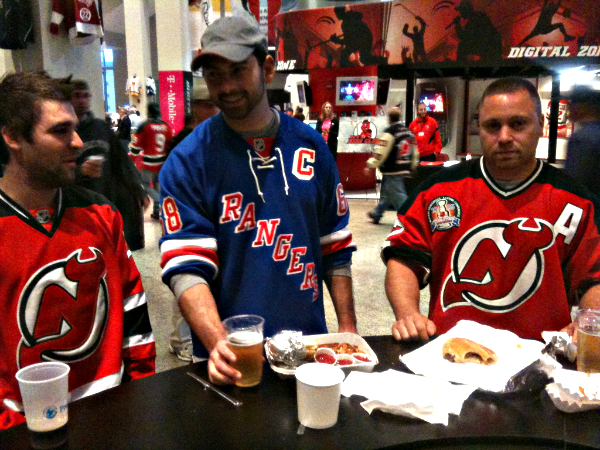 So how was it possible then that Rob Stanczak, a Rangers fan, found himself happily wedged between Devils diehards Tony Trapanese and Eric Mijal (right) for Game 4 in Newark on Monday?
"He married my sister.  So I kind of have to deal with him now," said Mijal.
Stanczak grew up in New Jersey, but his dad was a lifelong Rangers fan. He helped convert Mijal's sister to the Rangers.  "Now, his niece is a Rangers fan," says Stanczak.
"She is not going to be a Rangers fan," said Mijal.
This year, the stakes for regional bragging rights are higher.  Newark lost the Nets to Brooklyn at the end of the regular NBA season, making the Devils the only team to call itself a "New Jersey" franchise (the Jets, Giants and Red Bulls all play in New Jersey, but brand themselves as "New York" teams).
A few friendships have made it through the first five games.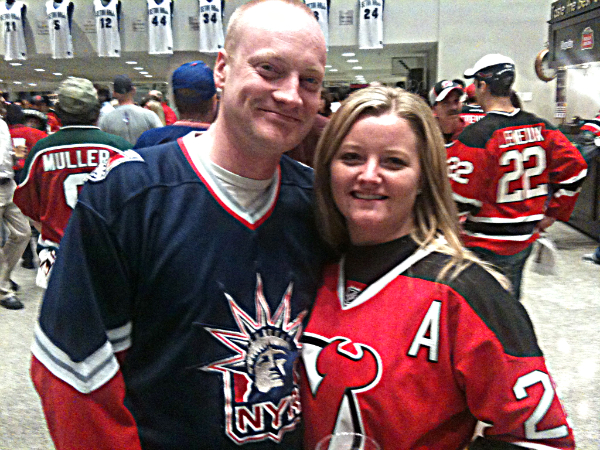 Darlene Sachewicz (left), a Devils fan from Woodbridge, N.J. met Bill three years ago. "When I found out he was a Rangers fan, I was like, 'really?  Are you serious?  Why?"
He bought tickets to Game 1 at Madison Square Garden, won by the Rangers. She took him to Game 4 in Newark, "where the Devils are going to win."  They did.
Ilya Kravetskiy (right) is another fan who backed his team on the wrong side of the river. "I was a little scared of coming here in a Rangers jersey," he said.  But at his side was Michael Vicich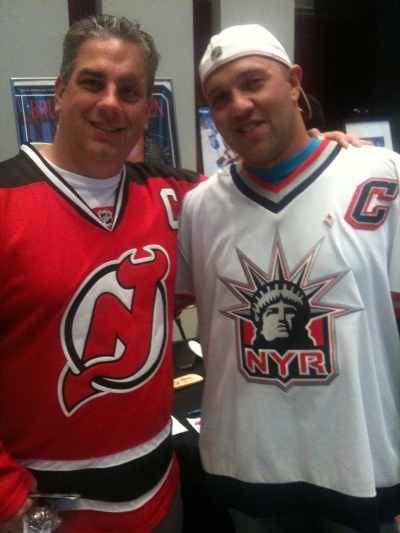 , a Devils fan.
They became friends when their sons started playing on the same hockey team in New Jersey.  "But then we started talking about our rooting interests and we talked about going to games," said Vicich.
Kravetskiy confessed.  He was a Rangers fan -- he grew up in Brooklyn.  "I felt betrayed," said Vicich.
So what kind of friendship is this?
"We take care of each other when it comes to certain things," said Vicich.  "So I figured I owed him one at this point – these are my season tickets."
Kravetskiy happily accepted the seat, with one rule.  "One goal for the Devils, two goals for the Rangers and it's all good," he said.
Photos by Collin Campbell