In Plan For Barclays Center, Parking Slashed By Half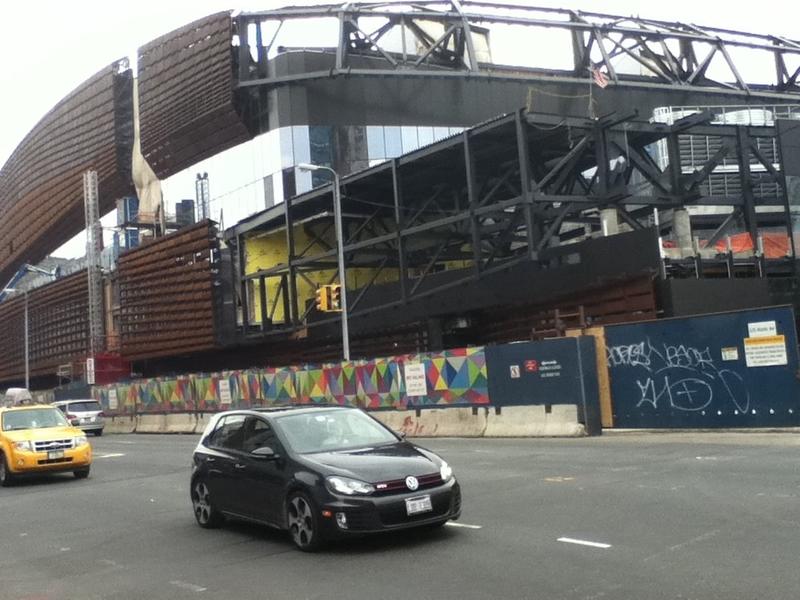 You'll want to think twice, or maybe even a third time, before deciding to drive to Barclays Arena when it opens on September 28. The parking plan for Barclays is being cut from 1,000 to 541 spots.
"We're going to reduce the number of cars coming to the arena," consultant Sam Schwartz explained. "That's our mantra."  
He presented the traffic management plan at a public hearing in Downtown Brooklyn Tuesday evening. 

Ticket-holders will be urged to arrive by Long Island Railroad or one of the eleven subway lines that meet beneath the arena. Schwartz added another way of keeping vehicles out of the heavily congested area will be to encourage drivers to park at a half-priced lot a mile away near the BQE, and take a free shuttle bus.
The plan also calls for HOV spaces for cars with three or more people. And if drivers want to park near the arena, they'll be encouraged to go online and pay for a reserved spot at lot or garage before leaving home. Schwartz said that should cut down on drivers circling the area while deciding where to park. And the plan offers yet another incentive to leave the motorized vehicle at home: 400 bicycle parking spots.
Despite such measures, car owners who live near Barclays still worry that people driving in to attend a Nets game or concert will take up all the street parking spots in nearby neighborhoods, especially now that the Schwartz plan seeks to slash the number of spots at the arena.
Those residents learned that the city won't be granting their request for residential parking permits any time soon. The Department of Transportation's Christopher Hrones said his agency is still studying the issue.
"We're not in a position, for several reasons, to have a residential parking permit in place when the arena opens on September 28th," he said. He added that even if the city were to approve a residential parking permit program, it would also need permission from the state, and that takes time.
The arena's traffic management plan now enters a 30-day public review period.