Explainer: If Oil Production Increased, Why Aren't Republicans Gassed?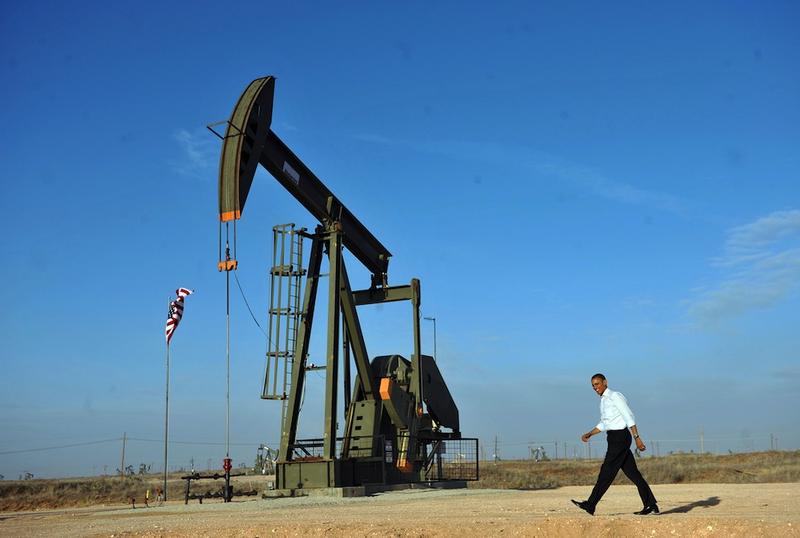 The Obama administration will auction off more than 38 million acres of the Gulf of Mexico to oil companies next month, touting the sale as a boon for the president's energy résumé — which, while boasting increased domestic production, remains haunted by high gas prices, offshore drilling bans and one big oil spill.
The lease sale, scheduled to take place in the Mercedes-Benz Superdome in New Orleans on June 20th, will allow companies to secure more available acres off the coast of Louisiana, Mississippi and Alabama. The sale won't, however, open up any new waters for drilling that weren't previously approved by the Bureau of Ocean Energy Management's current five-year lease plan, which expires at the end of 2012.
Currently, the Department of the Interior only leases acres in the Gulf of Mexico and off the coast of Alaska. Oil companies, Republicans on Capitol Hill, and the man running to beat Obama all wish that list were longer.
But the Department of the Interior says it wants oil companies to focus on making use of these available acres, including the ones they already lease. Preceding their announcement of the final details of the upcoming sale last week, the DOI released a report showing that 72 percent of offshore leased area isn't being utilized by the companies holding the lease.
"While we continue to offer new areas onshore and offshore for leasing, as we have over the last three years, we also want companies to develop the tens of millions of acres they've already leased but have left sitting idle in order to further reduce our reliance on foreign oil as quickly as possible," said Adam Fetcher, Press Secretary for the DOI.
The American Petroleum Institute, a trade association representing the oil and gas industry, takes issue with the term "sitting idle."
"Companies are actively seeking to develop their leases, but not every lease contains oil or natural gas in commercial quantities," said Reid Porter, a spokesperson for API. "Companies are paying billions of dollars just for their right to explore on federal lands, and if the company doesn't produce within the lease term it goes back to the government, and the company does not recover the billions of dollars it may have already invested."
Porter said that in many cases the so-called "idle" leases are not idle at all and just under geologic evaluation or in development. Some leases are "idle" because the acres just don't produce, or don't make economic sense to develop. Then there are the ones that remain inactive because there's still more paperwork to file.
"Once again, the administration is trotting out claims about idle leases to divert attention from the fact it has been restricting oil and natural gas development, leasing less often, shortening lease terms, and going slow on permit approvals — actions which have undermined public support for the administration on energy," API President and CEO Jack Gerard said in a statement rebuffing the DOI's report.
Where we're drilling, where we're not
There's tension between the industry's complaints and the administration's narrative.
Domestic oil production has actually increased during Barack Obama's presidency, and the DOI points out that 67 new deepwater drilling permits were issued between April 2011 and April 2012 – that's just three fewer than the same 12-month period before the 2010 Deepwater Horizon oil spill, indicating a return to the status quo.
The U.S. Energy Information Administration, in its latest "Short-Term Energy Outlook," says its expects 2012 to see the highest level of domestic oil production since 1998 — but that's mostly from an increase in onshore production, offsetting decreased production from the Gulf and Alaska.
And while the Obama administration has doled out new permits and continued to lease available acres on the water, it's closed many areas to offshore drilling. One of the administration's first actions in 2009 was to reinstate a moratorium on oil exploration in the outer continental shelf that had been lifted during George W. Bush's last year in office. The moratorium bars any drilling off the Atlantic and Pacific coasts until at least 2017 (assuming a certain Mitt Romney doesn't get elected in November and changes the plan).
Obama also issued a moratorium on drilling in the Gulf of Mexico for the months following the 2010 Deepwater Horizon spill – perhaps a necessary move for his Democratic base, but also one that snarled the permitting process and hampered some of his administration's energy stats in the long run.
Catching up — needing more?
DOI says that right now the average time it takes to get a permit for a new deepwater well is approximately 62 days, which is close to the 5-year historical average. But from October 2010, when the Gulf moratorium was first lifted, through July 2011, permits took an average of 125 days.
"It's good to see that we're catching up to where we were," Reid Porter said, "but we need to be doing more."
Even if it tells but a fraction of the story, metrics like the wait time for a permit for a deep water drill make great fodder for Obama's political opponents on the campaign trail.
Heading off such criticisms, the Department of the Interior points out that permit waiting periods, operating rigs, and total domestic production have all recovered or bested pre-spill levels despite new, stricter safety standards following the 2010 spill.
However, the post-spill moratorium; the re-application of a moratorium on drilling in the Atlantic, Pacific, and some areas off the coast of Alaska; and stubborn gas prices offer ammunition to Mitt Romney, who says he'll open up more offshore areas and loosen regulations. Obama can talk about lease sales and increased production, but the industry and Republicans will continue to decry long waiting periods and untapped potential.
"We hope to see many more leases follow this one, but we hope to see them in other areas," Porter said.