City School Students Practice Tap Moves for Bojangles Tribute Show
These kids have all the right moves.
About 100 elementary school kids will dance their way into the hearts of audience members when they honor tap legend Bill Bojangles Robinson with a performance Friday on what would have been his 134th birthday. It is also National Tap Dance Day.
Thorin Watts, 8, from P.S. 51 Elias Howe in Manhattan, has been practicing moves along with his classmates since January.
"My favorite move is the dig spank toe heel," said Watts.
The dance routine is part of the Spotlight on Fitness program, which provides physical education and arts instruction to pre-Kindergarten through fourth grade students at P.S. 51.
"Sometimes kids are not very articulate and tap gives them a very safe voice," said Toni Noblett, who taught the youngsters their tap routines. "They don't have to talk. They don't have to worry about choosing words. They can just speak from their spirit."
Spotlight on Fitness, which started three years ago as part of the non-profit Rosie's Theater Kids, also provides gently used tap shoes to the students.
Watts says he and his classmates will keep dancing after their Friday afternoon performance. 
"We wanna keep dancing until we grow up," he said.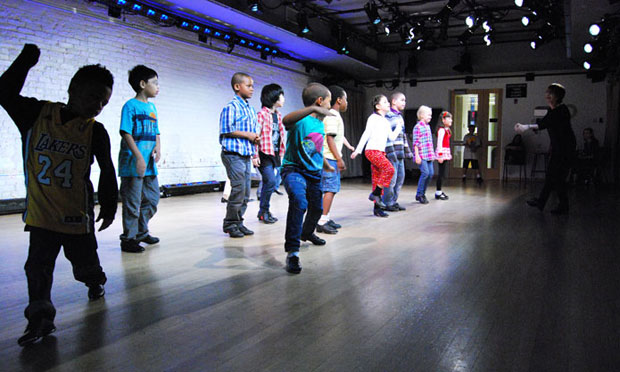 Eight year old Thorin Watts (center) freestyled to Michael Jackson at the end of the rehearsal. Photo by Abbie Fentress Swanson.