Opinion: Why Stop at 'Black Metrosexual Abraham Lincoln'?
Dear Joe:
I'm a big man. Big enough to admit that I blew it. That first proposal I sent you didn't quite hit a home run in Medialand, if the universal outrage and mockery it generated is any indication. But that's just one strike. By my count, we got a couple or three more, right? Fortunately, we've got plenty of other great ideas to share with you and your $10 million.
And it's absolutely urgent that we move quickly. We only have a few months before the debates begin. Once voters look at our guy and the president side by side, we're toast. That means we have to take him down with specious, irrelevant and offensive attacks right now — before he restores civil rights to another oppressed group, terminates another global terrorist leader, or God forbid, finishes fixing the economy.
Attached please find artists' renderings of our top four attack strategies for your review. To implement each one will cost $10 million, which happens to be exactly how much you're willing to spend. Just let me know which one you like best (I know, it's tough to choose!) and once I've received the promised suitcases of unmarked bills, we'll begin the process of burying Barry.
Strategy #1: Make Obama look like a black metrosexual Abe Lincoln. In retrospect, the Jeremiah Wright thing might have crossed the line. But we think our original idea — of producing a series of ads that make The One look like a dark-skinned, fashion-forward version of the Railsplitter — still has legs. Let's think this one through. 
Strategy #2: Draw Obama as a dusky, but dainty Thomas Jefferson
Slap some Monticello hair and Justin Bieber eyes on O, and he's going down. We guarantee it. 
Strategy #3: Turn Obama into a tanned, transgendered Teddy Roosevelt
We've tested this concept and it's through the roof: Romney polls almost two points better than BHO in a bustier and a bushy moustache. Bully for us!
Strategy #4: Frame Obama as a herm-Afro-ditic George Washington
Saved our best pitch for last. That Barack Hussein, he's so vain, he sees himself as both the father and the mother of our country! This one hits every button — with a sledgehammer. The goal here is to get voters thinking "bipartisan, biracial, bigendered" ... bye bye bye!
So there you go: Four ways to end the reign of the Muslim Marxist Kenyan Usurper once and for all.
We gotta make this happen, Joe. I mean, the alternative is for Mitt Romney to run on his ideas, character and experience. And we all know that dog won't hunt.
Rested and ready,
Fred Davis
Principal and Chief Brain Guy
Strategic Perceptions
Slideshow: Check out my next great ideas!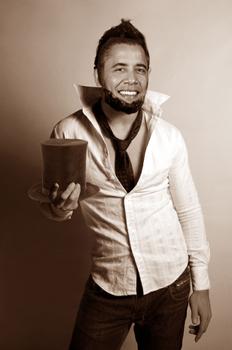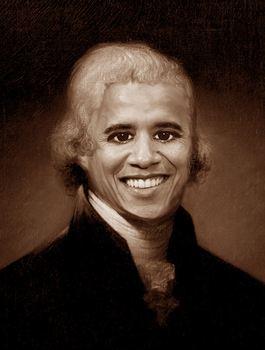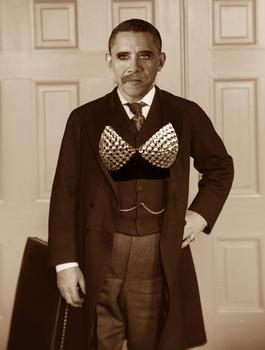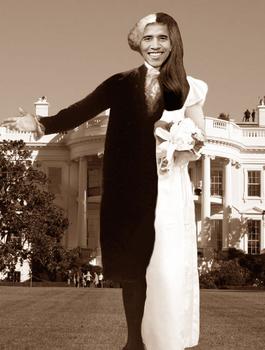 of