The Great GoogaMooga: Lessons Learned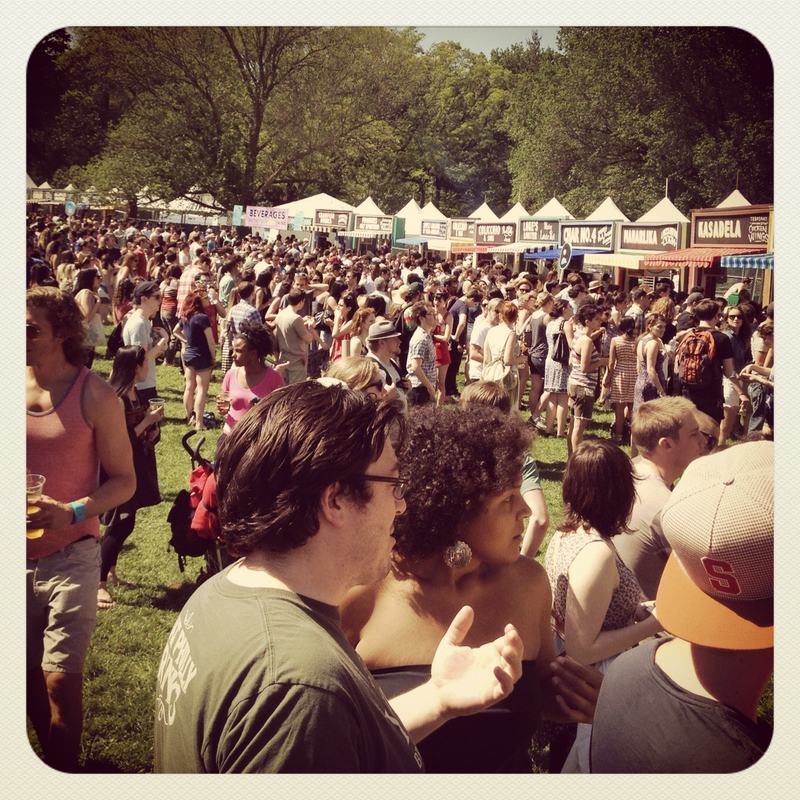 The inaugural Great GoogaMooga food and music festival last weekend is a reminder that greatness is neither self-bestowed nor assumed. You have to earn it.
From the looks of things during the event in Prospect Park and the critiques dribbling in on Twitter and Facebook (internet and cell phone service was abysmal on Saturday, when I went), GoogaMooga has a way to go before it can be called "great."
The site, HyperVocal, summarized the most vitriolic comments from Day 1, which included rants about long lines, not enough security, a lack of easily-available bottled water and a shortage of food AND beer.
An ExtraMooga attendee, that's a person who paid about $250 for a VIP ticket, got two beers and a bag of potato chips instead of the "piles" of food the website had promised.  
GoogaMooga's organizers apologized to the Saturday hordes, writing "we truly regret the first year glitches and really appreciate your patience as we worked to smooth them out."
Sunday reportedly went better.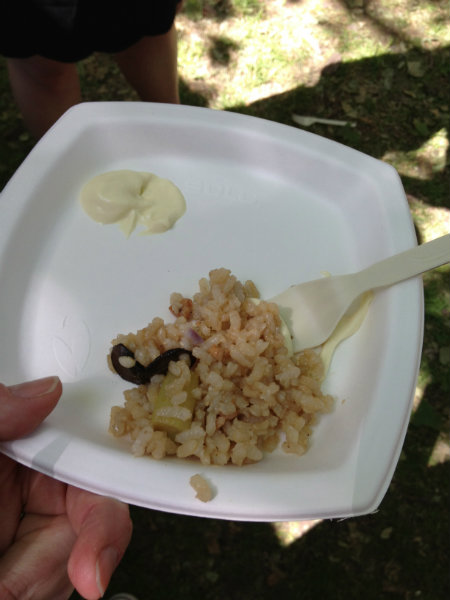 In contrast to eaters' frustrations, vendors enjoyed themselves. "It was really chill, we were having a good time," said Ben Turley, one of the butchers of The Meat Hook in Greenpoint, which offered hot dogs and its signature roasted jalapeño and cheddar cheese sausage, the Long Dong Bud.  "The only thing I'd do differently is make more food and bring a bottle of whiskey, that's about it."
Turley was smart; he kept tempers — and tongues — cool by offering waiting patrons glasses of water flavored with lime, cucumber and mint.  
They ran through their 900 dogs and sausages by 4:00 PM.  Turley said the producers told them to bring that amount.  
"They were following an outdoor festival rule of thumb that estimated a turnout of 60 percent to 75 percent for a free ticket event" like GoogaMooga.  "The turnout was upwards of 95 percent, so we were screwed."  
(Photo right: Two forkfuls of paella from Tertulia in the Extra Mooga VIP area. Amy Eddings/WNYC)
Superfly Productions, which organized the event, did not respond to a request for comment.
Turley said the shop is "definitely down to do it" again next year.  "It was, hands down, the best event of this type we've ever participated in," he said.  "Everyone we worked with was really nice and well-organized."
Justin Warren, one of the chefs and owners of Do or Dine in Bedford-Stuyvesant, seconded Turley's accolades.
"It was freakin' great," he said.  "It was like adding a 53rd weekend to our fledgling budget."
 Warren said the complaints he's since read about took him by surprise. Admittedly, he wasn't one of the sweaty, thirsty hordes waiting in line for 45 minutes for one of his fois gras donuts.  But he said people were "amped" by the time they got to the counter.  
"We cranked them out; everyone was happy," he said. "I grew up in western Maryland, and at one point it felt like a strange, Amish craft fair, with more tattoos."
Not everyone, of course, was happy.  I was about 30 people away from being "amped" when I saw Warren, in a blue trucker's cap, walking slowly down the line, informing GoogaMoogers that they were out of donuts. Do or Dine went to Don't and Die in four hours.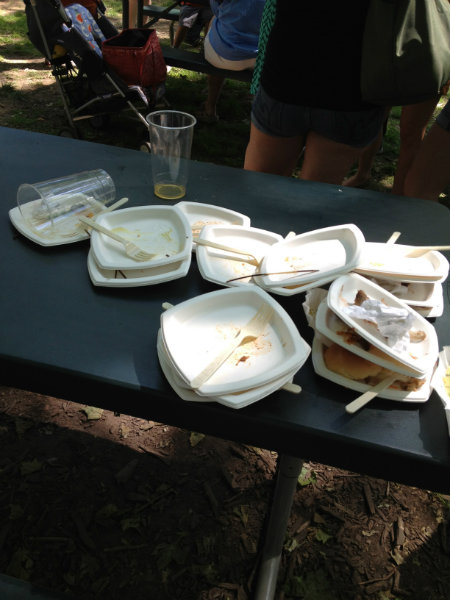 Warren said he upped his donut production from 800 to 900 for Sunday, but he said he wouldn't do much more than that next time. "It's all about supply and demand," Warren said. "It wouldn't be such a high commodity if we over saturated the market with fois gras donuts."
(Photo left: Empty plates at the Great GoogaMooga. Amy Eddings/WNYC)
There's over saturating the market, and there's over saturating the staff.  Jean Adamson, co-owner of Vinegar Hill House in Vinegar Hill said they'll probably take their much-hyped, very popular soft-shelled crab sandwich off the menu now that the festival was over.  "After frying 1,500 crabs this weekend, we're done."  
They ran out of crabs early, around 2:00 p.m. "We made 1,600, but we could have made 3,000," Adamson said. Unlike Do or Die, Vinegar Hill House couldn't tweak production for Sunday.  "We pre-ordered the crab, and it was impossible for us to get more."  
Adamson learned a couple of lessons from the event. First, she'll bring more staff next time. "We had three people, while other vendors had ten!" She'll also sell food in shifts, so that there was something to offer people for dinner in the evening.  
Much of the food at the Great GoogaMooga vanished by late afternoon, but the event itself didn't end until 8:00 p.m.
"I know there's been a lot of negative stuff about the event, but it was the first time," Adamson said. "I've got to give [the producers] credit. Unfortunately, we ran out of product, but we had a lot of fun, being in the park on a beautiful day, making food."