Last Chance Foods: A Fish Market Returns
Bustling trade and loudmouthed fisherman used to be fixtures at the South Street Seaport. But in 2005, the Fulton Street Fish Market moved to the Bronx, taking its rough-and-tumble culture with it. This Sunday, New Amsterdam Market hopes to revive the seafood scene in lower Manhattan with its second Gathering of Fisheries event. Fishermen and purveyors will bring in fresh, local seafood and teach people about cutting, cleaning and cooking fish.
The inspiration for the event stemmed from the well-known history of South Street Seaport neighborhood. "The primary reason why we think fish should come back there is because it turns out that there are still people in and around the New York harbor who could be delivering it by boat," said Robert LaValva, the founder of New Amsterdam Market. "By revving up a market with that specific aim, we could really reunite that part of the waterfront."
LaValva added that the site on South Street has continually been home to various markets since the earliest days of the city. He credits that to the strategic location of not only being on the waterfront, but also being by the former East River ferry route, which was used to transport farm goods, as well as seafood. 
Vinnie Calabro, a commercial fisherman and the owner of Karen Ann Charters, will join a number of other local seafood vendors at this weekend's event. With the spring marine migration in full swing, he expects fluke, blackfish and porgies to be plentiful. 
"We're going to have some scallops, we're going to have some skates, and depending upon the weather conditions and how the fishing is over the next couple of days, there may be some additional species," said Calabro.
LaValva hopes to not only highlight fresh, local seafood, but to also help educate consumers on how to handle it. 
"I think that people in general aren't so used to cooking fish at home," he said. "When they see a whole fish, for example, they might be afraid to buy it because they don't know the first thing about how to cut it." To counter that apprehension, the Gathering of Fisheries event will feature chefs like April Bloomfield, who will demonstrate how she cuts striped bass and fluke.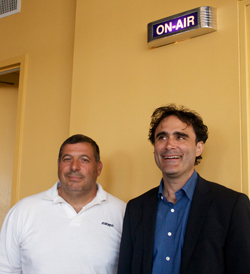 Calabro threw in some immediate advice for picking out fresh fish. He said that the fish should be firm, the eyes should still be clear, and the grills should be bright red. In addition, the fish should only have a slight fresh fish smell. 
Calabro said that his favorite way of preparing fish is to throw it on the grill, a method he particularly recommends for blue fish. "Basically if you're doing fillets that are a pound or less, you're talking about minutes," he explained. When grilling, broiling, or frying, that comes out to about seven minutes a fillet.
(Photo: Calabro, left, and LaValva, right, outside the studio. Amy Pearl/WNYC)
All the fish will be coming from waters surrounding New Jersey and New York. Some will even be pulled from Jamaica Bay, a body of water that's struggled with pollution. Despite the bay's environmental history, the fish coming from those waters are absolutely safe, said Calabro, who has been fishing there since the 1970s.  
He added that he is hopeful for the future of the bay. "The bay is recovering, I think, very well," Calabro said. "It had its moments over the years, where...there was problems with nitrogen, with oxygen content in the water. There was a diminishing of the islands and the grasses." But he pointed out that environmental groups have been successful in replanting marsh grasses and installing oxygenators throughout the bay.
With such continued efforts and attention, the waters around New York, as well as the city's local seafood scene, may well have a long and sustainable future.