Driver in Fatal Bronx Tour Bus Crash was Briefly a City Bus Driver
Documents released by federal investigators show the bus driver involved in a deadly Bronx crash when returning with passengers from a Connecticut casino last year was hired in 2007 to drive a city bus.
An MTA background check kept Ophadell Williams off the road, but only until a private company hired him. 
On his job application with the MTA, Williams admitted his driver's license had been suspended from 1996 to 2003 because of "child support." He also wrote, "I made a couple of mistakes in my life."
That did not stop the MTA from hiring him. But then a background check revealed Williams had failed to disclose a pair of felony convictions, and he was terminated after two weeks on the job. The MTA say Williams never got behind the wheel of a bus with passengers.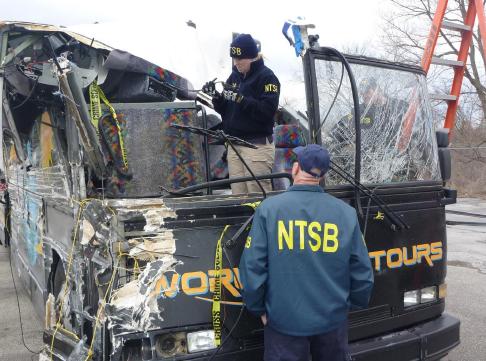 Private tour bus operator World Wide Travel hired Williams as a driver in 2010. He was driving a bus for the company in March, 2011, when he crashed on I-95, killing 15 passengers.
National Transportation Safety Board documents released Thursday show that Williams' cellphone and rental car were in almost continuous use during the three days before the incident, times when he said he'd been sleeping. A preliminary report last year said Williams was speeding at 78 miles per hour shortly before he lost control of the bus, which struck a highway signpost.
(Photo: NTSB investigators examine the bus' interior./Courtesy of the NTSB)
A toxicology test cleared Williams of drug use, and a breath test that he took at the scene of the accident showed that he hadn't been drinking. The NTSB said it will release "an analysis of the collision, along with conclusions and its probable cause" on June 5.
Williams has pleaded not guilty to charges of manslaughter and criminally negligent homicide.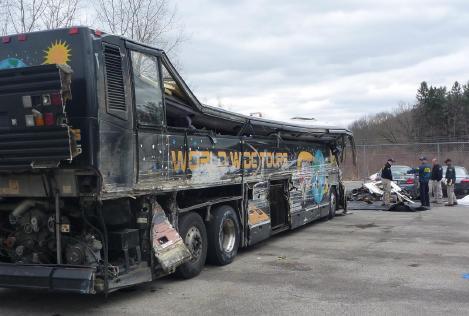 (Photo: A view of the damage to the top of the bus as NTSB officials examine the vehicle./Courtesy of the NTSB)