Would-Be Subway Musicians Audition for the Right to be Legit
It looked fairly grueling: 70-plus musical acts, lined up in a very public -- not to mention acoustically challenging -- corner of Grand Central Terminal, in front of a panel of judges and a revolving cast of commuters.
Each act auditioning Wednesday had five minutes to set up instruments and convince a panel of judges that they deserved the right to play in the New York City subways as part of the MTA's Music Under New York program.
Like The Belle Tones (pictured above), Matt Dallow, an accordionist who played both Adele and The Rolling Stones during his audition, and Allison Tartaglia (pictured below), who played the ukulele and sang country-inspired lyrics of her own composition.
The master of ceremonies, Bob Holman, warmed up the crowd for Tartaglia's performance.
"She's going to do her own pieces: a medley of "Better Minds" and "Mistake," which I think is pretty much my autobiography," Holman said.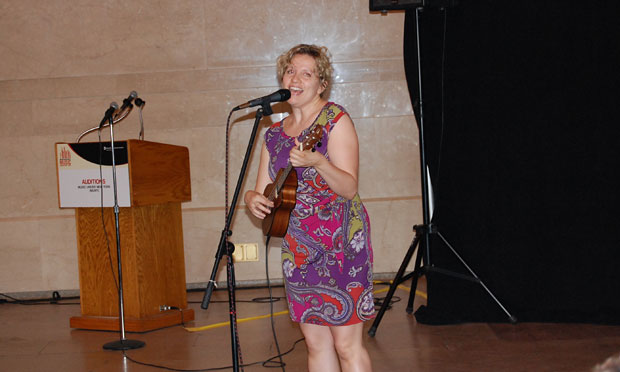 The chorus to one of her songs: "I thought you had mystique but you were just a mistake."
The youngest performer of the day was Jason Cordero (pictured below), a 14-year-old classical pianist from Queens. He was pragmatic when asked why he wanted to play Mozart on a subway platform: "I practice at home. When I practice in the subway, I get donations."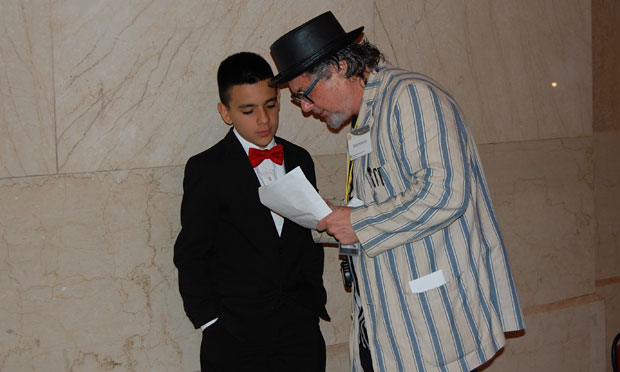 Well, he does have to manage his 9th grade homework load as well.
Facing the makeshift performance space were two dozen judges (pictured below), sitting on folding chairs and taking notes.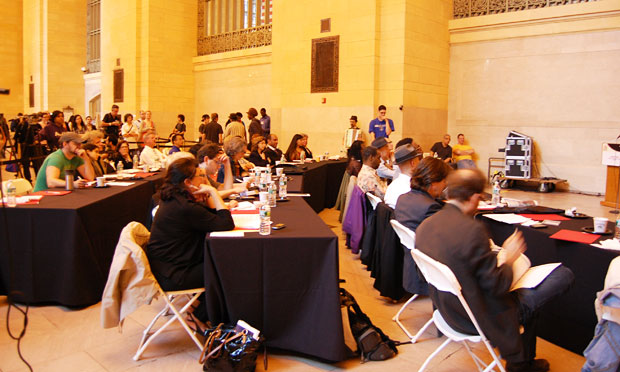 David Spelman was one of them. Most days, he's the director of the New York Guitar Festival. But today, he's a judge, listening to steel drum player Caesar Passée (pictured below) with the perspective of a subway commuter – not a music professional.
"This may not be what I want to hear at 7:30 in the morning," he said, "but I could definitely handle this after work."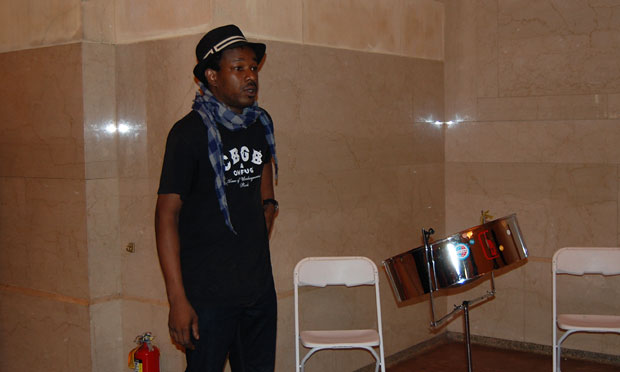 Passée, an Astoria resident, said part of the reason he's so good is because he's been playing on city streets and subways for so long.
"You meet great people, you get feedback from them," he said. "I grew up in these streets, so I've learned. I've matured as a musician, and that's always great."
Twin vocalists who go by the name Joe D's Glamma Twins (pictured below), sang Cream's "White Room." They said performing in the subway made them better musicians.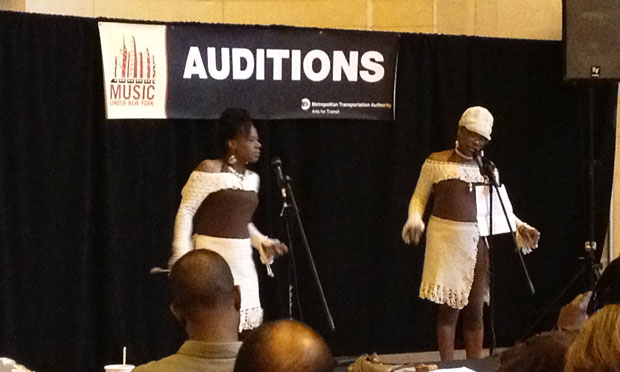 Doreena Davidson, one of the sisters, said there's something about '60s-era music that makes a lot of straphangers emotional.
"Some people cry even because we take them back, they say, to a different time," she said. "It makes me cry, but that's what makes me feel good. I don't even care about the money. It's when the audience reacts to us. I just love it. It's a blessing, a blessing."
The Glamma Twins – along with the 69 other acts who auditioned, like Mariachi Flor de Toloache (pictured below) -- will learn whether they can raise their banners in the subway after Memorial Day. Until then, many of them will likely keep on playing in the subways anyway.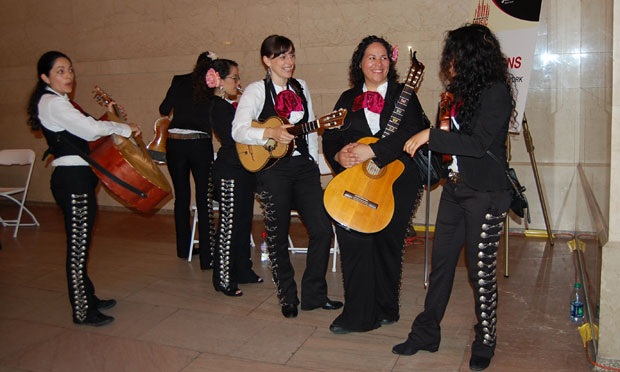 Help us discover the city's best underground music by snapping a shot or sending us a video clip of your favorite subway performance.