Empty Lot Once Eyed by Protesters Turns into Food Truck Encampment
The 99% may not have been able to set up camp in the empty lot bordered by Canal Street, Varick Street and Sixth Avenue, but now they can buy tamarind duck sliders and other food cart goodies there.
Starting this week, Tuesday thru Thursday, from 11 a.m. to 3 p.m., the lot will open its chain link fence and hosts a changing roster of food trucks. There's a little stage, too, for bands to serenade hungry workers on their lunch breaks. 
The new food court is called LentSpace, and it's a collaborative effort between property owner Trinity Real Estate and the Lower Manhattan Cultural Council.
Last November, when the New York Police Department cleared the Occupy Wall Street encampment at Zuccotti Park, the ousted demonstrators milled about Lower Manhattan, looking for another home. Some briefly tried to occupy this very lot.  They were arrested.  So were some journalists, who had followed them into the fenced-in site.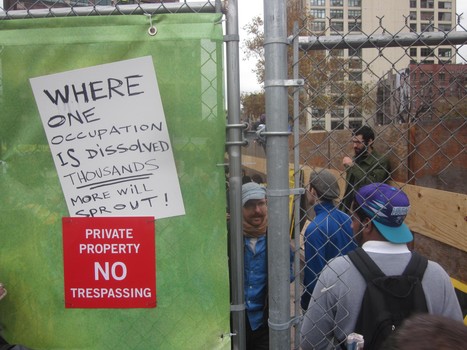 It's about three blocks from WNYC's Varick Street studios.  Wednesday's trucks included: grilled cheese purveyors Gorilla Cheese NYC; Bongo Brothers, offering Cuban food; Phil's Steaks' cheese steaks; ChineseMirch's Asian/Indian fusion food (they offered the tamarind duck slider for $8); and goodie pusher SweeteryNYC.
(Photo: Last year, protesters tried to take over the lot and make it into an encampment. Arun Venugopal/WNYC)
SweeteryNYC has a regular presence on Hudson Street, just below West Houston, where advertising biggie Saatchi & Saatchi holds sway. I've also seen Gorilla Cheese in the 'hood. 
Turns out this food truck court is an attempt by the local business improvement district, Hudson Square Connection, to resolve a food fight between local delis and restaurants and the food trucks.
"It's the first step in the process of balancing the very real concerns of the brick-and-mortar restaurants with the desire of employees to have food choices," said Ellen Baer, who heads up Hudson Square Connection.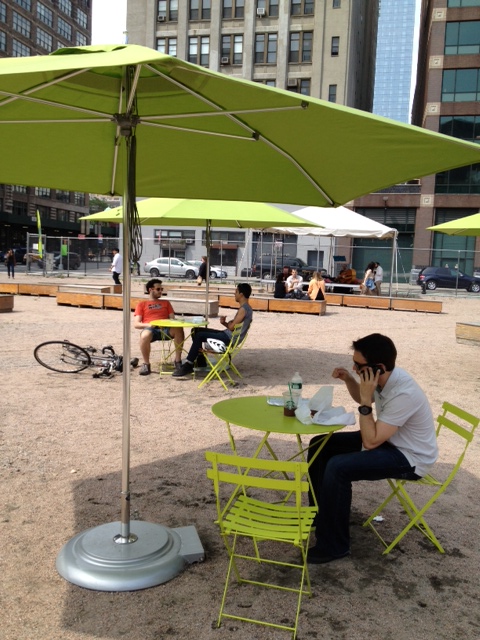 Baer said the food court and afternoon music programs are on a trial run for a month. If it works out, she said, it will remain through the summer. "We want to make sure it alleviates the problems on the street with the trucks, that people use it and enjoy it, that people respect the site and that it's kept clean."
On Thursday, lunchers will be serenaded by guitarist Adam Rogers in association with The Jazz Gallery.
The food trucks will change each day.  You can find out who's appearing at LentSpace by following the Hudson Square BID on Facebook or Twitter @HudsonSquareNYC. 
(Photo: Now the lot will be a lunch space for nearby workers, as well as a legal space for food trucks to sell their goodies. Amy Eddings/WNYC)