Mary McLeod Bethune and Eleanor Roosevelt Comment on America's Imperfect Democracy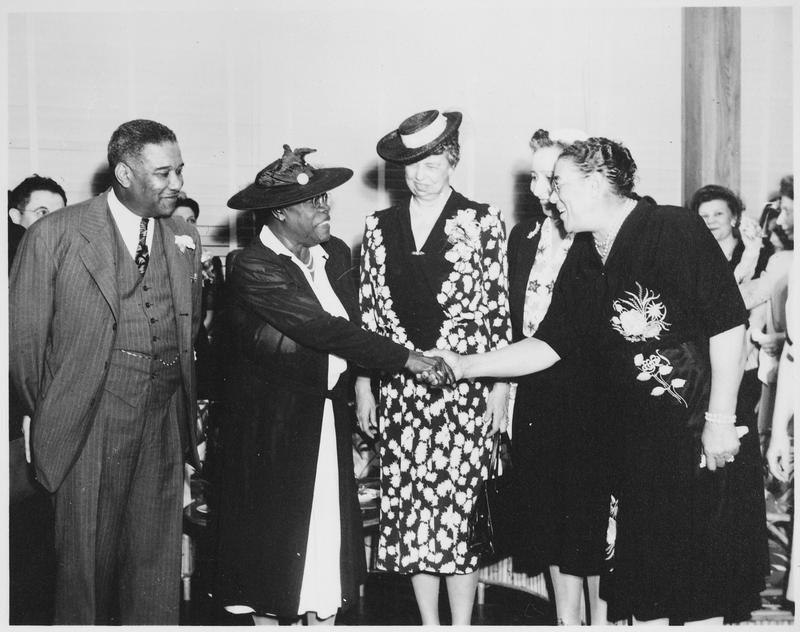 Former First Lady Eleanor Roosevelt interviews her friend Mary McLeod Bethune in a 1949 radio broadcast in support of 'interracial understanding.' 
Mary McLeod Bethune was born in South Carolina in 1875, the child of former slaves.  From a very early age she took a keen interest in education and eventually went on to found a university from scratch, raising the funds for its creation herself. Although the ostensible purpose of this talk is to kick off a membership drive for the National Council of Negro Women, Roosevelt starts by describing how Bethune founded Bethune-Cookman University with an initial capital investment of $1.50. Charred splinters were used as pencils and mashed elderberries supplied the ink. Bethune emphasizes the interracial aspect of the membership drive, pointing out that all women must be "instructed in the proper use of the ballot…as a weapon for freedom and economic security." Even though this is a brief, scripted piece, the genuine affection the two women feel for each other shines through. Roosevelt concludes by saying, "I, for one, am proud that our country could produce a Mrs. Bethune." 
The National Council of Negro Women was founded in 1935. It combined 28 pre-existing organizations and served to coordinate their efforts in advancing black women's rights. Bethune's strong relationship with Roosevelt (the organization's first Lifetime Member) helped make the Council a force in national politics. One of its major achievements came during World War II, when it lobbied to have black women admitted to the Women Army Corps officer training programs. 
Given her interest in education, after the time spent as a teacher, training to be a Christian missionary, and in social work, she realized her life's dream in 1904 by renting a small house and establishing the Literary and Industrial Training School for Negro Girls in Daytona. The University of South Carolina-Aiken website describes how:
…the house was bare, and Bethune was forced to repair furniture and use discarded carpets. She went to local stores to beg for boxes, which she used for chairs, and packing crates, which became her desks. In October of 1904, she opened …with a student body of five. Each child paid 50 cents a week in tuition. In line with beliefs of the day, Bethune's primary focus was on training girls to take care of the home, so cooking and sewing were offered as well as the three "r"s. 
Bethune proved to be a formidable fundraiser. She credited Booker T. Washington, who showed her how to obtain patronage from rich white men, civic groups, and philanthropically inclined corporations. Among the people she convinced to sit on the school's board was James Gamble, of Procter & Gamble. John D. Rockefeller was also a major contributor. In 1923 the school became coeducational by merging with the Cookman Institute for Men. Currently, Bethune-Cookman University spreads over 80 acres and has an enrollment of 3,000 students.  
Bethune was also extremely active in the nascent civil rights movement, becoming president of the National Association of Colored Women in 1924 and founding the National Council of Negro Women. Her friendship with Eleanor Roosevelt, as evidenced in this talk, increased her power during the Roosevelt administration. As the Notable Names Database reports:
She was nominally an adviser to Presidents Calvin Coolidge and Herbert Hoover on child welfare matters, but as a friend of First Lady Eleanor Roosevelt she was much more involved in the administration of Franklin D. Roosevelt. She was appointed by Roosevelt as director of the National Youth Administration's Division of Negro Affairs in 1936, making her the highest-ranking black woman in American government up to that time. She was a key advocate for establishment of the Federal Committee on Fair Employment Practice, the first federal agency dedicated to eliminating discriminatory employment practices (founded in 1941, and eliminated by Congress in 1946). As a representative of the NAACP, she was the only black woman to attend the 1946 conference in San Francisco that founded the United Nations.
In her willingness to work with the existing power structure and to depend on support from outside the black community, Bethune represented one of the "two streams" of the fight for equality. Despite being astoundingly successful both as an educator and an organizer, Bethune faced criticism for this approach. The PBS website for the American Experience series points out how:
…Bethune felt it more important to educate blacks in vocational occupations so that they might support themselves, rather than provide them with an education geared toward higher learning. "My people needed literacy," she said, "but they needed even more to learn the simples of farming, of making decent homes, of health and plain cleanliness." Other black leaders found this problematic. Ida B. Wells, following W.E.B. DuBois' philosophy, felt that access to higher intellectual professions should not be denied blacks in educational facilities. Arguing against Bethune, Wells wrote that "to sneer at and discourage higher education would mean to rob the race of leaders which it so badly needed... all the industrial education in the world could not take the place of manhood." This was a divisive issue when Bethune triumphed over Wells for the presidency of the NACW in 1924, and it continued to be a contributing factor in the dissension within black organizations for years to come.
Bethune died in 1955, at the age of 79. She is buried on the campus of the Bethune-Cookman University.
Audio courtesy of the NYC Municipal Archives WNYC Collection.