Dan Flavin, March 3, 1970
Friday, May 18, 2012 - 09:00 AM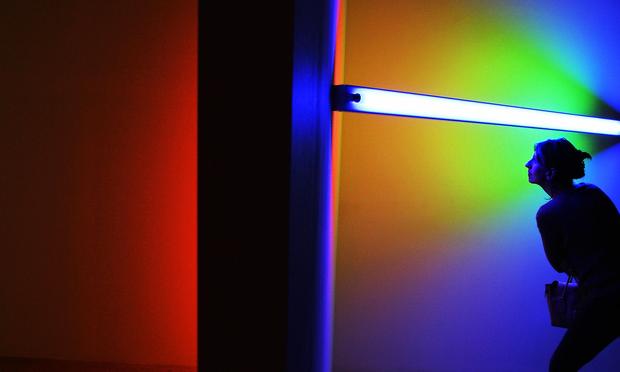 (ADRIAN DENNIS/AFP/Getty Images)
American artist Dan Flavin is well known for his often temporary, site-specific installations composed of fluorescent light tubes. In this 1970 episode of Views on Art, host Ruth Bowman interviews the artist about his work and the roles played by critics, museums and galleries.
Established in the year 2000, the New York Public Radio Archives are the station's physical link to its rich and storied past.

More

Recommended Links
While Bowman does her best to get the artist to talk about himself and his own work, it's clear from the outset that he had a lot more to say about the art world and the system in which it functions. Flavin is outspoken about art critics, museums, and galleries and contends that the mediating art critic only serves to further separate people from the art itself.
In this interview, he promotes the idea that museums should have a more direct connection with their living artists, and he is forthright in his critique of institutions, like the Museum of Modern Art, for not doing so. Flavin offers his critique not only of established institutions, but of artists as well. He accuses the Art Worker's Coalition (AWC), for example, of being too disparate and political. The AWC was an organization of artists, museum staff, and critics whose primary aim was to create more open, inclusive museums in New York City.
Flavin also discusses his reluctant relationship with the gallery system. He admits to being much more critical of galleries in the past, but now sees them as a necessary evil. "There are some restrictions. I recognize it [in] commercially committing yourself, but I'm not choking on it," he quips. Suffice it to say, Flavin has strong opinions about various players in the art world and is not afraid to voice them, and as Ruth Bowman concludes: "I'm glad you came here to irritate and excite us and even give us some satisfaction."
More in:
John Passmore is the Archives Manager at WNYC.