Partial Verdict Reached in Espada Corruption Trial
Former state Senator Pedro Espada Jr. was found guilty on four counts of theft Monday, when a jury returned a partial verdict in the corruption trial of the embattled former politician during the third week of deliberations. But the jury was hung on the remaining theft, fraud and conspiracy charges.
After 10 days of often tense deliberation, the jury said the former state senator and power broker stole money to pay for home renovation, birthday-party catering, ghost-writing and after-school tutoring.
"It was clear from the evidence the whole time," one juror said of Espada's guilt. "It was clear as one and one is two."
With a mistrial on the unresolved counts, it's up to the prosecution to decide whether to seek a partial retrial. Federal District Judge Frederic Block gave prosecutors two weeks to announce their plans.
The jury failed to reach a unanimous verdict on any of the eight counts faced by Espada's  son, Pedro Gautier Espada, who also worked at Soundview and was charged with the same eight felonies.
Juror Number Five, who asked not to be identified, said the chief supporter of Espada's acquittal was belligerent at times.
"One of the jurors right from the start, came to the table, and within 15 minutes of our deliberation, without even looking at a document, jumped up and said, 'He's innocent. He's innocent. He's innocent. I don't care what you tell me, I will never change my mind,'" Juror Number Five said. "And that's what we were up against."
Juror Number Five described recapping the government's argument "piece by piece, step by step" to persuade the hold-outs. She said they basically gave up on the other four charges and on convicting the younger Espada, because the evidence was less clear-cut.
Juror Number Two, one of the women identified by other sources as a hold-out, denied she had her mind made up from the beginning.
"It takes a long time," she told reporters, "You look at the evidence, and you decide, and that's what I did." 
Judge Block will sentence Espada several months in the future. Even if there's no retrial, Block would likely wait to see what happens in another pending trial the Espadas face in federal court in Manhattan on 10 counts of criminal tax evasion.
Prosecutors say that under current guidelines, Espada is eligible for between six and seven years in prison for the four theft convictions.
The government is also asking Block to demand a cash forfeiture of $448,000 as restitution for the theft.
The two Espadas were straight-faced as the forewoman read the verdict on the partial counts. Usually eager to speak with reporters, Espada declined to say anything, and asked his attorney, Susan Necheles to talk to the media.
"This was not theft," she said. "It was apparent that some of the jurors were extremely upset about this, but they had been there for days and days — for weeks — and it appears to have been a compromise verdict, so we'll have to see what happens next and what our options are."
Espada had previously described the case against him as a political witch hunt.
Then-Attorney General Andrew Cuomo brought action against Espada, working with the U.S. Attorney's office to initiate a criminal case. The governor said in a statement on Monday, "Those who would abuse the public trust have a pointed lesson in the downfall of former Senator Espada...Today the jury spoke loud and clear making Mr. Espada a convicted felon."
Meanwhile, in Espada's home district in the Bronx, people  reacted to the partial verdict with anger and disappointment.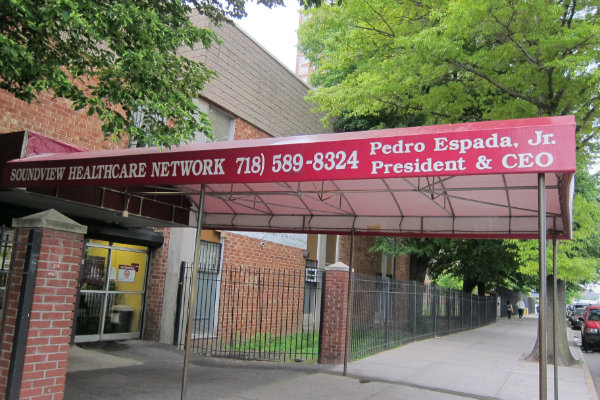 Evelyn Martinez of the Soundview section of the Bronx said she feels betrayed that Espada was convicted of embezzling money from his low income heath clinics.
"It's horrible to hear something like that because when you come from a neighborhood like this you try to — well I would prefer for people to look out for us, to take care of your own kind," she said.
Others, like Rafael Gonzalez, said he didn't agree with the jury's decision. "He represents to me a nice guy and I'm going to be with him," he said.
Kathleen Horan contributed reporting.