Women Box: Dispatches From China
Women Box contributor Sarah Deming is following all the action at the Women's World Boxing Championships in Qinhuangdao, China, where three Americans have been competing for a spot at the Olympics and six others are vying to win in non-Olympic weight classes.
May 21: Goodbye, China
Sarah Deming files a final dispatch from China, with updates on all of the American competitors. 
Alex Love, 106 pounds

Results: Preliminary round loss to Nazym Kyzaybay of Kazakhstan, 20-19

"You can tell the girls in my weight," said Love. "We're the ones with the drawn-in faces." 

Love suffered to stay at light fly and was tipping the scales at 118 pounds by tournament's end.  

With Tiara Brown and Mikaela Mayer, Love was one of the fighters I expected to go farthest here. It was tough luck for her drawing such a challenging opponent; Kyzaybay was the eventual bronze medallist.  

"I was a beast," Love said of the match.  "I just came out way, way too aggressive."  

This analysis was echoed by some of her teammates, but I'm not sure I agree. Aggression in boxing is like money: The more, the better, and it's how you spend it that matters. The problem as I saw it was that Love was barreling in and getting tangled up rather than exploding and moving.  Even so, she very nearly won this match and earned accolades from the international crowd.   

She's joining the Army now and starts basic training soon.

"What if you had to go into combat?" I asked her, mildly horrified.

"The elite athletes are the last to be deployed," she said. "But if it happens, it happens. I love my country."

In addition to boxing for the Army squad, Love has applied for a job as an intelligence analyst. It sounds like a good life for this little action heroine.
Marlen Esparza, 112 pounds, Olympic Weight

Results: Beat Pamela Benavidez of Argentina 20-10, beat Thi Luu of Vietnam 28-13, lost to Ren Cancan of China in the quarterfinals 16-8

Like a bottle of Johnny Walker blue, Marlen Esparza has a certain expensive glow. She takes the ring walk in a Stars and Stripes do-rag, her face a mask of anxiety, her smooth muscles coiled.  

Both of her preliminary bouts were easy wins, showing off Esparza's explosiveness and good lateral movement. The win against Vietnam clinched her Olympic berth.  

In Chinese southpaw Ren Cancan, Esparza faced the eventual gold medallist in this tournament and, quite probably, London. Right now nobody at the weight looked ready to beat Cancan, whose style is reminiscent of her countryman, Beijing gold medallist Zou Shiming.  

Esparza seemed quite down about this loss. This is understandable. With only a few months to prepare for a rematch, I'm not sure there's too much she can change.  She and her wonderful trainer Rudy should study the tape of Cancan's semifinal victory against Karolina Michalkzuk of Poland.  Although she took too many punches and tired late in the match, the Polish girl was the most effective of any of these flyweights at touching Cancan. India's Mery Kom also recently beat Cancan at the Asian Continentals, although that's hard to believe given what I saw of Kom in China.

At one point it looked like Esparza might be our only Olympic representative, and I told Sue Johnson that if it had to be only one, I'm glad it was Esparza.  She's worked the hardest for the longest, and she pulls out great performances under the considerable pressure of being a Nike, Coke, and Cover Girl athlete. There's the pressure of fighting broke but there's a different and more insidious kind of pressure when you do it for money.  More experienced athletes have crumbled under it, but Marlen Esparza is top shelf.
Christina Cruz, 119 pounds, Bronze Medal

Results: Beat Nicole Michel of Switzerland 22-8, beat Shora Rezaie Jahroni of Norway 14-10, beat Sopida Satumrum of Thailand 20-19 in quarterfinals, lost in semifinals to Terry Gordini of Italy 11-7

When the matches got tough, Cruz's teammates would yell out "MSG!" Cruz is my hometown fighter, and Madison Square Garden has been the sight of her greatest triumphs. Her six New York City Golden Gloves wins are a tournament record.

Cruz's style is tailor-made for the amateurs: She moves with great speed around the perimeter of the ring, scoring to the head with panache.  An occasional tendency to wait too much finally caught up with her when she fought the equally skilled, but more aggressive, Gordini. 

In all these matches, I noticed that the boxer who led, who initiated the exchanges, usually won.

"Yes," agreed Christy Halbert.  "In the amateurs you have to be first.  Also you have to be last."

At the end of her matches, Christina Cruz takes off her headgear and shakes out her long, glossy black hair. That hair will look good under the lights when she makes her pro debut.  
Tiara Brown, 125 pounds, Gold Medal

Results: Beat Mandakini Kangabam of India 21-16, beat Jian Qin of China 23-22 in quarterfinals, beat Svetlana Staneva of Russia 22-14 in semifinals, beat Sandra Kruk of Poland 24-21 in finals 

I knew Brown could do it, and I just wish featherweight was an Olympic class.  The gap between 112 and 132 pounds encompasses some of the richest talent in women's boxing, and it's crazy that it's not represented in London.

"Your girl must train with some great pros," said one of the international technical officials who agreed with me that she deserved Outstanding Boxer of the Tournament. "She knows every trick in the book."

Apart from her first match, all Brown's fights were wars, and she won them with body punching. I was glad the judges rewarded Brown's tight defense on the inside; she's great at partially blocking, rolling, and slipping.  

"Maybe you should emigrate to England," I suggested to Brown after her gold medal win. I was only sort of joking. USA Boxing does not even give our non-Olympic weight women a stipend.  Perhaps they could make an exception for Brown, who becomes only the third US woman boxer to ever win gold at Worlds after Devonne Canady (heavyweight, 2001) and Andrecia Wasson (welterweight, 2009).

It's back to Headbangers Gym for our new world champion, and I hope sponsors will look closely at her. In addition to being a superb athlete, Brown is an ambassador for her sport who makes friends wherever she goes.  
Queen Underwood, 132 pounds, Olympic Weight

Results: Beat Dayana Sanchez of Argentina 24-13, beat Alexis Pritchard of New Zealand 28-9, lost to Ingrid Egner of Norway 26-15

Underwood looked better than I've ever seen her when she outpointed Dayana Sanchez in her first outing. After the match, it seemed like a weight had been lifted off her shoulders.  

"Queen's back," said Christy Halbert. "That's how she fought in Barbados."

The Pritchard match was a blowout, and then Underwood ran into Norway, where she once again fell back into the stuckness I'd seen so much of in Spokane and Cornwall. The fight was very close, but Norway showed up in a way Underwood didn't. I couldn't help wondering what would have happened if Nyteeyah Sherman or Mikaela Mayer had gotten the nod at Trials.  

Underwood's only hope now is for one of the so-called "wild card" or tripartite slots. We're all keeping our fingers crossed. As these slots are traditionally reserved for boxers from under-represented nations, I think Underwood's chances are slim.

Hopefully Underwood will go pro. She has a pro style and the fan base to launch a career, and maybe she can catch Egner in the pro ranks and bang out her revenge.
Mikaela Mayer, 141 pounds, Bronze Medal

Results: Beat Laura Matthews of New Zealand 34-13, beat Meena Rani of India in quarterfinals 27-10, lost to Kyong Ok Pak of North Korea 25-24 in semis

Everything about the California Girl is beautiful: the way she looks, the way she speaks, the clean, classic way she boxes. Her first fight was a clinic on how to throw the jab and straight right. She looked a cinch to get the gold in this relatively weak division.

Although her fight against India was a dominant performance, I began to have a sinking feeling. Why was Mayer standing on the inside and throwing body shots? I couldn't figure out if she was feeling too tired to move or if she'd lost her way strategically.

"She's gonna lose," I told Raquel thirty seconds into the match against North Korea. Once again Mayer was staying in the pocket instead of controlling the fight with her great jab. Al Mitchell would never have let her do it.

Maybe it was just the heartbreak catching up with her. In Spokane, Mayer made a game run for our 132-pound slot. Queen Underwood's failure to qualify must have twisted the knife.

"I thought I was over it," Mayer told me when I asked if it was bittersweet being here at a non-Olympic weight. "But it hurts. It hurts a lot."

I'm happy Mayer has a great support system in her father and her excellent coach. She's wisely staying amateur, where she should be in great shape to medal in 2016. Keep an eye out for this future star and rising spokeswoman for our sport.
Raquel Miller, 152 pounds, Silver Medal

Results: Beat Daena Stephenson of New Zealand 17-8, beat Myriam Da Silva of Canada 18-18, beat Bilgehan Karabulut of Turkey 11-5 in quarterfinals, beat Irina Poteyeva of Russia 13-10 in semifinals, lost to Maria Badulina of the Ukraine 14-8 in finals

What a tournament for Miller!  She's quite lovely looking and very sweet in interviews, so I didn't realize until seeing her here just how intimidating she is in the ring. She's sweated and fasted down to 152, so her size is great for the weight and the veins pop out in her cut arms. Her style is awkward and pulls the opponent into her rhythm. You could almost feel Raquel's opponents -- most of them vastly more seasoned -- roll over and acquiesce.   

Miller is a worker. Back in San Francisco she lives in low-income housing with her mother and is a role model to the kids there. She described her daily schedule to Sue Johnson: Up at six for a run, at work as a law clerk by eight, trains on the lunch break, off to the gym after work, where she does her own training and teaches others.

"I've got a little money saved up," she told us after the fights.  "I deserve a vacation."
Claressa Shields, 165 pounds, Olympic Weight

Results: Beat Pooja Rani of India, lost to Savannah Marshall of England 14-8

You always remember your first loss. This was the right time for Claressa Shields to lose and the right woman to lose to. Savannah Marshall was the eventual gold medallist in the tournament; her superior performance ensured Claressa's Olympic spot.

Having to be beholden to her victor was a humbling experience for the seventeen-year-old Claressa. At first she seemed to be in denial but slowly accepted the lesson.  

"God wanted me to lose," she told me.  

Progress rubs off on you, and it was a spiritual experience for me to witness Claressa's growth. She's talking about boxing and moving, about watching tapes and drilling footwork.  

That's all very well and good, but I hope Claressa knows that it is only by boxing like herself that she will win gold in London. Her innate explosiveness, handspeed, and balance should remain the core of her style. All she needs is polish and seasoning.  I pray that Claressa gets the support she needs from Jason Crutchfield, the USA Boxing coaching staff, and her family. A diamond in the rough should be handled with care. 
Franchon Crews, 178 pounds, Silver Medal

Results: Beat Sandra Delarue of France 22-8, beat Dariga Shakimova of Kazakhstan 30-12 in quarterfinals, beat Timea Nagy of Hungary 22-8 in semifinals, lost to Meiqing Yuan of China 18-11 in finals

Crews looks strong and slick at light heavy. She moves well behind the jab and throws her hooks and overhand rights with authority. She blew through the field until running into the tough, tough Chinese entrant, who was a little too fast and well-conditioned.

The Heavy-Hitting Diva has a winning way outside the ring as well. Crews came into the Olympic Trials in Spokane very cocky and a little disrespectful of the opposition. I find myself liking her so much more now. If you let them, it's your losses that make you a better person, and Crews' have opened her up.  

May her options open up as well. There could be a reality TV career ahead for Crews, who is a beautiful woman with a flair for the dramatic.  She tried and failed to get a spot on American Idol, but if at first you don't succeed... A silver medal at the worlds is a spiffy new addition to her resume.  
May 19: Crews Takes Silver

It was another generously scored bout for the host nation when their light heavyweight Yuan Meiqing outpointed Franchon Crews 18-11. After an even first round, it looked to me like Franchon took control of the second round with her jab, but the judges put China up by three. Despite Crews' brave efforts, Meiqing never lost the lead, finishing 18-11.

Sometimes I wonder if I know anything at all about boxing when I see these scores. Then again, the local organizing committee has put the press in the worst possible vantage point for these fights: we're looking at the ring from below and from the corner, so the padded post gets in the way.
"It's the fourth round," Sue Johnson says when I complain of how tired I am.

After eight days of competition, the press dungeon smells like a swamp.  We're all ready for the final bell.

May 19: Miller Takes Silver

Raquel Miller finally ran into her match Saturday afternoon in the Ukraine's Mariia Badulina. There were few exchanges, but the tall, strong Badulina got the better of them, landing combinations with greater accuracy. A standing eight for Miller in the final round seemed undeserved; neither girl seemed hurt much in this strategic match. The final score was 14-8, and this was a great run for Miller, who has been boxing way above her experience level.

"I'll be back at the next Worlds," she told me afterward. By then she should be hard to beat.
Saturday, May 19: Brown Wins the Gold
She said it would be tough and it was, but Tiara Brown outfought Poland to win featherweight gold, 24-12. It was a hard fight, mostly at close quarters, but Brown was the stronger and more accurate puncher. Brown has made a lot of friends here because of the way she boxes and the way she is; the crowd was all for her, chanting "USA, USA" in the final, action-packed round.  
Friday, May 18: Claressa In

Savannah Marshall will celebrate her 21st birthday Saturday, and it might be the day she becomes the women's amateur middleweight world champion. She never looks that good winning, but win she does.  The 5-foot-11 Brit holds her shoulders high, moves with an awkward Frankenstein-type gait, and pokes rather than throws. But somehow it all works out. On Friday night, she kept Russian Nadezda Torlopova at the end of her jab and led throughout their semifinal match for an 18-10 win.  

It was great news for Claressa Shields and for China's Jinzi Li, both of whom had lost to Marshall in earlier rounds; her win qualified them for the Summer Games.

During the first two rounds of Marshall's fight, Claressa Shields squirmed in her seat, wishing she were the one in the ring. Some time during the third round, she knelt down and prayed.

When she got back to the room she shared with welterweight Raquel Miller, she jumped on her roommate, hugged her leg, and screamed, "London!"

The other semifinal middleweight match saw Azerbaijan's Elena Vystropova defeat Sweden's Anna Laurell 16-15.  This means that Brazil's Roseli Feitosa gets the ticket to London.  Sadly, Canadian Mary Spencer is out.  We're all hoping that the tripartite slot will go to her.

In her light welterweight semifinal, Mikaela Mayer fought a girl with faster hands, always a tough assignment. Mayer didn't seem to fight to her strengths, neglecting to stay on the outside with her excellent jab and 1,2 and instead getting into exchanges with the quicker North Korean. The final was a heartbreakingly close 25-24 loss.

-- With reporting from Sue Jaye Johnson

Friday, May 18: Brown Advances, England to Face China in Flyweight Final

Tiara Brown is the original slow starter. It always makes me nervous because I like her so much. She let Svetlana Staneva of Bulgaria get a three-point lead after the first round of their featherweight semifinal.  

"It's like getting the thread into the needle," said Raquel Ruiz. "It takes a long time, but then once it's in you can really make something."

Brown threaded the needle in the second round, taking the fight to the inside where her superior strength told. Staneva took a standing eight in the second and another in the third thanks to the vicious body attack. The final score was 22-14.  

In the Olympic flyweight semis, China's Ren Cancan beat a strong, game Karolina Michalczuk of Poland 27-18. As with many of the bouts against Chinese fighters, I thought the opponent was not credited with enough points here. Michalczuk was quite effective with the lead right, especially in the early rounds, but Cancan came on strong and by the end she was snapping her opponent's head back with jabs.  

The other semi saw Nicola Adams of England beat Elena Savelyeva of Russia. This was a great technical fight. I think the jab won it for Adams, who had an automatic spot in London thanks to the host country rule but never fought like it. Her victory was great news for India's Mery Kom, who now takes the second Asian flyweight quota spot, along with China.

Friday, May 18: Miller and Crews Advance, Ochigava to Face Taylor In Finals

Welterweight Raquel Miller continued her roll Friday afternoon with a careful 13-10 victory against Russia. Miller is a great size for this weight and seems to intimidate all her opponents. She kept Irina Poteyeva at arm's length, skirting around the ring and landing just enough to control the bout throughout.

"She moves like a lion," said journalist Raquel Ruiz.

Light heavyweight Franchon Crews blew through her Hungarian opponent with ease. I missed the last half of the bout trying to track down the Tunesian team, who have qualified two of their boxers, but when I left she had it well in hand. The final was 22-8, and it's on to the gold medal round for both Crews and Miller.

The lightweight division has the deepest talent of the tournament, and Friday afternoon showed off its two greatest stars. We were down to one ring, so I could finally focus on Irish legend Katie Taylor. I got up in the stands and watched with awe as she toyed with Mavzuna Chorieva of Tajikistan, winning 16-6. Chorieva is no slouch and gave a good show, but Taylor is just as good as everyone says she is and only allowed a point or two per round. Her use of feints was beautiful to see.  

The other semi bout pitted the Laughing Assassin, Natasha Jonas of Liverpool, against Russia's Sofya Ochigava. I was sitting near Jonas' father and the rest of the Liverpool contingent, who amused all the Chinese spectators in our section by screaming nonstop for their girl.  

"That's it, Tash! Touch her, Tash!" they bellowed.

I was rooting for Jonas too, but I knew she wouldn't win. Ochigava's just too good for her right now, with superb counterpunching and the ability to dictate the rhythm of the match. In the fourth Jonas did better, coming on hard and managing an even round. The final score was 18-10 for Ochigava.  

After the decision was announced, the Liverpool boys exploded with encouragement for their boxer.

"Good show, Tasha!" they screamed. "Well done, love!"

Seeing how her father supported her in defeat gave me tears in my eyes. My dad never came to watch me fight.

Natasha sat on the ropes to let her opponent out, classy until the end.

"That was pretty much what we expected," said Jonas' documentarian. "They fought in Prague a month ago and Tasha lost by ten points. She'll tell you straight up, 'I'm the third best in the world.' But she and the coaches have two months now to really get her game together, figure out how to beat the girl. And it'll be in London, too, with the whole UK behind her."

I can't wait to see it.
Friday, May 18: Claressa Waits, Cruz Drops in Semis
I watched Claressa Shields's face as she watched Savannah Marshall outpoint Jinzi Li of China Wednesday night, hoping for a smile of relief. The Brit's victory meant that Claressa's Olympic dreams were still alive. But the only emotion I could see on Claressa's face was irritation and impatience.  It's hard for a woman of action to have her fate in another's hands.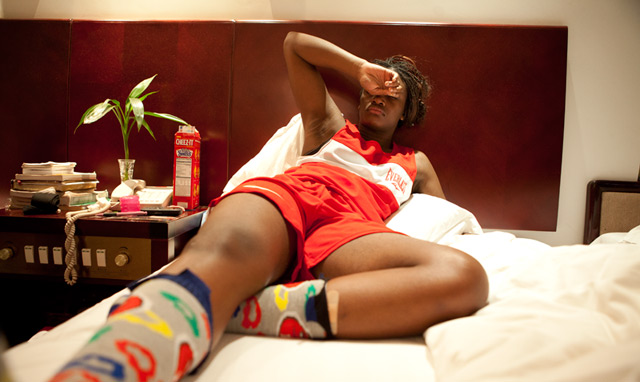 Middleweight Claressa Shields earlier in the week, absorbing a loss that could have kept her from London. (Sue Jaye Johnson)
I heard Coach Basheer set up some sparring today for both Claressa and Alex Love, which sounds like a good idea. Apparently there's been a lot of sparring going on among the women who are no longer active in the tournament.

"It's like a meat market in there," said Dara Shen of Chinese Taipei. "Coaches pointing to fighters and saying 'you, you, you.'  It's like people lining up to get work in the Great Depression."

If Claressa has to have her Olympic dreams tied to another's, Savannah Marshall is a good bet.  Marshall has been boxing beautifully, and momentum is important in a tournament like this. England and Russia have had the best showings of any country here: they both have all three Olympic weight classes represented in the semifinals.

Christina Cruz does better against brawlers. On Friday afternoon, she met another slick boxer in Italian southpaw Terry Gordini, who moved well and had good head movement. Cruz did a bit too much waiting. The first round was even, but a big second put Gordini up by three, and Cruz couldn't quite catch up. Gordini ultimately prevailed 11-7. Cruz takes home a bronze and has done very well against a tough bantamweight field.
Read more from Sarah Deming: Women's Boxing World Championships - Continental Quotas Make This Tournament Unfair [HuffingtonPost]
Wednesday, May 16: Mikaela Mayer Wins
Mikaela Mayer had an easy time with her Indian opponent Meena Rani, winning 27-10. Some of the overhand rights she threw looked like they really hurt. I wasn't sure why Mikaela wasn't boxing more behind the jab, as she could have made it an even easier night for herself by catching Rani coming in. The few times she doubled or tripled the jab they all landed. 
Wednesday, May 16: Marshall Wins, Claressa Still Alive
Savannah Marshall is better than I thought.  She looked focused and sharp outboxing China 20-8, so Claressa Shields -- who lost to Marshall in the round of sixteen -- could still go to London. In the neighboring ring, Sweden beat Germany, which means that Canadian Mary Spencer's hopes are also still alive. 
Wednesday, May 16: Esparza Loses, Brown Wins
China's Ren Cancan was just a little too fast and elusive for Marlen Esparza on Wednesday. Mostly it was Marlen advancing, Cancan wheeling away. When they exchanged, the Chinese southpaw got off first and last. The final score was 16-8, and hopefully Marlen will have better luck when they meet again in London. I would place Cancan in the top three fighters here along with Katie Taylor and Sofya Ochigava.

Nicola Adams looked snazzy as she outscored five-time world champion Mary Kom, exploiting the latter's wide punches and low hands. Adams' victory means that Karlha Magliocco of Venezuela snags the other open flyweight spot for the American continent. Tough luck for lovely Erica Matos of Brazil with the almond-shaped eyes and the dancing style.  

In the fight of the night, Tiara Brown took down China's featherweight entrant 26-25 in a thrilling bout fought in a Chinese phone booth. Tiara trailed throughout the match, but a huge third round put her within one. Both girls were throwing bombs, but Tiara's were heavier. Keija Liu did not like it, and she spit out her mouthpiece in the third and took a knee in the fourth in an attempt to get a breather. Bravo to Tiara for this superb showing.
Wednesday, May 16: Deming Defeated By Squid
Upon opening the shrink-wrapped "dried mango" I purchased for lunch, I was assaulted by a terrible, fishy odor.  

"Oh, God," I said.

The Japanese journalists who are my fellow inmates in the press dungeon looked over in amusement. At this point they are used to my steady stream of complaints. (When I murmured "I hate China" under my breath this morning -- which is only partially true -- one of them said, "Me, too." Another one said, "No Twitter, no Facebook, no freedom.")

I showed the fishy faux fruit to the guy to my left, the one who helped me get online this morning.

"Supposed to be mango," I explained.

He eyed the package.

"So many foot," he said, making squiggling motions with his arms.  Then he reached for his keychain and showed me a plush sea monster.

The guy to my right who once gave me a weird green muffin, said, "Squid."

None of the Japanese would eat it.
Wednesday, May 16: Crews, Miller Advance
Raquel Miller boxed beautifully against Bilgehan Karabulut of Turkey, winning 11-5.  I keep fearing that Raquel's lack of experience will catch up with her -- she's only been boxing two years -- but she has the strength of ten because her heart is pure. Raquel writes psalms on her hands before wrapping them and always kneels in prayer before entering the ring. She made the southpaw come to her, circling around the perimeter of the ring and using her long arms to land lead rights and left hooks. There was even time for a little showboating in the fourth, which brought a stern word from the ref.  

After the fight, I asked her about making welterweight. She's moving down from middleweight and looks like she doesn't have a drop of blood to spare.

"Sometimes you have to bite down," she said.

She told me that she hopes her victory inspires people back home. "It shows them you can be more than the hood. You can be more than being broke."

Later on in the afternoon session, light heavyweight Franchon Crews dominated Dariga Shakimova of Kazakhstan, 34-13. Franchon seems to have better stamina at this higher weight, and she's certainly taken her power with her; Shakimova staggered in the second when she ate one of Franchon's big, looping rights. It was a skillful, dominant performance from Franchon, who looked delighted as she made her victory strut. 

"I'm coming into my own," she said.

Franchon is the only US boxer to opt for the skirt, which looked sort of silly but don't tell her I said that. I wouldn't want to get the Heavy-Hitting Diva mad.  
Wednesday, May 16: Christina Cruz Advances
The rule "a good boxer always beats a good puncher" is doubly so in amateur boxing, and for once it worked in the favor of the US team. On Wednesday, Christina Cruz, the purest boxer on the squad, stuck and moved her way to a 20-19 win over the crushingly strong little Thai bantamweight Sopida Satumrum. This despite a point deduction for Cruz for dipping her head too low when she attempted to roll under her opponent's hooks. I was extra happy about this decision because the Thai journalists were screaming so loudly that I had to put in an earplug. Cruz gets Thursday off before advancing to the semis on Friday.
Tuesday, May 15: Mikaela Mayer Wins, Claressa Shields Stays Alive
Mikaela Mayer had perhaps the strongest showing yet of any US fighter, boxing circles around New Zealand to win 34-13.  
"She looks so pretty," commented Franchon Crews, also here fighting for Team USA.  "She's got a perfect international style."
It's true.  Mayer's clean, jab-centered boxing is perfectly suited for amateur competition, and if more of our girls fought that way we'd be in good shape.
Later on in the night, British middleweight Savannah Marshall advanced to the quarterfinals, which means that Claressa Shields still has a chance of making the Games.  As expected, Sweden, Ukraine, and Azerbaijan also advanced, so Canada, Venezuela, and Brazil are also still in the running for the two available middleweight slots.
Tuesday, May 15: Queen Underwood Out
Queen Underwood lost by a hair to Norway's Ingrid Egner. Egner outboxed Underwood and led by five going into the final round. It was a big round for Underwood, and the ref gave Norway a warning for holding.  We all thought Underwood might have pulled it out, but the judges saw it 26-25 for Norway.  With Brazilian Adriana Araujo's win over PKR, the sole lightweight place for the Americas is taken.
Tuesday, May 15: Christina Cruz Beats Norway
Christina Cruz boxed with characteristic grace against Shora Rezaie Jahroni of Norway to win 14-10 and advance to the quarterfinals of the bantamweight division. Christina led going into a big third round for Norway that narrowed her lead to one point. She spent the fourth round moving, catching her aggressive opponent with check hooks as she came in.  

"She has good footwork," said Liverpool Rob.

Indeed. She'll need it Wednesday afternoon when she fights Sopida Santumrum of Thailand, the biggest puncher of the bantams.
Tuesday, May 15: Marlen Esparza In
Marlen Esparza handily outboxed and outpunched Thi Luu of Vietnam 28-13 while in the neighboring ring her continental sister Erica Matos lost a strategic bout to North Korea. Esparza is now guaranteed a spot in London. 
Tuesday, May 15: Alex Love Out
Light flyweight Alex Love lost a tough close bout with Nazym Kyzaibay of Kazakhstan. Love led by one point through the first two rounds, and it was even going into the fourth but the taller Kyzaibay did a good job of getting off on the outside and tying Love up in close. Both women looked exhausted at the finish of this tough brawl that saw Love tossed to the canvas twice in the final round. 
Tuesday, May 15: Claressa Loses
I tried to wager 100 RMB on Claressa Shields to beat Savannah Marshall, but Liverpool Rob wouldn't take the bet. He should have. Claressa's lack of experience finally told Monday night with a heartbreaking 8-14 loss to the rangy British middleweight champion.  

Claressa never looked quite right in this fight.  When she got within striking range, she hurt her opponent, but the majority of the fight was spent at a distance that favored Marshall: either too far out for Claressa to touch her or in so close her punches were smothered.  Marshall moved well and was wily in the clinch.  Claressa followed her around the ring, seeming unsure of how to proceed.  Here's where a good corner would have helped, but Basheer Abdullah and company did little to help their fighter adjust.  I wonder how things would have played out if Jason Crutchfield, Claressa's Flint, Michigan coach, were here.  

Since all five middleweights from our continent lost Monday night, the final tournament rankings of the USA, Brazil, Canada, DR and Venezuela will now be based on how well these fighters' opponents do. Fans of Claressa should now switch their loyalties to the British Isles; the farther Marshall gets, the higher Claressa ranks.  

Here are the matches for the round of sixteen; I've put the name of the American continental fighters who lost Monday night next to their opponents: 

Sweden (Mary Spencer, CAN) vs Poland (Yenebier Guillen Benitez, DOM)
Japan vs Germany
Ukraine (Francelis Carmona Paez, VEN) vs Chinese Taipei
Romania vs Azerbaijan (Roseli Ameral Feitosa, BRA)
China vs Thailand
Norway vs England (Claressa Shields, USA)
Netherlands vs Kazakhstan 
Australia vs Russia

This doesn't look great for Claressa. Either the Canadian or the Dominican opponent will advance to the quarters, where she will probably beat the winner of Japan-Germany to advance to the semis. Both the Ukraine and Azerbaijan should have an easy time winning their round of sixteen fights, and they will advance to the quarters to face each other, which means another semifinal slot for one of Claressa's rivals. I'd bet on Azerbaijan against Sweden in the semis, but who knows. That puts either Mary Spencer or Roseli Feitosa's opponent in the finals. England should beat Norway and China should beat Thailand. This means a China-England match in the quarters, and it's hard to see Savannah Marshall taking this one, although anything's possible. Of all the Chinese Olympic hopefuls, I believe the middleweight is the most vulnerable. That's not saying much, though, as the Chinese are so dominant, especially on their home turf. 

Go, England, Go!

"How will this affect the morale of the American team?" the Brits asked me Monday night.  

I told them I didn't know. Claressa was this beautiful secret we were keeping, and now the secret is out and it wasn't quite what we thought it would be.  She's still the best woman boxer I've ever seen, but raw talent only takes you so far.  I hope the girls circle the wagons -- this won't come from the coaches but from leaders within the team like Tiara, Queen, and Marlen -- and I hope they help Claressa accept this result and grow from it. When I was fighting, it was my losses that really made me a better person. They say you learn more from a loss than a win, so I should have a Ph.D by now.

There were a lot of sad documentarians in the press pit when Mary Spencer of Canada lost to Anna Laurell, 11-18. In boxing, you get old overnight, and Spencer looked post-peak against the stronger, more aggressive Swede. I admired Laurell's musculature as she made her victory walk; lots of these middleweights are tubby, but she looks lean and strong at 165.

Monday afternoon saw a convincing win for lightweight Queen Underwood, who chopped down the tall tree of Alexis Pritchard with crushing body shots.  The sting of the loss should be lessened for the Kiwi by the fact that she's already qualified for the Olympics due to the weirdo nature of continental quotas.  

In a shocking lightweight upset, Turkish legend Gulsum Tatar lost a close match to India's Laishram Devi. Tatar took it well, but her people did not. There was some kind of ugly scene on the field of play as the Turks tried to apply pressure on the judges. Tatar's elimination means that Natasha Jones of Britain will face Laishram Devi in the round of sixteen. The winner of this bout will fight the winner of Queen Underwood's match with Norway.  

Natasha Jones is a class act whose ring nickname, The Laughing Assassin, makes me think of Buffy the Vampire Slayer. I spent the night drinking wine and eating saag paneer with Natasha's father and her documentary crew. The love these men have for their boxer is infectious. They tried to get me on camera predicting the outcome of an Underwood-Jones match, but I've learned my lesson and won't be making any more bets.

The room assigned to journalists, which I privately refer to as the "press dungeon," is filled with Japanese men doing mysterious things on laptops.  They don't seem to care much about women's boxing and are never out there watching the fights. This mystery was solved Monday night when they emerged en masse to view middleweight Shizuyo Yamazaki's match against Uzbekistan.  

"She is a comedian in our country," said the Japanese guy who sits next to me in the dungeon and once gave me a weird green muffin.   

"Are you rooting for her?"

He shrugged. "It is hard to say."

The guy next to him added, "She is a comedian, but maybe this will be tragedy."

They elaborated on their fighter's shortcomings.

"Her technique does not go to global level."

"She is not a real athlete."

"Her punch is very slow."  The muffin man mimed a blow flying through the air in slow motion.

Then Yamazaki stopped her opponent, and they all pulled out their cell phones and started texting Tokyo.
Monday, May  14
On Sunday afternoon, I got my first look at two stars of the flyweight division: China's Ren Cancan and India's Mary Kom. Cancan was masterful in her 16-4 victory over Katalin Ancsin of Hungary. All the Chinese fighters I've seen have a certain national style -- calm, angles, an open guard, a good understanding of distance -- and Cancan seems to represent its height.

The Chinese girls also have the benefit of the crowd, which isn't supposed to influence judging but does anyway. Every time Cancan threw, the crowd roared, even if the punch did not connect. Judges are only human.

Christy Halbert, boxing sage and bottomless well of pull quotes, remarked, "There's a productive way to cheer. You cheer after every blow, with a one-second delay." Christy also told me that a study on Olympic boxing and Tae Kwon Do showed a slight statistical advantage for the red corner, which is subliminally perceived as more aggressive and dominant than blue. 

Five-time world champion Mary Kom won 20-9 over Japan's Ayako Minowa. The strong Minowa made it an ugly fight, barreling in with wide shots and wrestling on the inside, but southpaw Kom kept stepping back and landing good lead lefts and right hooks. Anna and Ameesha, the duo of Canadian filmmakers following the Indian team, asked me to do audio commentary for this bout. Calling a fight is hard!  

Marlen Esparza boxed very intelligently against Pamela Benavidez. I admired the pacing as Marlen came out hard in the opening round, took a break in the second, turned it on for a big 7-1 third round, and coasted home in the fourth. She'll go on to face Vietnam on Tuesday.

At this point, Marlen's Olympic future looks rosy. Only three flyweights from the Americas are still alive -- USA, Brazil, and Venezuela -- two of whom will go to London.  Of the three, I believe Marlen's opponent, Thi Luu, is the weakest. Brazil fights the tough North Korean Hye Kim and Venezuela fights England's second seed Nicola Adams, who looked jazzy and strong yesterday.  

The US team continued its roll with a victory for Raquel Miller over her Canadian rival Myriam da Silva. Raquel led going into a blistering final round in which the Canadian came on strong but not quite strong enough. It was a tie on points that went to the raw scores. Revenge is sweet: Raquel lost narrowly to da Silva at Continentals.

In the bantamweight division, my hometown fighter Christina Cruz outboxed Switzerland to advance to fight Norway on Tuesday afternoon.

"Was that as easy as it looked?" I asked her.

"It wasn't too bad," said Christina, "After a while I knew I had it won, so I tried to work on stuff. Basheer told me to throw more combinations."

In general, the bantamweight action was very exciting, speaking to the depth of talent in the non-Olympic weights. Particularly thrilling was Thai boxer Sopida Satumrum's third round stoppage of her solid Ukranian opponent, a display of pure power rare in women's boxing. There's a ton of Thai media here. I stood beside the cameras as they interviewed Satarum, admiring the musicality of the Thai language and the smooth, sand-colored skin of the little fighter, who did not look that strong up close. Her arms were smooth and uncut, her hair like the crest of a bird.  

According to Merriam-Webster, 'bantam' means "any of numerous small domestic fowls that are miniatures of the standard breeds" or "a person of diminutive stature and often combative disposition."

Everyone here laments the three weight class rule. These bantams deserve a shot at the Olympics, and I know I'll feel the same way about the featherweights tonight.  

The girls are taking their lumps, so I guess it's fair that I take mine. I was up most of the night clutching my stomach in pain, and I am so sick of greasy, salty, porky food. This morning we checked out of the police-infested media hotel in search of greener pastures at the Holiday Inn.   
Sunday, May 13
Saturday night was a great one for the US women. Queen Underwood looked better than I've ever seen her, answering the opening bell by moving directly to Dayana Sanchez of Argentina and undulating like a cobra waiting to strike.
"Look at that lateral movement," said Christy Halbert, who had declined to make a prediction regarding the outcome of the fight. I called it for Queen, almost against my better judgement, but I knew she had to be getting sick of underperforming.
If she keeps fighting like this, she's got the London spot in the bag. She took control of the rhythm of the fight and never let up, outpointing the skillful Argentine 24-13. I felt sad for Sanchez, as I felt sad for many of the women from the Americas who lost tonight. I met an English professor here who taught me a Chinese proverb: 'Heroes should not shed blood and also tears.'
Single elimination sucks. I've come to love Canadian Sandra Bizier and the two sharp Puerto Ricans, Tiffany Perez and Kiria Tapia. All saw their road to London end last night, although the mysterious Tripartite Commission might still smile on them. Tapia in particular would be an excellent pick. She had her fast hands full with Russian Sofya Ochigava, a strong, lean southpaw with an educated right hand. Ochigava is a good pick to medal at lightweight.
As expected, Claressa Shields handled her Indian opponent easily, although Christy and I thought she looked a little tired in the closing rounds. She'll get a day's rest before she squares off against the English veteran Savannah Marshall.
Sunday is fight day for US flyweight Marlen Esparza, bantamweight Christina Cruz, and welterweight Raquel Miller, who gets a chance to avenge her loss to Canada in the continentals.