Last Chance Foods: Taking the Sting Out of Nettles
There are two good reasons to keep an eye out for stinging nettle in the woods. The first is so you avoid touching the plant with bare skin — the sharp hairs on the plant contain histamines that can cause pain, itching and redness. The other reason is the weed makes for good eating. Just be sure to put on a pair of gloves before reaching out and plucking a few stalks.
"After [stinging nettle is] cooked, it has a really intense flavor that's herbally, a little minty," said Tama Matsuoka Wong, who forages for the restaurant Daniel. "It's better than most things you can get in the supermarket now."
The leafy green doesn't have the same peppery bite as arugula, but tastes more like spinach, she added.
Matsuoka Wong recently wrote a book called Foraged Flavor with Daniel chef de cuisine Eddy Leroux (they are pictured below in a photo by Thomas Schauer), and she explained that stinging nettle is nonnative, plentiful and currently in season. There's just one very important step to preparing stinging nettle: It needs to be cooked.
"About three minutes in boiling water and it completely gets rid of any sting," said Matsuoka Wong.
Sautéing, microwaving, and drying stinging nettle will also make the plant edible.
At Daniel, stinging nettle is often paired with morels. It can also be folded into an omelette, added to soup, or used to flavor risotto.
"I like it best in the arancini," said Matuoka Wong. "Arancini, which I did learn [of] from Eddy, is when you take leftover risotto and then you stick it in the refrigerator overnight and the next day, you fry it up. And when you have a lot of nettle in it, you get a lot of packed herbal, nettle flavor, and it's great."
Even outside of the kitchen, stinging nettle has its uses. For hundreds of years, people have employed it "to treat painful muscles and joints, eczema, arthritis, gout, and anemia," reports the University of Maryland Medical Center. In present-day use, stinging nettle is prescribed to treat enlarged prostates and urinary tract infections. It's also added to salves or compresses for joint pain, sprains, pulled muscles, tendonitis and insect bites.
Matsuoka Wong also offered anecdotal evidence that stinging nettle helps with seasonal allergies.
"Last year, [my daughter's] allergies were so bad she had to stay home from school," she said.
During that time, Matsuoka Wong was testing stinging nettle recipes for her cookbook and fed the results to her daughter several times over the course of two days.
"Saturday, she woke up and she... felt completely better," Matsuoka Wong said. "There have been indications in studies that it does help hay fever, although it's not conclusively proved to 100 percent. But for us, I think it works really well."

Nettle and Asparagus Pizza
from Foraged Flavor, which will be released on June 12

The nettles cook down and become soft, similar to a deeply flavored spinach. They pair well with spring asparagus, making for a very flavorful vegetarian pizza.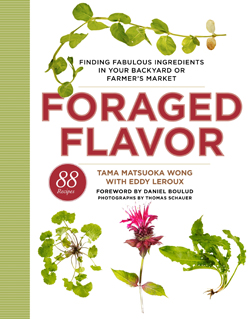 Makes one 18 x 13-inch pizza
4 quarts (about 1 kitchen garbage bagful) nettle leaves and tips
Cornmeal
2 tablespoons olive oil
1 bunch (1 pound) medium asparagus, woody bottoms trimmed, cut into 2-inch pieces
Salt and freshly ground black pepper
1⁄2 pound store-bought refrigerated pizza dough
8 ounces (1 cup) creme fraiche or sour cream
4 ounces (1 cup) shredded cheeses, such as Parmesan, Swiss, mozzarella, and/or fontina

1. Have ready a large bowl of ice water. Bring a large pot of salted water to a boil. Add the nettles and cook for about 3 minutes, or until wilted but still bright green. Drain the nettles and transfer to the ice water to cool. Drain well, squeezing the nettles with your hands to remove excess water, then roughly chop. You should have about 9 ounces.
2. Preheat the oven to 400F. Dust an 18 × 13-inch baking sheet with cornmeal.
3. In a medium skillet, heat the olive oil over medium-high heat. Add the asparagus and cook for 2 minutes, or until bright green but still crunchy. Add the nettles, season with salt and pepper, and cook for 1 minute; remove from the heat.
4. Stretch the pizza dough to make a rectangle that fits onto the baking sheet. Spread the creme fraiche evenly over the dough, then distribute the nettle-asparagus mixture on top. Sprinkle with the cheeses and bake for 20 to 25 minutes, or until the crust is crispy and the cheese is melted and turning a bit brown in places.