Meet Team USA's Women Boxers
"I have this dream," said boxer Claressa Shields, 17, at her home in Flint, MI. The dream takes place in London, where a voice comes over the loudspeaker: 'And the first woman Olympian at 165 pounds is (pause) Claressa Shields!'  This August, Claressa's dream is set to become reality, along with US teammates Queen Underwood, 132 pounds, and Marlen Esparza, fighting at 112.
Surprise superstar Claressa spent the year fighting her way from the desolate streets of Flint to the bright lights of the Women's World Boxing Championships in Qinhuangdao, China – the only Olympic qualifier for women's boxing. The dogged Marlen Esparza was doing what she's done for more than a decade: training with her coach Rudy Silva in Houston, TX. And in Seattle, Washington, Queen Underwood was fighting to uphold her reputation as a winner and a leader – in boxing and as an advocate for girls who've been sexually abused. Each managed to win a place on the first U.S. Olympic women's boxing team. Get to know them below.
Listen to Go For It: Life Lessons from Girl  Boxers, our special following fighters in the U.S. and around the world as they competed to become the first women to box in the Olympics. 
Marlen Esparza
Weight: 112 pounds
Height: 5'3"
Age: 23
Hometown: Houston, Texas
Trainer: Rudy Silva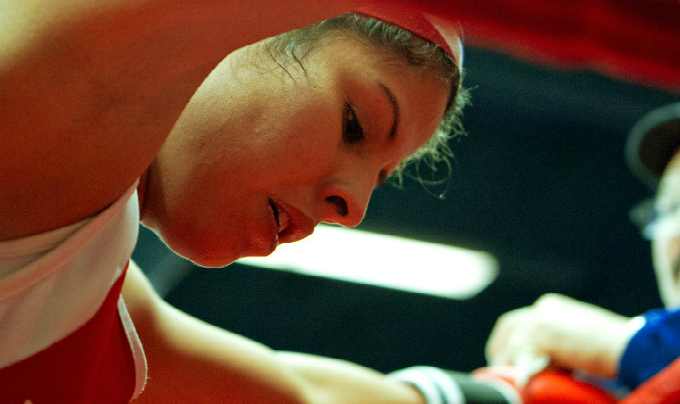 (Sue Jaye Johnson)
Biography: Like a bottle of Johnny Walker Blue on a high shelf, Marlen Esparza has a certain expensive glow. She grew up in a house where Chavez was always on TV and first donned boxing gloves at age 13. Esparza challenges the notion that all boxers come from deprived and abusive backgrounds; her personal coach, Rudy Silva, and supportive welder father travel with her to almost all her matches. She was the president of her high school class and plans on a post-fight career as an anesthesiologist.

Esparza has lucrative sponsorship deals with Nike, Cover Girl, and Coke, and is the only woman on the US team with her own publicist. The generous comments she yells from the bleachers to her teammates reveal a fine strategic mind. She's a little Oscar De La Hoya: pretty, Mexican-American, eloquent and frank in interviews, versatile in the ring, and a tiny bit hard to like until you realize how much she loves fighting.

Boxing style: Like De La Hoya, Esparza radiates anxiety in the ring. Fighting scared isn't necessarily a bad thing, though, and can be a mark of intelligence.  Esparza's mind is her greatest weapon. She has good boxing skills and lateral movement, and I've seen her use different styles with different opponents. She's particularly strong against southpaws, which are a plague in the amateurs.

A natural 106-pounder, Esparza took a year off to build her body up to the Olympic weight of 112. Although not a huge hitter, she has looked fast and explosive in all the matches I've seen, going undefeated at the US Olympic Trials and the American Continentals and sailing through the prelims in China before losing to the eventual gold medalist Ren Cancan. 

Esparza's medal chances in London: Bet on bronze. Esparza enters the Olympics ranked sixth in the world at flyweight. Only the top two women in each weight class will be seeded for the Olympic draw, which in flyweight means top-ranked Ren Cancan of China and World silver medalist Nicola Adams of Great Britain. Esparza will need a good draw that avoids a preliminary meeting with either of these two top dogs. The gold medal favorite, Cancan outclassed Esparza in China and I doubt a rematch would be very different. Adams can probably also beat her; the strong, slick Brit is part of the best team in women's boxing right now and will bring the home field advantage. I believe Esparza can handle the rest of the field, which includes "Magnificent" Mary Kom of India, the five-time World champ making a big move up in weight, and the relentlessly aggressive Karolina Michalczuk of Poland.
Quanita "Queen" Underwood
Weight: 132 pounds
Height: 5'5"
Age: 28
Hometown: Tacoma, Washington
Trainer: Bashir Abdullah
(Sue Jaye Johnson)
Biography: Underwood began boxing at age nineteen while living in Seattle and working as a pipefitter, and she soon rose to the top of the ranks as a five-time national champion. Her soulful eyes and rock-hard abs elicit rhapsodies from her thousands of women fans on Facebook, but her charisma runs deeper than that. She has gravitas. Yet there is also a vacancy about Underwood – both in interviews and in the ring – that is puzzling.

Shortly before the Olympic Trials, a feature in The New York Times revealed the sexual abuse Underwood and her sister Hazzauna suffered at the hands of their father. Shared trauma has made the sisters close: the beautiful Hazzauna is always at her younger sister's side, serving as de facto tour manager and cheerleader. Perhaps the only one closer to Underwood is her bull mastiff King.

Boxing: Spending all day hauling pipes gives you the bone-deep strength to muscle opponents around. Add to this the fact that Underwood is moving down from light welter, and she's among the strongest women in the world at this weight. She fights behind a hard, straight jab, has a vicious overhand right, and punches well in combination.

Underwood turned in a stellar performance at the 2010 Women's World Championships in Barbados, blowing through the competition before narrowly losing to Katie Taylor, perhaps the best female boxer in the world. She's looked underwhelming ever since, with a first-round loss in the American Continentals and an early exit in China, both to game but second-tier opposition. Luckily for Underwood, her final tournament ranking in China placed her second among lightweights from the American continent. This baroque system handed Underwood the last-minute, wild-card slot: selection by the Tripartite Commission.  In through the back door, but in nonetheless.

Let's hope that Underwood can take good advantage of her tripartite invitation and return to the world-beating form she showed in Barbados. She'll need to leave it all in the ring if she wants a shot at hardware in London.
Underwood's medal chances in London: My heart says 'yes' but my head says 'no.' Lightweight is the toughest division this year, ruled by top seed Katie Taylor of Ireland and the superb and underrated Russian southpaw Sofya Ochigava. These two will be placed in opposite brackets in the draw and will likely meet in the finals. Surprises could come from the charismatic Liverpudlian Natasha Jonas, who is guaranteed to fight her heart out on her home turf, and Brazil's Adriana Araujo, who is just as physically strong as Underwood but has more fire. China and Tajikistan also have the skills to be outside contenders for bronze, and the rest of the field should be fodder.
Claressa Shields
Weight: 165 pounds
Height: 5'8"
Hometown: Flint, Michigan
Age: 17
Coach: Jason Crutchfield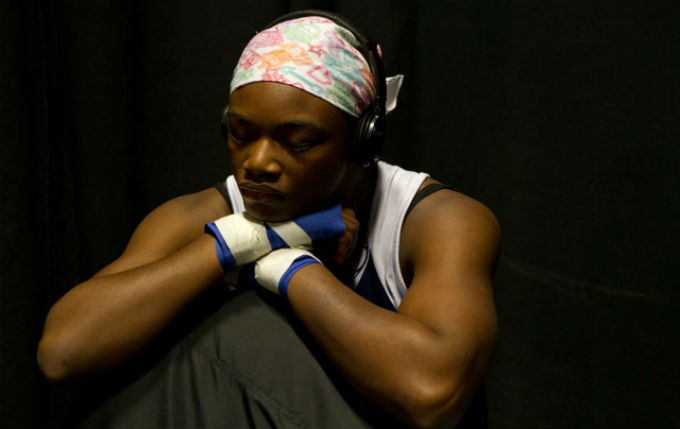 (Sue Jaye Johnson)
Biography: Like most miracles, Claressa Shields is hard to describe. In a way she's just a kid with a kid's smooth skin, hyperactive mind, and addiction to portable electronics. Then she gets in the ring and the temperature of the room rises ten degrees. In terms of pure talent, she's probably the best woman boxer I've ever seen.

Her father could have been a contender, but jail put an end to his career. When he made an offhand remark about admiring Laila Ali, the 11-year old Claressa thought he was encouraging her to box. He wasn't, but the misreading was typical Claressa, whose innocent optimism may be her greatest weapon. Claressa opened up in a recent feature in Essence magazine, revealing a tale of childhood abuse not unlike Underwood's. This shocking revelation makes Claressa's radiant self-confidence even more astounding. 

Boxing style: Claressa possesses a ferocious desire to establish dominance over her opponents. She has a naturalness in the ring that only comes to those who took up boxing as children. Her balance and handspeed are superb. She's probably at her best in center ring where the judges can get a good look at her five- and six-punch combinations, but I've also seen her fight quite effectively off the ropes. She slips punches like a pro.

In China, Great Britain's Savannah Marshall stunned Claressa – and me! – by handily outboxing her, ruining Claressa's unspoiled record. Marshall is a tough, rangy fighter who knows how to use her height. Shields' inexperience finally caught up with her, as she was unable to deal with Marshall's movement and skillful use of the clinch. Luckily, Marshall was the eventual gold medalist in the tournament, which pulled Claressa high up enough in the standings relative to the other middleweights from the Americas to punch her ticket. This was a valuable learning experience for Claressa, who goes to London bloodied but unbowed. "God wanted me to lose," she says.

Claressa's medal chances in London: Claressa has seen what Marshall can do, so the question is: Have she and trainer Jason Crutchfield done enough to prepare her for the rematch? I know that US Head Coach Basheer Abdullah and crew will do their best, but the last-minute coaching shifts do not inspire confidence. (The US team was still leaderless just a month before the Games, and Abdullah himself will be banished from the London field of play for an AIBA rule infraction.) The strategic leadership will likely come from Claressa herself and the work she's done with Crutchfield back home. Middleweight strikes me as the weakest division of the three, with a big drop off in talent after Claressa, Marshall, and the skilled Elena Vystropova of Azerbaijan, a tall fighter who gives great angles. Canada's Mary Spencer could also contend, although she's probably post-peak and has looked sluggish lately. I'm sticking to my guns and betting on Claressa to take home the gold.