LISTEN | Go For It: Life Lessons From Girl Boxers
If you box, by definition, you're a risk-taker. If you're a girl and you box, you're a risk-taker and a rule-breaker. If you're a girl and you box and your aim is to be the first woman to win an Olympic gold medal for boxing – "That's going for it, baby," says actor, avid boxing fan and host Rosie Perez in a one-hour special from WNYC Radio and PRX, the Public Radio Exchange.
As women enter the Olympic boxing ring for the first time, Go For It: Life Lessons from Girl Boxers, tells the story of a group of girls and women for whom boxing is an expression of ambition, drive, strength and – yes – aggression, qualities often admired in men and sometimes discouraged in the opposite sex. 
Claressa Shields, now 17 years old, started boxing when she was 11 despite the fact that her father, an ex-fighter himself, told her it was 'a man's sport.' When Tyrieshia Douglas started boxing as a teenager in DC, she said people told her she looked 'too strong.' "It's against the rules to have as many muscles as I have," said the 112 pound boxer. And after a boxing trainer and promoter at Gleason's gym in Brooklyn called female boxers "a disgrace" and argued fighting is in men's DNA, not women's, Heather Hardy rolled her eyes. "I'm programmed to do it," she said.
"You know my mom always said, 'Somebody pushes you, you punch them in the face and you make sure you draw blood,'" she said. "'Don't make anybody want you to hit them two times.'"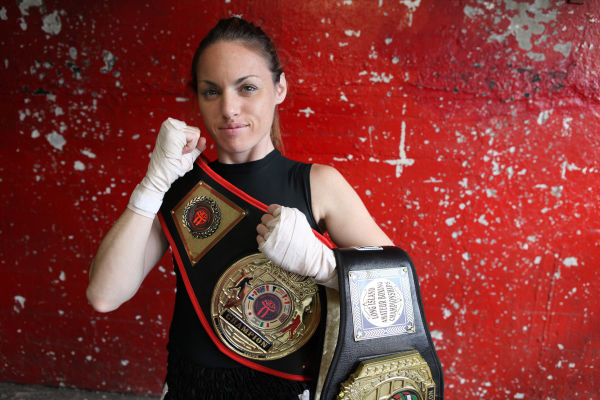 (Sue Jaye Johnson)
The Makings of a Champ
It takes a certain kind of person to say 'yes' when others are saying 'no.' That penchant – to defy expectations, take chances and fight to become 'the greatest' – is what photojournalist Sue Jaye Johnson and WNYC's Marianne McCune strived to document as they chronicled a year in the lives of women competing to box in the first Olympic Games to include them.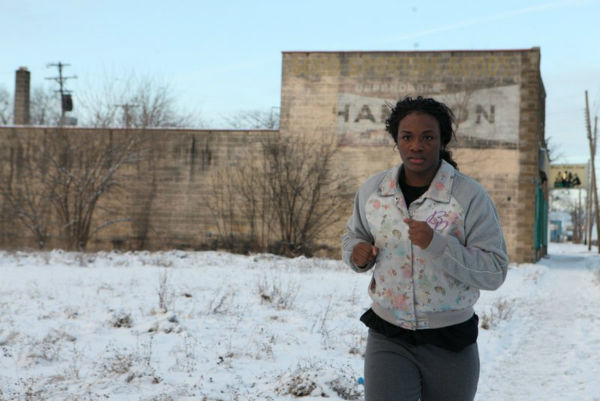 (Sue Jaye Johnson)
Go For It follows the ever-confident Claressa Shields, known as 'Champ' around town, from her high school in Flint, MI to Qinhuangdao, China, the scene of her final attempt to qualify for the Olympics (Radio Diaries gave her a microphone and recorder to document her journey). Go For It takes listeners backstage at the qualifying tournament for Team USA to witness the tears of a fighter whose years of training to make the Olympics – at one point even living in the back room of her Alabama gym – ended when she failed to make the team.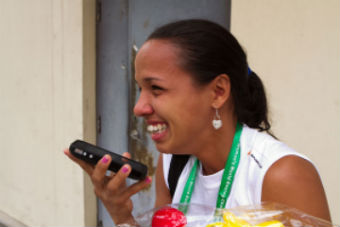 Go For It introduces listeners to boxers from Kenya, India, New Zealand and Venezuela and looks at what they've overcome to become champions in their countries. You'll get to listen in as a mother from Venezuela telephones her own mom to tell her she has qualified for the London games.  
As brain scientists find increasingly stark evidence that repeated blows to the head cause a long list of problems later on, from death to memory loss and depression, Go For It also steps back to look at the risks to women boxers and why they choose to fight, regardless.
Whether you love or hate boxing, Go For It: Life Lessons from Girl Boxers will draw you into a deeply compelling conversation about what it means to be a girl and what it takes to be a champion.
While You Listen ...
 You can see photographs and learn much more about the women who spent the year competing for a spot on the first women's Olympic boxing team on the pages of this website: Women Box, Fighting to Make History.
See photojournalist Sue Jaye Johnson's slideshow of her year with the contenders.
Or find Claressa Shields' radio diary and a slideshow following her from high school in Flint, Michigan to competitions around the country and world. 
Tyrieshia Douglas tells the story of growing up 'too strong' and finding herself - and a family - in boxing. You'll also see her winning smile and tattoos. 
Brooklyn boxer Heather Hardy goes head to head - not glove to glove - with a Gleason's trainer who says women's boxing is a "disgrace." Listen to Hardy's story and see photos of her as a fighter and as a mom (not so different, in her view). 
Listen to a story about the risk of head injuries and why some women insist on boxing despite the dangers. You'll also hear from a man whose wife died of Second Impact Syndrome, a blow to the head when the brain has already been injured by a previous hit.
Go behind the scenes with our podcast chronicling the US Olympic Team Trials for women boxers. Follow along as the contenders celebrate big wins or struggle through the loss of an all-encompassing dream. 
Read a Q&A with Christy Halbert, Assistant Coach for women boxers at the 2012 Olympics. She's also a sociologist, the author of a well-respected boxing handbook, and a longtime advocate for women's sports and women's boxing.
You can also get to know Team USA's women boxers.
And, please, discuss!
Go For It: Life Lessons from Girl Boxers airs on WNYC and NJPR: 
July 26 at 8pm on 93.9FM and AM820, NJPR
July 28 at 6am 93.9FM and NJPR, and at 2pm AM820
July 29 at 8pm on AM820 and NJPR
It will also air across the country - check your local public radio station to see if it's scheduled in your area.