Next Host of SNL is Not Mayor Bloomberg, and He's Not Laughing (On the Inside)
Tuesday, May 08, 2012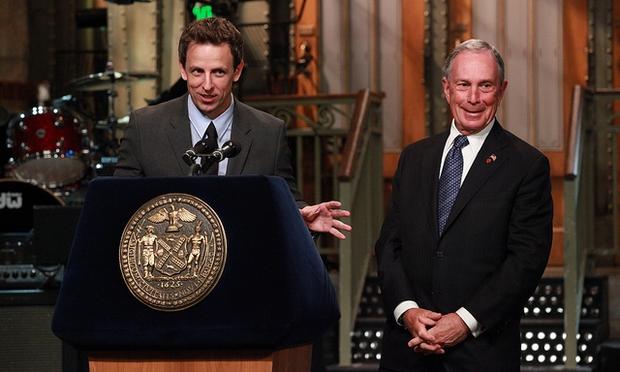 (Spencer T Tucker)
Mayor Michael Bloomberg has flexed his comedy muscle in the past, but has never been offered the coveted honor of hosting "Saturday Night Live." Flanked by "Saturday Night Live" head writer Seth Meyers, the mayor said Tuesday that he's "deeply hurt" that he has never been offered the gig.
"I don't' think 'offended' is the right word. Here, I'll give you a headline: 'Deeply hurt.' But my kids probably aren't," Bloomberg joked.
When asked if he did host if he'd write his own material, Bloomberg said, "Some people would like me to, most people probably would not."
Former mayor Ed Koch hosted in May 1983, and Rudy Giuliani hosted in 1997, and appeared three weeks after 9/11.
While Bloomberg has never hosted, he has been parodied on the show. For the opening for the fourth episode in 2011, Fred Armisen played Bloomberg, mocking the mayor's relationship with the Occupy Wall Street movement.
Bloomberg called Armisen's performance "brilliant."
Seth Myers, standing next to the mayor said, "Today has just been a sting operation to trick me into asking the mayor to host the show."
He said he thought the mayor would be a wonderful host, but then added "This is a non-binding invite."
More in:
Stephen Nessen reports for the WNYC Newsroom and can often be heard live on Morning Edition.