Ted Sorensen Writes with Affection and Respect for the Kennedy Clan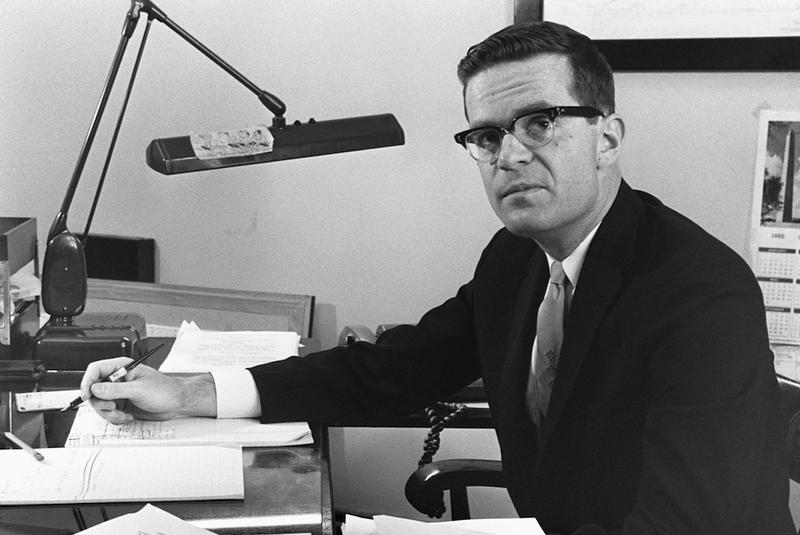 When a "member of the opposition" said that he had read Ted Sorensen's new book, Kennedy, and that he didn't like it very much, Sorenson replied that he was surprised, because "I didn't know you could read." Thus the sharp-tongued attorney and political advisor begins his talk before a 1965 Book and Authors Luncheon.


An unabashed partisan of Kennedy and the Kennedy circle, Sorensen's background as an attorney, political adviser, and former chief speechwriter is immediately apparent. He divides his remarks into "things I like" and "things I don't like." Among the latter are people referring to the late president as "Jack" or his son as "John-John," those who claim to have had "a premonition" about Dallas, and the existing libel laws preventing Sorensen from exposing many critics of the administration as "liars." As for what Sorensen likes, he mentions speaking to students at colleges, relatives who realize how few free copies of a book an author is given, and reading "the accusation that I have written a book that is inhibited by discretion and loyalty, particularly when that accusation is leveled by those who have never exhibited much of either quality."
In closing, he adopts a more serious tone, saying, "I like to reflect on the fact that I was privileged to have 11 years of association with one of the most extraordinary men of our land and our time, and I like to dwell on the rich and lasting legacy he has left for you and for me and for all of us, a legacy of hope." 
Theodore C. Sorensen was born in Nebraska in 1928. Intent on a career in public service, the 23-year-old law school graduate arrived in Washington with no political connections. He had never had a cup of coffee or written a check. Yet within 18 months he was working as an aide for the newly elected Sen. John F. Kennedy. Sorensen became Kennedy's chief speechwriter as well as an important adviser and strategist. He became particularly close to the future president, accompanying him on countless trips as they laid the groundwork for Kennedy's 1960 campaign. As quoted in his 2010 New York Times obituary, he recalled:
Everything evolved during those three-plus years that we were traveling the country together. He became a much better speaker. I became much more equipped to write speeches for him. Day after day after day after day, he's up there on the platform speaking, and I'm sitting in the audience listening, and I find out what works and what doesn't, what fits his style.
During this time, Kennedy published his Pulitzer Prize-winning book, Profiles In Courage. Rumors persisted for years that Sorensen was the true author of this collection of pieces about eight U.S. Senators who exhibited acts of striking political bravery. To some extent these questions were answered shortly before Sorensen's death. As James Joyner reported in outsidethebeltway.com:
According to a Wall Street Journal review, Sorensen says, for the first time, that he "did a first draft of most chapters," "helped choose the words of many of its sentences," and likely "privately boasted or indirectly hinted that I had written much of the book." In other words, he wrote the book, Kennedy did some very late editing, and claimed it as his own work. Sorensen also admits that ... just after the book won a Pulitzer Prize -- that Kennedy "unexpectedly and generously offered, and I happily accepted, a sum" for Sorensen's work on the book.
In the Kennedy administration, Sorensen occupied a unique position, continuing to write major speeches for the president while also serving as a trusted member of his inner circle. His New York Times obituary continued:
Kennedy had plenty of yes-men. He needed a no-man from time to time. The president trusted Mr. Sorensen to play that role in crises foreign and domestic, and he played it well, in the judgment of Robert F. Kennedy, his brother's attorney general. "If it was difficult," Robert Kennedy said, "Ted Sorensen was brought in."
In particular, Sorensen recalled drafting a crucial letter to Nikita Khrushchev during the height of the Cuban missile crisis, when more hawkish elements in the government were advocating policies that may well have led to nuclear war. More publicly, he is credited with the famous inaugural address question, "Ask not what your country can do for you; ask what you can do for your country." Of Sorensen's speechwriting in general, Louisa Thomas of Newsweek (as reported in The Daily Beast) wrote this appreciation:
It does not trivialize those speeches to say they are inspiring, and it does not trivialize Kennedy to say he had help in their crafting. Nor does it trivialize Sorensen's contribution to say he needed Kennedy. After all, this dynamic, is, in a sense, how democracy works: we want and demand our leaders to stand on the shoulders of others.
Yet it was all over in three short years. After Kennedy's assassination in 1963, Sorensen joined a prestigious New York law firm, wrote books, and continued to be consulted as a political strategist. He made an unsuccessful bid for the U.S. Senate in 1970. He was nominated to run the CIA in 1977 but withdrew after it came to light that he had avoided military service by registering as a conscientious objector. In 2008 he endorsed Barack Obama, saying that Obama reminded him of the late president. As he wrote:
I do not know whether I have ever fully recovered from John F. Kennedy's death. Time passed. Love and laughter helped. But the deep sadness of that time remained, only to be reinforced five years later by the murder of his brother Robert. Those two senseless tragedies robbed me of my future.

 
Audio courtesy of the NYC Municipal Archives WNYC Collection.