Peter Ustinov Showcases Masterful Storytelling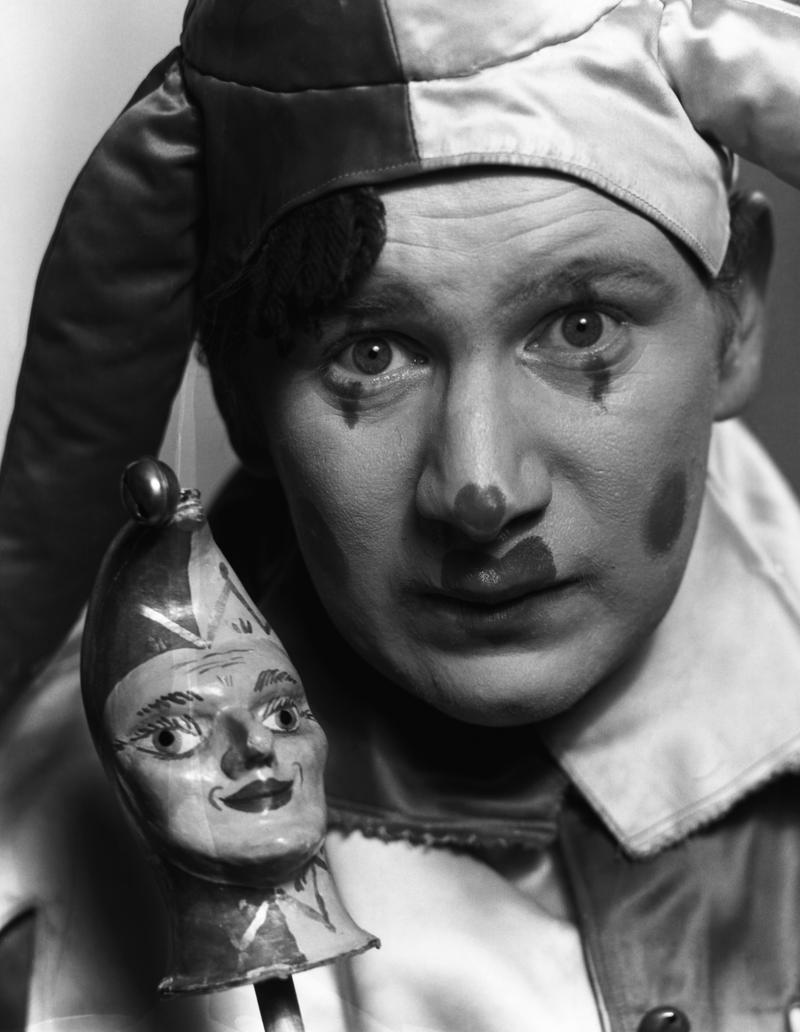 Peter Ustinov's appearance at this 1960 Books and Authors Luncheon showcases the multi-talented performer's skills as a raconteur and as a master of dialect, mimicry, and sound effects.
Ostensibly explaining how fascinated and yet mistrustful he still is of the Germans, he quickly immerses the audience in a story involving the son of a Weimar politician and a Nazi ambassador. This encounter effortlessly morphs into an anecdote about a German Ustinov encountered in Rome who helped him cast a film by producing not only alarmingly authentic Nazi soldiers (in 1947) but functioning Nazi military equipment as well! Before we know it, Ustinov has switched from a multi-voiced re-enactment of several different Germans to a Neapolitan sergeant dragging a piece of artillery down the road, complete with chain jingling on the pavement, and a town of Italian peasant women singing and doing the laundry. All this leads to a rousing and yet somewhat chilling finale in which the mock-Nazi film extras manage to reassert their military authority over real Italian soldiers. "I have sometimes been accused of confusing farce with tragedy," Ustinov concludes, "but I am sure that farce is much closer to tragedy than people think."  
Although Ustinov was born in London in 1921, he was "conceived in Leningrad" and was of primarily French, Italian, Swiss, and Russian ancestry. An early career in the theater was interrupted by World War II, during which he served in the British Army's film unit. After the war, he scored his first major playwriting success with "The Love of Four Colonels" (1951), which satirizes four different national types of military officers -- British, American, French, and Russian. This set a pattern for many of his great performances. As The Daily Telegraph noted:
Ustinov tended to be at his best in glimpses, and preferably when he was exercising his supreme talent for mimicry. Not only did his fine ear (he seemed to have a smattering or more in every language) and dedicated cosmopolitanism give him a perfect command of accent and intonation; he also possessed an uncanny knack of catching the physical characteristics of those he impersonated…There was no specimen of humanity whom Ustinov could not turn to glorious comic effect: Italian opera divas, German professors, American officials, and disdainful British diplomats were all grist to his mill; and if he tired of human kind, he was equally brilliant at reproducing musical instruments, or perhaps a car's cold start.
Other theatrical successes followed, notably "Romanoff and Juliet" (1956). Ustinov's career extended to film, as well. He appeared in countless movies and was nominated for an Oscar four times, winning twice as Best Supporting Actor for "Spartacus" (1960) and "Topkapi" (1964). He won three Emmys and one Grammy. He directed operas at Covent Garden, appeared in one-man shows, and used his vocal skills to great effect in a classic 1958 comedy album, "The Grand Prix of Gibraltar," in which he played all the drivers, their pit crews, the announcers, and the sounds of the cars themselves. He also wrote screenplays (he was twice-nominated for the Writers Guild of America Best Screenplay Award), short stories, novels, and a well-received autobiography, Dear Me (1977). Of the novel he is promoting at this luncheon, The Loser (1960), Robert Massie, reviewing in The New York Times, wrote:
Peter Ustinov is bursting with versatile talent… In Ustinov's spirited, sophisticated, essentially theatrical way, the book is a genuine tour de force. It is one of those novels you frequently feel like reading aloud.
Starting in 1969, Ustinov became a roving ambassador for UNICEF. This charitable work took on an increasing significance in his life, culminating in the establishment of the Peter Ustinov Foundation, which describes its mission as "to help people who cannot help themselves":
…Medical care for the poorest is one of our biggest concerns. For example: cleft children in India, AIDS orphans in Russia, Noma victims in Niger…Self-help forms a second, important pillar. For example: construction, furnishing, and operation 
of schools in Afghanistan and Brazil. With this we want to create conditions which facilitate an optimistic life free from physical, social, intellectual, and mental limitations for children and adolescents worldwide.
Ustinov became famous to a later generation of filmgoers for his impersonation of Agatha Christie's detective Hercule Poirot in "Death on the Nile" (1978), a role he reprised in several subsequent productions. With his wit and store of anecdotes, he was, as BBC presenter Michael Parkinson put it, "God's gift to the talk show host." As for the motivating energy powering this many-faceted career, Ustinov said in a 2003 interview with Reuters:
"I was irrevocably betrothed to laughter, the sound of which has always seemed to me to be the most civilized music in the world."

 
Audio courtesy of the NYC Municipal Archives WNYC Collection.
Note: Audio incomplete due to discs missing from the collection.