Writer Marguerite Young, Eccentric Documentarian of Utopias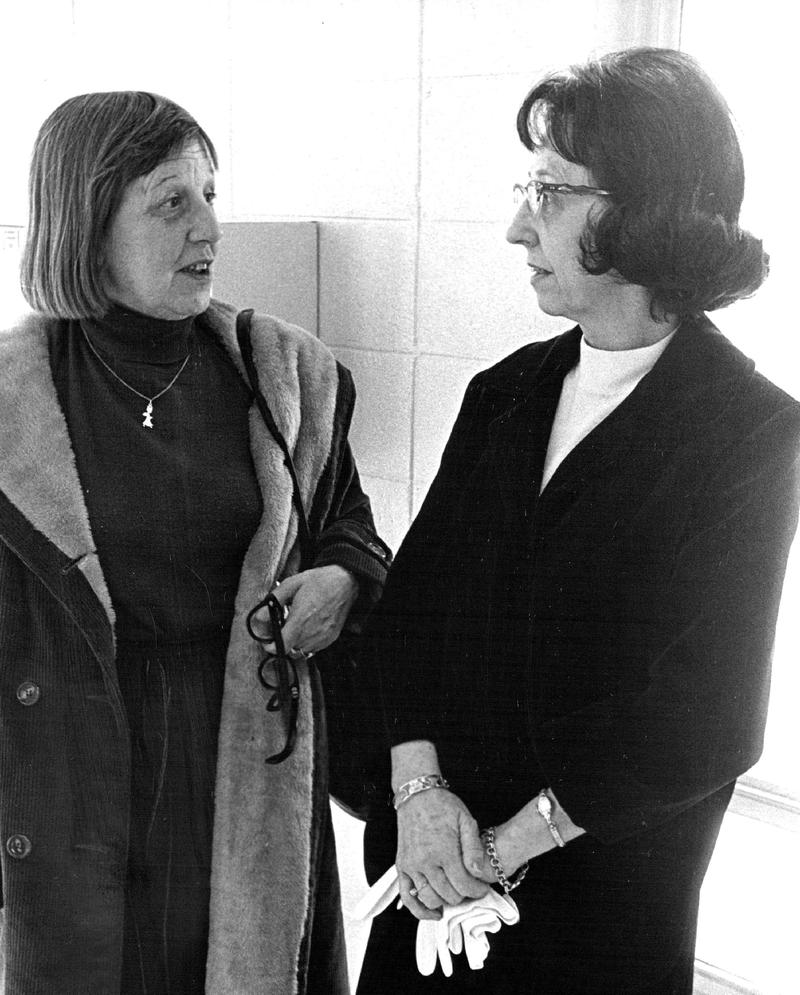 "All that I have told in this story is true, down to the last butterfly or flower," claims Marguerite Young in this talk at a 1966 Books and Authors Luncheon. 
The author of the just published Miss MacIntosh, My Darling then proceeds to evoke a parade of outlandish personalities and events, all centering upon the utopian communities of New Harmony, Indiana. Millennial cult leaders, visionary labor theorists, Samuel Taylor Coleridge, even the Emperor of Russia, all make appearances in very loose chronological and thematic order until Young suddenly breaks off. Apologizing that she had "misunderstood the time," she leaves a confused, if tantalized, audience. 
Miss MacIntosh, My Darling (1965), a mixture of history and fiction, overlaps in some ways with Young's earlier Angel in the Forest (1943), a more factual study of the two successive utopian communities founded in the town of New Harmony. This ambitious book, 18 years in the making, created a sensation when it was published, both for its rambling Joycean style and its length (1,198 pages). It has been called the longest American novel to be published in one volume. Critics charge that, despite its cult status, few if any people have actually read the novel all the way through. In this talk, Young certainly makes the Rappite and Owenite experiments in communal life sound fascinating. Her own other-worldliness is also on display. After narrating how George Rapp castrated one son (who died from the procedure), and then caused the death of another, she pauses to announce that she will now address some of the community's "flaws." 
Young was born in 1908 in Indianapolis. Raised by her grandmother, she was already a schoolteacher and a published poet when her mother and stepfather invited her to live with them in New Harmony, Ind., the site of two utopian communities that briefly flourished in the early 19th century. Young's fascination with Harmony Society of Johann Georg Rapp and the socialist community of Robert Owen led to her writing Angel in the Forest: A Fairy Tale of Two Utopias, which was praised by The New York Herald Tribune as being:
….a true book, conceived as great poems are conceived, and composed with the same exciting, inexhaustible energy. In the end it is history, too — more than exists elsewhere. But all the while it has the supreme advantage of feeling and sounding true, both about its subject and about human life wherever it is lived. A sober history of New Harmony would not be a true history, for New Harmony was not a sober thing. It was more or less a mad thing. Miss Young, though with method, is appropriately and beautifully mad.
Already one can see the mixture of research and fabulation that was to become the hallmark of Young's style. The book's success resulted in her signing a contract with Scribner's for Miss MacIntosh, My Darling. During the book's unusually long composition, Young became a well-known figure in the Greenwich Village literary scene. The New York Times described her as:
…the woman with the pageboy haircut who looked like W.H. Auden, wrote like James Joyce, strode through the Village in her signature serapes, had breakfast at Bigelow's with Richard Wright, got drunk at the White Horse Tavern with Dylan Thomas, palled around with Truman Capote and Carson McCullers, kept a vast collection of dolls in her Bleecker Street apartment, and regaled intimates with tales of her romantic conquests.
When the book finally appeared, it was dismissed by some as unreadable and self-indulgent while lauded by others as a significant expanding of the American novel's range. The critic Richard Ellmann wrote:
"Marguerite Young's first novel, famously in gestation for many years, proves to be more or less than a novel. It is an anatomy not so much of melancholy as of reality. Through a dozen characters, manifested in as many hundreds of pages, Miss Young explores with single-minded passion the residual questions in all fiction, including the validity of dreams, the deception of appearances, the confusion of identities, and the multiplicity of selves that cluster in each seemingly integral being. ...The effect of this style is of some vast, uninterrupted discourse, as if life were being patiently heaped and endorsed rather than hotheadedly seized and rendered up. It is an extraordinary cosmos, shorn of fixities and definites, subservient to a central theme, ultimately abstract in purport, ambitious beyond fulfillment."
Young then devoted many years to a biography of James Whitcomb Riley, which she eventually abandoned. Her final project, which occupied the remainder of her life, was a reflection on Eugene V. Debs. This work was left incomplete at her death. The manuscript of over 2,500 pages was subsequently edited down to a more manageable size and published as Harp Song for a Radical (1999).
Young is certainly an outlier of American letters. Her sprawling, fantastic concoctions straddle literary genres and ignore the rules of conventional prose. In her fictive world, scope seems more important than depth. As she told an interviewer for the Paris Review in 1977:
Peculiarly enough, as a person, I am not interested much in individuals, even my closest friends. They could have deep secrets, and I would never ask them to tell me. As a writer, I would never spend pages analyzing the love life of a character. I have a muralist imagination. I like to see the epic swing of the thing, the many as opposed to the one. I am a pluralist in that sense.
Marguerite Young died in 1995, at the age of 87.
Audio courtesy of the NYC Municipal Archives WNYC Collection.