Everybody Gets the Same Number of Lines: Marc Blitzstein's Socialist Opera, "No for an Answer"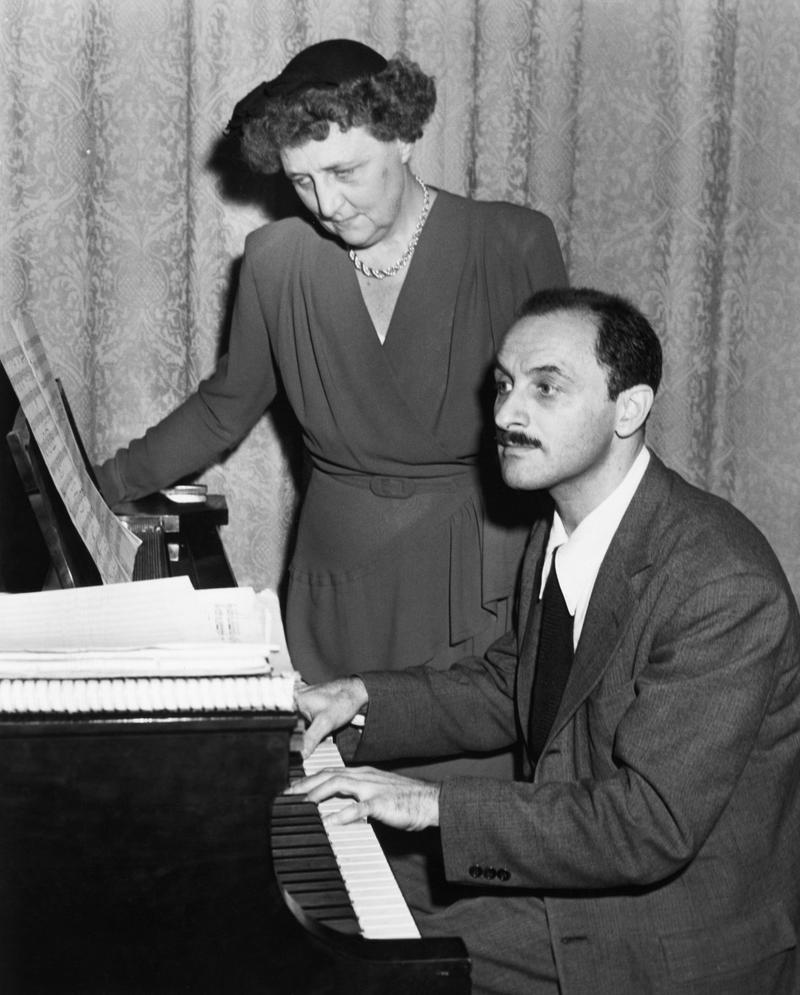 Musical prodigy and composer Marc Blitzstein, the featured guest on this 1941 installment from  WNYC's American Music Festival, increasingly identifies with radical left-wing political movements in the hardscrabble years leading into the Depression.
First in the program, the WNYC Concert Orchestra performs Samuel Barlow's Overture to "Mon Ami Pierrot," the incidental music to a play by Sacha Guitry. After that, Blitzstein takes over, playing the piano as cast members sing selections from "No for an Answer," his opera about  "a workers social club, not a social workers club" trying to continue functioning "in the face of a storm of reaction." The opening number features the chorus setting forth the club's socialist beliefs. Then there is a comic number, "Penny Candy," in which a working man sings his tale of woe to a rich lady. This is followed by "Francie," a duet by lovers facing economic obstacles to their happiness. Then — by the far the most successful piece — the torch song "Fraught," sung by none other than Carol Channing! This features very funny Cole Porter-influenced lyrics, parodying other cabaret numbers as well. ("You go to my…bedroom.") Finally, the chorus returns to sing the title song, "No for an Answer," in which the club, after three of its members are unjustly arrested, proclaims "singing is a form of battle." Blitzstein introduces each number and propels the company with his characteristic mix of pop, show tunes, and opera. Although this was recorded in 1941, the sentiment expressed — earnest, vibrant, sometimes gratingly didactic — is very much that of the previous decade. 
The political movements with which Blitzstein identified made him reconsider his aesthetic principles. As he wrote in 1935,
"It is clear to me that the conception of music in society … is dying of acute anachronism; and that a fresh idea, overwhelming in its implications and promise, is taking hold. Music must have a social as well as artistic base; it should broaden its scope and reach not only the select few but the masses."
By far Blitzstein's most successful — and notorious — accomplishment in this field was "The Cradle Will Rock" (1937). This experiment in "musical theater" (something between a Broadway musical and opera) is remembered as much for the circumstances under which it premiered as the music itself. As the website masterworksbroadway.com recounts: 
Set in Steeltown, U.S.A., "Cradle" is an allegory of corporate greed and corruption, with union organizer Larry Foreman pitted against wicked owner Mr. Mister. The production was originally subsidized by the Federal Theatre Project, but at the last moment armed government agents surrounded New York's Maxine Elliott Theatre, padlocked the doors, and impounded the costumes, scenery and props – even the leading man's toupee. The ostensible reason for the shutdown was budget cuts, but it was almost universally believed that whoever was signing the checks objected to the left-leaning slant of the material.

Without missing a beat, director Orson Welles, producer John Houseman, and Blitzstein rented a piano and the much larger Venice Theatre. Cast and audience marched through the streets from one theatre to the other, gathering more audience members (for free) along the way. Blitzstein narrated the entire piece from the piano, while cast members spoke and sang their parts from seats in the house, as they were not allowed by Equity rules to perform on stage. It was reported – by Archibald MacLeish, for one, who was there – to be one of the most moving theatrical experiences in memory.
It was also one of the most far-reaching, leading to Houseman and Welles creating the Mercury Theater and inspiring a young Leonard Bernstein to stage a similar "production" at Harvard, where he was a student. 
The sensationalism of Blitzstein's approach to his subject matter somewhat eclipsed his musical contribution. Because of his solid grounding in both classical theory and his familiarity with the works of such modern composers as Schoenberg and Stravinsky, his "take" on composing for the stage was unusual. Although "The Cradle Will Rock" remains his most famous work, many consider the opera "Regina" (1949) and his 1954 off-Broadway transformation of Brecht and Weil's "Threepenny Opera" (with its famous "Mack the Knife" lyrics written by Blitzstein) to have a more lasting significance. Speaking of his stylistic evolution, the Oxford University Press describes how:
…his career walked the fine line between his formal training and his populist principles. Indeed, Blitzstein developed a unique sound that drew on everything contemporary, from the high modernism of Stravinsky and Hindemith to jazz and Broadway show tunes.
Evolving along with the times in which he lived, Blitzstein's music became less overtly political in the late '40s and '50s. In 1964, he was composing several one-act operas based on short stories by Bernard Malamud, as well as "Sacco and Vanzetti," a full-length opera commissioned by the Metropolitan Opera, when he was brutally murdered while on vacation in Martinique. He was 58.
Audio courtesy of the NYC Municipal Archives WNYC Collection.