The Irascible Hedda Sterne, April 23, 1970
Monday, May 07, 2012 - 11:33 AM
Established in the year 2000, the New York Public Radio Archives are the station's physical link to its rich and storied past.

More

Recommended Links
Though a working artist for the span of some 80 years, Hedda Sterne may be best known for simply being in a photograph featuring some of the brightest stars of the Abstract Expressionist movement in America. In this interview with Views on Art host Ruth Bowman we gain some insight into the artist behind the photograph, midway through a long and successful career.
In the spring of 1950, 28 artists signed an open letter protesting the Metropolitan Museum of Art's exhibition "American Painting Today, 1950." The letter was published in The New York Times and The Herald Tribune. In it, the artists accuse Met officials of being "notoriously hostile to advanced art" and refuse to participate in the exhibition.(1)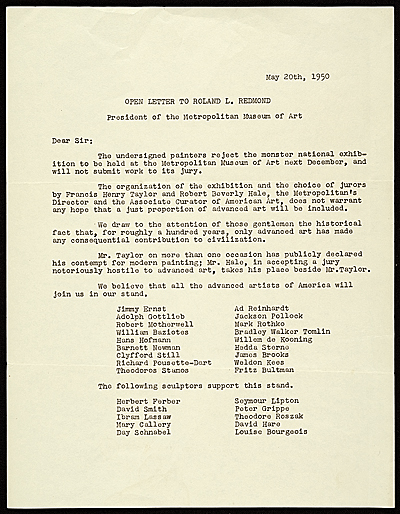 Life magazine photographer Nina Leen gathered roughly half of the artists for a photograph dubbed "The Irascibles." The image includes the likes of Theodoros Stamos, Barnett Newman, Mark Rothko, Richard Pousette-Dart, William Baziotes, Jimmy Ernst, Jackson Pollock, James Brooks, Clyford Still, Robert Motherwell, Bradley Walker Tomlin, Willem De Kooning, Adolph Gottlieb, Ad Reinhardt, and at the very top, standing on a table, Hedda Sterne.

Despite her prominence in the photograph, Sterne was never an abstract expressionist. Neither was she particularly interested in mixing art and politics. She did, however, sign the letter of protest to the Metropolitan Museum in 1950 ("I always sign everything"(2)), and shared the same gallery as a number of the artists: The Betty Parsons Gallery. In fact, she was very much a welcome member of their intimate circle, but when it came to artistic aesthetics and philosophy, she tended towards another direction entirely, then and throughout her career.

In this interview with Ruth Bowman, Hedda Sterne discusses her exhibition of portraiture at the Betty Parsons Gallery entitled "Everyone." When asked about the portraits, Sterne replies, "They are just heads. Remembered portraits of contemporary friends and friends of my past." She goes on to describe some of her aims (directness, spontaneity, truthfulness, and simplicity), her method (painting as spontaneous as handwriting), and her inspiration: riding the trains on the New York City subway. For Sterne, art is a "very important, personal, intimate experience," a technique of understanding, an exploration of perception. In the end, she says, "the work of an artist gets its total meaning when he [draws] his last brushstroke, and the last brushstroke has meaning from the first, and the first acquires meaning from the last."

(1) Open Letter to Roland L. Redmund, President of the Metropolitan Museum of Art, 1950 May 20  Archives of American Art
(2) Oral History Interview with Hedda Sterne, 1981 Dec. 17 Archives of American Art
More in:
John Passmore is the Archives Manager at WNYC.