Some Undocumented Immigrants Relieved To Stay in New York, Even in Legal Limbo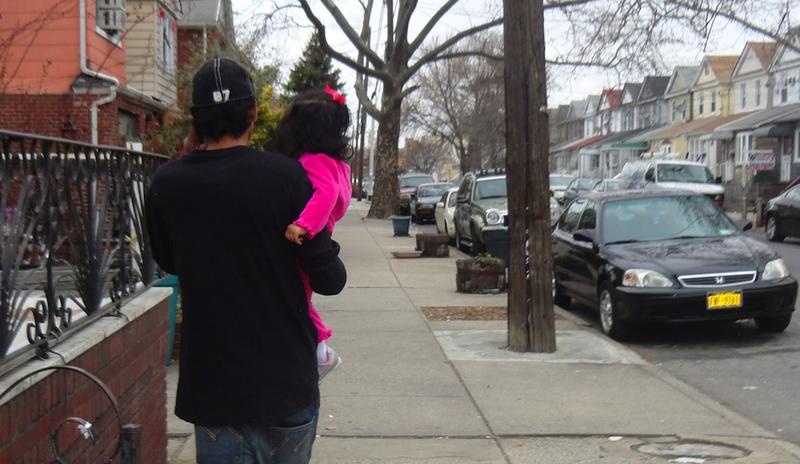 When Antonio left Trinidad to help his ailing father in the U.S., he knew he would likely overstay his tourist visa and therefore break the law – but he never imagined he would still be in the country seven years later, facing legal limbo.
Antonio, who now lives in Queens, came to the U.S. in 2005 to care for his father who had suffered a traumatic brain injury and wound up in homeless shelter. After six months, Antonio overstayed his tourist visa and began to build a life in New York: he founded a construction company in New York, moved in with his girlfriend, Sally, and had a baby girl, Kirsten.
But last March, when visiting extended family is Tampa, Fla., Antonio was pulled over and arrested for not having a valid driver's license, according to Pasco County Sheriff's Office. Immigration and Customs Enforcement Agency, or ICE, subsequently took him into their custody.
Antonio's case was transferred in New York, where he lives. When Antonio appeared in immigration court in December 2011, his lawyer, Jodi Ziesemer, of Catholic Charities,had a new option that would allow him to stay in the U.S.: prosecutorial discretion.
A 'Big Shift' in Policy 
Antonio asked WNYC to withhold his name, because some members of his family are not aware he is in the country illegally. His girlfriend, Sally, has work authorization, and his father is a naturalized U.S. citizen.
Antonio is among 2,700 that have been administratively closed, meaning that he is safe from deportation, but ICE can reopen his file if he commits a crime.
The goal of the prosecutorial discretion policy, according to ICE, is to address the backlog of 300,000 cases in federal immigration courts so the agency can use its limited resources to deport high priorities. Those include national security and public safety threats, criminal offenders, recent border crossers and immigration fugitives. House Republicans have described the policy as backdoor amnesty.
"This is a big shift in how we do business," said Jim Stolley, ICE's director of field legal operations. "There will be cases that, given our resources and staffing, we will choose not to go after at this time."
Last June, John Morton, director of ICE, issued a memo instructing his attorneys and officers to exercise prosecutorial discretion by allowing some undocumented immigrants with clean criminal records and strong ties to the United States to stay here.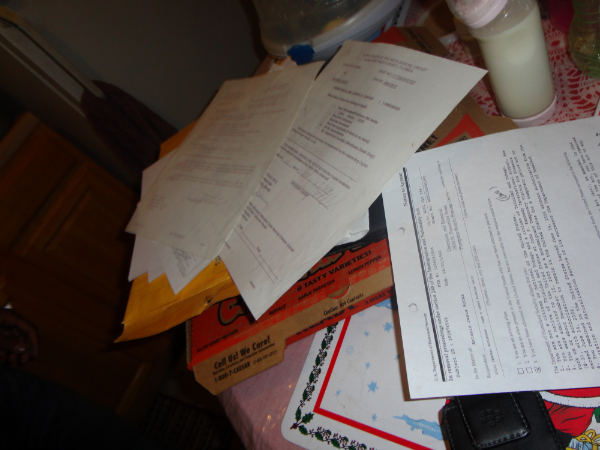 The memo listed 19 factors that should be considered, including whether the person arrived to the U.S. as a child, if they attended high school or college here, if they had served in the military, if they have family members who are U.S. citizens, or if they took care of a seriously ill relative.
Administrative closure itself, however, does not put undocumented immigrants like Antonio on a path toward legalizing his status.
"Admin closure does give an alien any benefit, doesn't give any permanent right to stay in the country," Stolley said. "It is simply just holding the case in abeyance."
(Photo: Antonio's documents. Mirela Iverac/WNYC)
The Morton memo was followed by a memo from ICE's top attorney, establishing guidelines for the review of 300,000 cases pending in courts. By mid-April, ICE reviewed 70 percent of those cases. It has found that 7.5 percent of undocumented immigrants were eligible for prosecutorial discretion. 
The numbers are small, but immigration attorneys said the policy is significant and that its full effect will be seen later on.
"Fundamentally it is where we should have been for a very long time, which is smart law enforcement," said Crystal Williams, executive director of the American Immigration Lawyers' Association, "because you cannot prosecute everybody. You cannot deport everybody."
Williams, however, pointed out she doesn't think administrative closure is a good solution, because it leaves immigrants in a legal limbo. She, as well as other immigration attorneys in interviews, said a number of undocumented immigrants have declined offers of prosecutorial discretion, choosing instead to proceed with applications they have pending in immigration courts, such as asylum, which offers an opportunity to obtain work authorization.
ICE has not made the number of those who have declined offers of prosecutorial discretion available, but has clearly stated it will offer almost exclusively only administrative closure in the review of cases pending in immigration courts.
Even with that, there has been opposition within the agency. Chris Crane, head of the union that represents ICE officers, said the Morton memos cannot be affectively applied in the field. ICE attorneys and supervisors have received training required to implement the new strategy, but the union has so far not allowed its officers to participate.
Hearings in the non-detained docket in immigration court in New York will be partially suspended from May 7 to May 18 to allow ICE attorneys to go through pending immigration removal caseload and determine in which cases they will exercise prosecutorial discretion
Life in Queens
Antonio is a lanky 32-year-old man with short black hair and wire rimmed glasses. After graduating from college, Antonio taught English and creative writing in a private school in his native Trinidad. He often came to the U.S. to visit family and on vacation. But he did no plan moving here and never asked his dad, a naturalized US citizen, to file a green card application for him.
"I had a nice lifestyle in Trinidad," Antonio said. "I taught at the most prestigious school. I'm around people of my culture."
In 2005, Antonio's dad fell and suffered a traumatic injury to his head. His family here couldn't take care of him, and he ended up in a New York homeless shelter.
Antonio moved to the U.S. These days he lives with Sally, Kirsten, and his dad in their rented 400-square feet apartment in Queens.
He takes his father to doctor appointments and makes sure he takes his medication.
When he's not working construction, Antonio likes to spend days with his now 16-months-old daughter. They watch "Sesame Street" and walk around their neighborhood.
A Tense Moment
Antonio, with Kirsten riding snug in her car seat, picked up Sally from work on a recent afternoon. As they drove in Queens, just off Atlantic Avenue, flashing lights suddenly appeared in the rear view mirror. Antonio was being pulled over by a cop.
The officer told Antonio he pulled him over for failure to stop at a stop sign. But the bigger problem was that he didn't have a driver's license issued in the U.S. He has a license from Trinidad.
"This is not a regular license," said the NYPD officer, who stopped Antonio. "It does not give you privilege to drive."
In New York state, people are allowed to drive with a driver's license from their home country. But someone like Antonio who has lived in the state for years is supposed to have a driver license.
As he waited for the officer in the car, Antonio became anxious.
"I would never drive through a stop sign like that," he said, raising his voice. "If a car's coming from across and hits you, you're wrong. I'm not stupid."
In the end, Antonio got two tickets: for unlicensed driving and failure to stop at the stop sign.
Back at their apartment, his girlfriend Sally said the experience was too reminiscent of the one in Florida.
"You always have to be looking over your shoulder," she said.
Antonio doesn't quite agree. He said limitations he faces living here are clear, with the lack of a driver's license being the most difficult one. But the ability to stay here is something that matters to him the most.
"At least I know my Dad can be taken care of," he said. "At least I know my daughter can have her mother and father together. I don't have to worry about immigration knocking on my door."