Chelsea Hotel Tenants Head to Housing Court
Crumbling ceilings, moldy walls and asbestos filled air-shafts -- these are the conditions a group of 36 tenants from the Chelsea Hotel say are sending them to housing court on Monday. They want a judge to order their landlord, Joseph Chetrit, to repair what they claim are hazardous conditions made worse by ongoing demolition work initiated as part of a renovation project.
Over the past four months, tenants have been negotiating an agreement with Chetrit to complete repairs. But those negotiations broke down in April. On Sunday, lawmakers gathered outside the building to call on the landlord to complete the work.
"The landlord of one of Chelsea's iconic buildings has done less than nothing to improve these conditions," said City Council Speaker Christine Quinn. She added, "in fact, turning a blind eye and deaf ear to them only makes them worse."
Neither Chetrit nor his lawyer, Fred Daniels, could be reached for comment.
The 12-story building on W. 23rd Street – which over the years has drawn artists and celebrities like Patti Smith and Bob Dylan for extended stays – was purchased by the Chetrit Group last year for close to $80 million. In December 2011, tenants sued Chetrit demanding that he repair unsafe conditions at the building.
Samuel Himmelstein, a lawyer for the tenants going to court, accused Chetrit of trying to drive long-term tenants out of the hotel. "You know you come in, you make conditions miserable, you start eviction cases against people and then you dangle money in front of people in the hope that they'll take it since their lives are so miserable here.
"It's the kind of harassment we used to see in the 70's and 80's. It's come back at the Chelsea," Himmelstein added. His firm is also representing several of the tenants facing eviction proceedings.
There are a total of 160 rooms in the building. About half were occupied by long-term tenants when Chetrit bought the building, according to Himmelstein.
Mary Ann Rose is one of those tenants. She has lived at the Chelsea Hotel since 1983. The 62-year-old artist says she has mold in her walls from water that regularly pools outside the window of her eighth floor apartment.
"It becomes a permanent pigeon birdbath. So that's what started the mold," said Rose. She is a member of the Hotel Chelsea Tenants Association. There are 43 members of the tenant association, 36 of whom are plaintiffs in the lawsuit filed in housing court.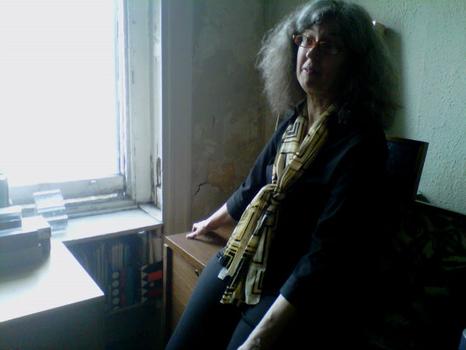 of